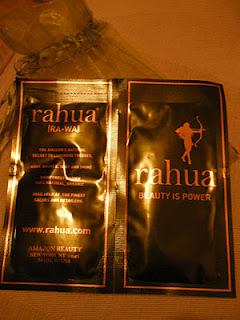 I received two samples of both the Rahua Volumsing Shampoo and Conditioner in my November Boudoir Prive box. The sachets were presented in lovely organza pouch tied with a green ribbon and they looked delightful hanging in my bathroon for the past few weeks...... Sadly I should have left them there because decoration is probably the only thing they were good for......
Now I don't mean to seem harsh and maybe the product is good for someone with fine, oily hair but that is the exact opposite of my thick, coarse naturally wavy mop!  Perhaps Rahua could make this clear in their marketing?  Perhaps I should have figured out think hair doesn't need much volumising but I prefer something clearer on the labelling when picking up a product, especially one with a hefty price tag. Surely I pay them to do that? (Okay, okay,  this was in a Beauty Box but you know what I mean..)
The instructions for the shampoo advised me to "Apply on damp hair, lather, enjoy, rinse and repeat if necessary"  Unfortunately we hit a problem with step two "lather" .. there was no lather! I'd applied the usual sized blob I usually use so doubled it and tried again....nothing, diddly, zero. I obviously skipped the "enjoy" stage of the instructions hopeful that a second application would lather after the first rinse.....Wrong!! Now I know these products are SLS free so I didn't expect a head full of foam but I've used similar products before that have actually lathered.
Rinsing itself was unusual, my hair still felt unclean and had developed an uncharacteristicly knotty feel.  The second application of shampoo was equally unsuccessful as was the rinsing experience.  Ever the optimist, I hoped the conditioning phase would rectify this. 
The conditioner itself is a very thin lotion and I wondered if I'd misread the instructions;  maybe this was something I should leave in? (Apparently after reading the company website you can also use it as a styling product).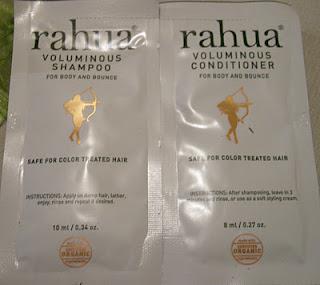 I tried to rinse the conditioner out as best I could be my hair was so tangled, it's NEVER tangled usually but I persevered... I attempted to comb my wet hair with a wide toothed plastic comb but it was no use....I wanted to dry and style my hair but in the end reached for my Aveda Rescue Remedy, slathered it on and left for 10 mins.  Thankfully upon rinsing my hair had returned to its usually self.
I'd love to be proven wrong on this one.....maybe there is a reason for the amazing claims in the marketing speil about this product on the company website, perhaps these products are aimed at thin, oily hair - if they are I'd only wish they'd make it clear!
Unfortunately their website reads:
"Are Rahua products suitable for all hair types?


Yes. Our natural ingredients benefit every type of hair. We source and use only the finest available waxes, oils and botanicals – ensuring fantastic, lasting results for everyone."
Venture deep into the Amazon rainforest for this? Nah thanks I think I'd sooner stay here on my sofa with a nice glass of red ;-)
Has anyone else tried these products? Did they work for you?  As ever, I'd love to hear your opinions, either in the comments below, on my Facebook Page or via email xx
Laters Peeps!
Love Lainey x