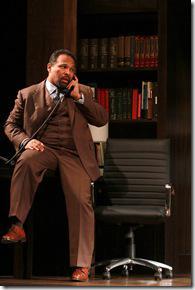 Race
Written by David Mamet  
Directed by Chuck Smith
at Goodman Theatre, 170 N. Dearborn (map)
thru Feb 19  |  tickets: $25-$94   |  more info
  
Check for half-price tickets 
  
  
   Read entire review
  
---
A quick and dirty 'Race'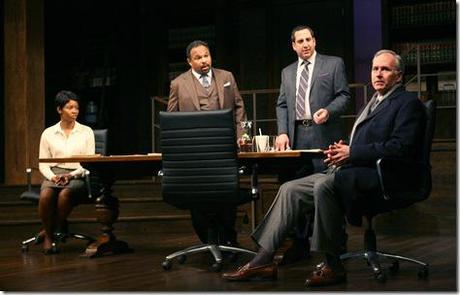 Goodman Theatre presents
Race
Review by Lauren Whalen 
To call David Mamet's language scathing, snappy and whip-smart is true, but trite. So I won't. I'll instead refer to the playwright's words as poetry: not the lyrical lines conjuring images of flowers, but the exceedingly clever brutality that delivers a verbal punch to the gut. Exploiting to the fullest the playwright's signature hyper-articulation, Goodman Theatre's Race deftly probes the questions no one – except Mamet's violently honest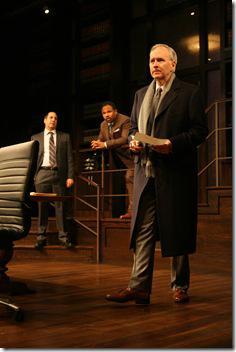 characters – dares to ask.
Delivered at breakneck speed, the way Mamet dialogue should be, the play opens with attorney Henry (Geoffrey Owens) giving a cerebral tongue-lashing to prospective client Charles (Patrick Clear) on the subject of race. Henry is black. Charles is white, as is Henry's colleague and business partner Jack (Marc Grapey). Henry and Jack's newly hired associate, Susan (Tamberla Perry) is black, and quietly observes Henry's tirade from her perch in the firm's library. The wealthy, married Charles was accused of raping an African American woman – he insists it was consensual and they were in love – and has approached Henry and Jack for representation after being dropped by his first lawyer. The partners can only see a losing case, but Susan has ideas of her own. What begins as a mystery – was it actually rape? – descends into a game of thrones, where first impressions give way to nasty revelations.
Director Chuck Smith steers his Mamet maiden voyage with utmost grace: despite the show's racing pace, no beat is rushed and no double meaning ignored. Smith's reverence for the words manifest in every aspect of the production, from Robert Christen's startling light cues to Linda Buchanan's stunningly realistic set. Despite Mamet's distinctive linguistics, the playwright presents a scarily accurate portrayal of how defense attorneys think: mercilessly probing for a victorious angle or to quote Jack, "a better story" that will convince the jury in their client's favor. As Mamet illustrates, the only thing more frightening than these shark-like tendencies is the attorneys' startling realization that they may be more emotionally invested than they thought.
Smith's actors are in a class by themselves, attacking Mamet's idiolect with a seeming effortlessness that can only come from deep analysis and intensive rehearsal. As the defendant, Clear is alternately befuddled and contrite, naïve and calculating. The most petite of the cast members, Perry asserts a commanding presence in her transformation from meek subordinate to game changer. Owens booms bitter epithets and relishes the client's discomfort with simmering glee. But Grapey's flawless interpretation of Jack is the true standout in this quartet of expert performers. Darting around the stage like a lizard, he smirks. He snarks. He takes the words of others and turns them around so fast the audience races to catch up and are shocked at what they find lurking around the corner. He takes on what is perhaps the show's most challenging character arc, and he executes it brilliantly.
In a past interview, Mamet revealed he has no faith whatsoever in human nature. Like Glengarry Glen Ross before it, Race leaves the audience hoping Mamet is wrong – and fearing he is exactly right. Who needs a courtroom? Judgments abound everywhere you look.
Rating: ★★★½
Race continues through February 19th at the Goodman's Albert Theatre, 170 N. Dearborn (map), with performances Tuesdays thru Sundays.  Tickets are $25-$94, and are available by phone (312-443-3800) or online here (check for half-price tickets at Goldstar.com). More information at GoodmanTheatre.org.  (Running time: 1 hour 35 mintues, which includes one 15-minute intermission)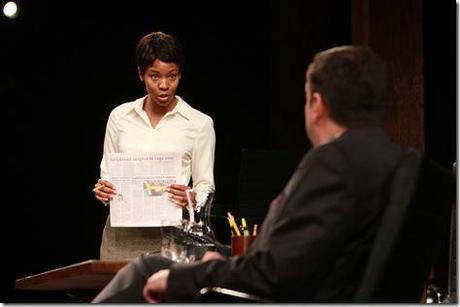 All photos by Eric Y. Exit 
---
artists
cast