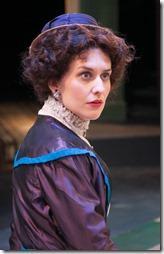 Charming and poignant, a 'Pygmalion' for the ages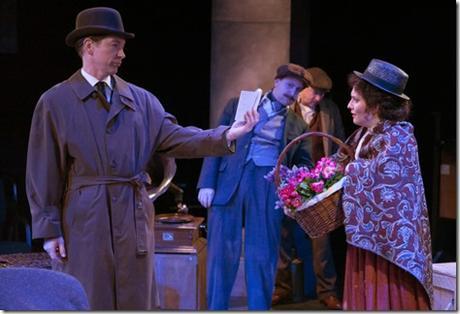 Review by Lauren Whalen
As director Shawn Douglass astutely notes, most of us are familiar with Pygmalion thanks to As musicals do,Lerner and Loewe's adaptation of George Bernard Shaw's ironically subtitled "romance" transforms the characters into caricatures and dialogue into song (or spoken word poetry accompanied with music). What we tend to forget about is its poignancy and darkness: Higgins and Eliza are not in love, and while he does "help" her with language and fashion, he does little to prepare her for an outside world where she's already experienced plenty of hardship. Thanks to Douglass' elegant direction and two phenomenal leads - not to mention excellent supporting actors and lovely production design - Remy Bumppo's is one for the ages.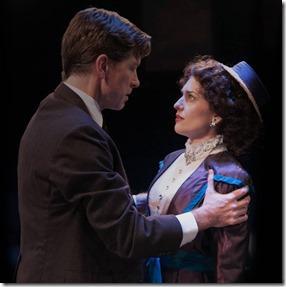 It's a tale as old as time: rich man transforms poor woman into someone completely new - or does he? In 1912 London, professional linguist Henry Higgins (
Nick Sandys
) makes a bet with friend and colleague Colonel Pickering (
Peter A. Davis
), who has recently returned from India. Higgins thinks that in six months, he can transform Eliza Doolittle (
Kelsey Brennan
) from rough Cockney flower girl to well-spoken and well-dressed gentlewoman. Higgins ultimately succeeds - after a combination of resistance and determination from Eliza - but as his intelligent mother (
Annabel Armour
) points out, Eliza is not a living doll but a human being with thoughts and feelings. Adding to the mix is Eliza's scheming father Alfred (
David Darlow
), whose fortune might reverse quicker than he planned.
What's refreshing about both Douglass' direction and Shaw's text are their utter honesty, which is often darkly funny and borderline brutal. Unlike My Fair Lady (which, to be fair, is one of my favorite musicals), gets to the heart of both Higgins and Eliza. Behind his bluster and resources, Henry Higgins is a lonely, socially awkward individual who's still emotionally dependent on his mother. Behind her sass and grit, Eliza is naïve and unsure of what this new life will bring. Douglass beautifully emphasizes Eliza's perspective by introducing a new character in the transitions: an older woman (Jane deLaubenfels) who is likely Eliza, exploring Higgins' and her old possessions and looking back both fondly and not so fondly. Eliza's transition is more complicated than a rags-to-riches fairy tale: ultimately, we know she'll be all right, but in the moment, we feel for her and worry that she won't last beyond Higgins' iron grip.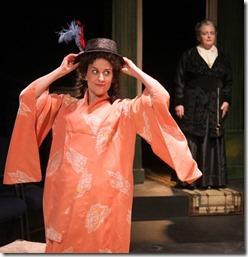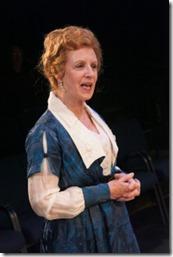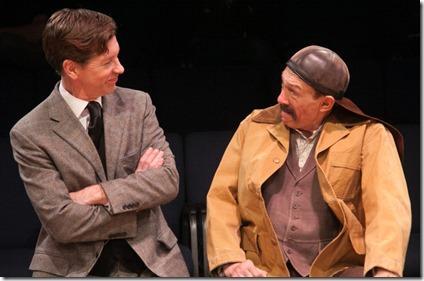 's production design is spot-on: scenic designers Jacqueline and Richard Penrod use frames and gently worn furniture for a refined, tasteful feel and Kristy Leigh Hall's costumes are gorgeous in detail and color. While Christopher Kriz's sound design is just shy of overwhelming, the transitional music is, on the whole, delightful. The cast - apart from Darlow, who concentrates more on Alfred Doolittle's dialect than his characterization - is flawless, speaking Shaw like they were born to it. Sandys is a natural Higgins, an insulting blowhard who hesitates to show his softer side, and Brennan's Eliza is lovely and intelligent even when her speech is at its most rough.
is old-school: many characters, long scenes and more dialogue than action. Yet thanks to Douglass and company, Remy Bumppo's production is wonderfully relevant. Rooted in past and present, is a thought-provoking holiday treat, a substantial supplement to lighter fare like The Nutcracker. At some point in our lives we are all Eliza Doolittle - unsure, searching, yet confident that we are good - and brings the politics of polite London society to 21st century Chicago in the most delightful of ways.
continues through January 8th at Greenhouse Theater, 2257 N. Lincoln (map), with performances Wednesdays-Saturdays at 7:30pm, Sundays 2:30pm. Tickets are $42.50-$57.50, and are available by phone (773-404-7336) or online through Vendini.com (check for half-price tickets at Goldstar.com ). More info at their Pygmalion Field Guide or RemyBumppo.org. (Running time: 2 hours 15 minutes, includes an intermission)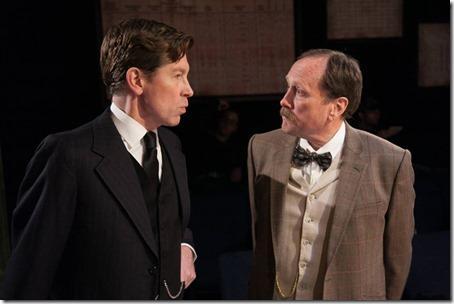 Photos by Johnny Knight
Annabel Armour (Mrs. Higgins), Kelsey Brennan (Eliza Doolittle), Kyle Curry (Freddy Eynsford-Hill), David Darlow (Alfred P. Doolittle), Peter A. Davis (Colonel Pickering), Jane deLaubenfels (Elizabeth), Sean Foer (bystander, ensemble), Eliza Helm (Clara Eynsford-Hill), Laurie Larson (Mrs. Pearce), Brian McKnight (Sarcastic Bystander, ensemble), Joanna Riopelle (Mrs. Eynsford-Hill), Nick Sandys (Henry Higgins), Vahishta Vafadari (Flower Girl, ensemble), Allison Cook, Martin Hughes, Sasha Hildebrand, Brian McKnight, Joanna Riopelle, Vahishta Vafadari (understudies)
behind the scenes
Shawn Douglass (director), Dana M. Nestrick (stage manager), Jacqueline and Richard Penrod (scenic design), Andrew Meyers (lighting design), Kristy Leigh Hall (costume design), Christopher Kriz (sound design), Jenny Pinson (properties design), (assistant director), Sara Thornton (assistant stage manager), Ellen Willett (production manager), Eva Breneman (dialect coach), Alexandra Garfinkle (dramaturg), Jason Kingsley, Means of Production (set construction, technical direction), Spencer Batho (sound operator, electrician), David Trudeau (master electrician), Johnny Knight (photos)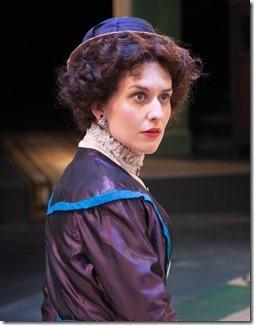 Tags: 16-1165, Alexandra Garfinkle, Allison Cook, Andrew Meyers, Annabel Armour, Brian McKnight, Chicago Theater, Christopher Kriz, Dana M. Nestrick, David Darlow, David Trudeau, Eliza Helm, Ellen Willett, Eva Breneman, George Bernard Shaw, Greenhouse Theater, Ian Frank, Jacqueline and Richard Penrod, Jacqueline Penrod, Jane deLaubenfels, Jason Kingsley, Jenny Pinson, Joanna Riopelle, Johnny Knight, Kelsey Brennan, Kristy Leigh Hall, Kyle Curry, Lauren Whalen, Laurie Larson, Lerner and Loewe, Martin Hughes, Means of Production, My Fair Lady, Nick Sandys, Peter A. Davis, post, Remy Bumppo Theatre, Richard Penrod, Sara Thornton, Sasha Hildebrand, Sean Foer, Shawn Douglass, Spencer Batho, Vahishta Vafadari
Category: 2016 Reviews, George Bernard Shaw, Greenhouse Theater Center, Lauren Whalen, Remy Bumppo, Video, YouTube