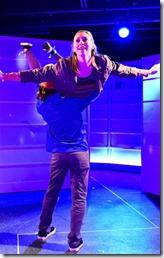 Original, entertaining fantasy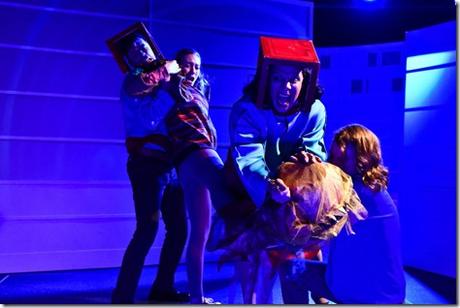 Review by Lauren Whalen
Since 2008, The New Colony has pledged to develop "NEW ART and NEW ARTISTS in order to educate and build NEW AUDIENCES." Their work can be hit or miss - the hits include last year's smash Byhalia, Mississippiand the earlier Five Lesbians Eating Quiche and reWILDing Genius.Happily, their 2017 season opener Psychonaut Librarians is decidedly more hit than miss. Though Sean Kelly's script leaves much to be desired, director Krissy Vanderwarker has an excellent sense of stage magic, assembling a crack production team and a lovely group of actors to present a story of drug-tripping librarians, time travel and a mother and daughter who despite their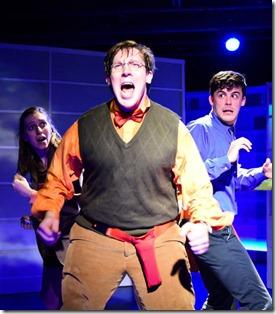 differences are determined to connect.
When Jane (Christine Mayland Perkins) is a little girl, her mother hides her in a bag. Divorced librarian Hester (David Cerda) smuggles her daughter into the library for the night. At first Jane is bored, but then a new friend materializes in the form of the aptly-named Dewey (Matt Farabee). But when the evil Sandman (Jack McCabe) interferes, Jane is scared away from libraries and her mother until adulthood, when a mysterious note arrives. On the eve of her retirement, Hester and her colleagues (Morgan McNaught and Michael Peters), along with an eager janitor (Carlos Olmedo), embark on one last time-travel trip - with a reluctant Jane at their side.
Despite this fantastical plot, the weakest aspect of Psychonaut Librarians is its script. The time traveling/fantasy world component isn't fully explained. For example, how did Hester come to know of this world, and why is Sandman so set on getting the librarians out of said world? Additionally, there's a need for more exploration of Hester and Jane's fractured relationship and less of the attempts to explain a fantasy world that isn't at all thought through.
Psychonaut Librarians works, however, because of its direction, production values and ensemble. Vanderwarker is a veteran of Chicago productions small and large, most recently Lookingglass' stunning one of my favorite plays of 2016. She has a lovely sense of what works in terms of stage magic, pacing and actor coaching and movement. 's projection design and puppets by Breanne Ward and Evan Troost bring the librarians' Anyverse to vibrant life - the tentative border between reality and dreams. Monica Thomas' choreography, along with Sam Krey's violence design, are the highlights of the production. Both are innovative and maximize the small Den Theatre space (though I could have done without actors climbing over audience members).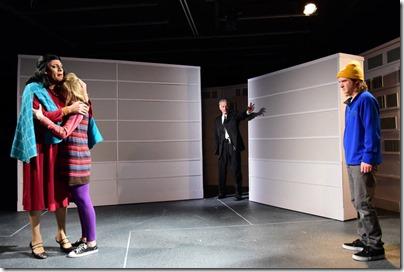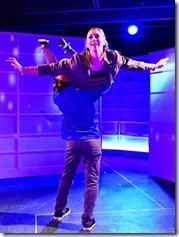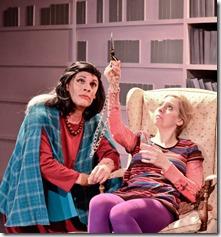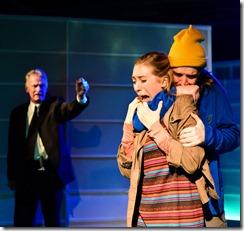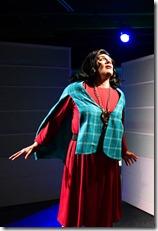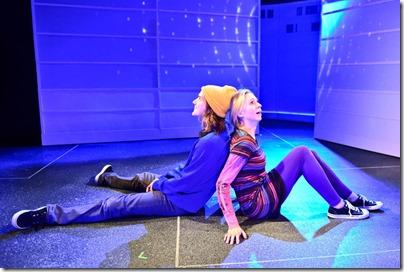 This ensemble is stronger and more qualified than a few other New Colony productions I've seen, with the actors boasting impressive resumes. Perkins, a House Theatre company member, is a worthy and plucky heroine as well as a lost daughter and human being. Cerda is both funny and empathetic as Hester, and Peters is absolutely perfect as Hester's buttoned-up, bowtied coworker. Only McCabe seems a bit out of place, though it doesn't help that the Sandman character is woefully underwritten as a token bad guy. Even so, McCabe's delivery is stiff and unconvincing.
There's a lot to like about Psychonaut Librarians. Though inconsistent at times, the story of a mother, a daughter and drug trip-induced time travel is both entertaining and compelling. Thanks to the artistic vision of Vanderwarker and her production team, this New Colony world-premiere production is a strong notch in their season.
Psychonaut Librarians continues through February 12th at Den Theatre, 1333 N. Milwaukee (map), with performances Thursdays-Saturdays at 7:30pm, Sundays 3pm. Tickets are $20 (students & seniors: 25% off), and are available by phone (773-697-3830) or online through Vendini.com (check for half-price tickets at Goldstar.com ). More info at TheNewColony.org. (Running time: 90 minutes, no intermission)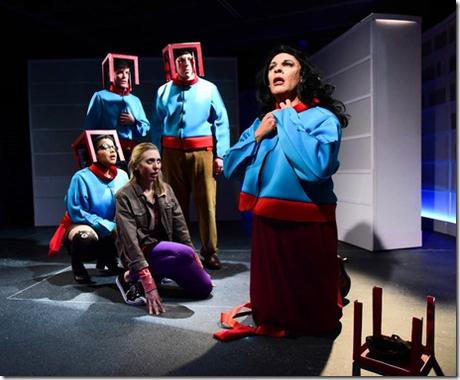 Agnieszka Likos (violin 1), Jess McIntosh (violin 2), Donna Miller (cello), Marti Kallenberger (French horn)
behind the scenes
Krissy Vanderwarker (director), (scenic design, projections design), Catherine Tantillo (costume design), Alexander Ridgers (lighting design), Matthew Muñiz (sound design, original score), Breanne Ward and Evan Troost (puppet design), (violence design), Monica Thomas (choreography), Carl Ulaszek (props design, production manager, technical director), Michael Cotey (assistant director), Monica M. Brown (stage manager), Kira Gaudynski (assistant stage manager), Evan Hanover (photographs)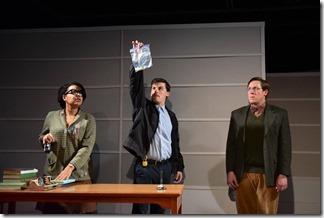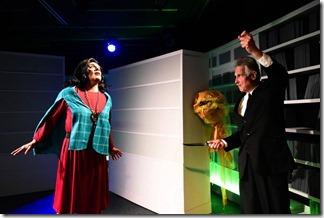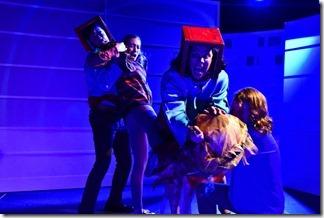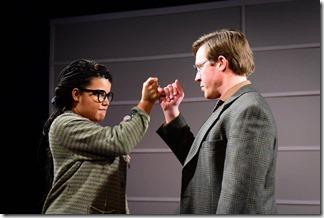 Tags: 17-0121, Agnieszka Likos, Alexander Ridgers, Breanne Ward, Carl Ulaszek, Carlos Olmedo, Catherine Tantillo, Chicago Theater, Christine Mayland Perkins, David Cerda, Donna Miller, Evan Hanover, Evan Troost, Jack McCabe, Jess McIntosh, Kira Gaudynski, Krissy Vanderwarker, Lauren Whalen, Marti Kallenberger, Matt Farabee, Matthew Muniz, Michael Cotey, Michael Peters, Monica M. Brown, Monica Thomas, Morgan McNaught, post, Sam Krey, Sean Kelly, The Den Theatre, The New Colony, Yeaji Kim