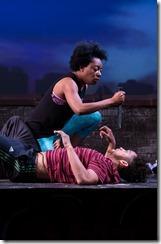 Prowess
Visceral, exhilarating trip to a not-so-distant urban hell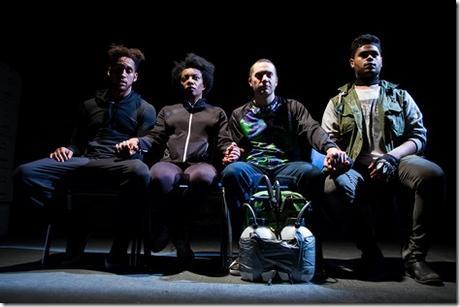 It's getting harder each week to read the news section of the daily newspapers. With every other page carrying a story of gun violence in Chicago - it's tragic and depressing to even skim through. Notwithstanding the fact that gun violence is creeping into "safe" neighborhoods, most north side Chicagoans have been spared the stress of living in constant fear for one's life or at least safety. The primary achievement of Marti Lyons' production of Ike Holter's new play is that it takes us right into the dangerous world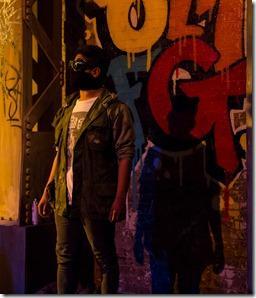 miles to the south of the theatre in which it's playing and gives us a palpable sense of the stress of living amidst violence. With a cast of just four actors, in the small and rough-finished Jackalope space, the dangers feel as real as they might if we were standing on a south side corner. Holter asks us, as well as those living in the most beleaguered communities, what is the appropriate response to the violence? Flight? Self-defense and avoidance? Or fighting back? His story follows four south-side residents who choose, at least for a time, to fight back as vigilantes, though he stops short of suggesting whether that's the ultimate solution.
When two employees of a south side alderman (of the fictitious "51st" Ward - there are actually only 50 wards) decide to take up martial arts in order to defend themselves, they end up joining forces with their trainer and a mysterious fourth person to form a vigilante team they call the Roustabouts. A particularly violent incident in the neighborhood prompts them to retaliate against the gang responsible for it and, as the first act closes, they are on their way to their surprise attack on the gangbangers. Holter's script doesn't fall neatly into any box and this is no "Batman"-style story. The likelihood of two previously non-violent, unarmed, and previously untrained in physical combat "civilians" taking on a rough street gang, even with the help of two more capable fighters, is obviously slim. Holter seems to be deliberately carving out some space in between reality and fantasy. The vigilante retaliation is probably the sort of action victims and bystanders dream of taking, and Holter is giving us a tale of wish-fulfillment. He evens acknowledges the fantasy of the situation with a parodic projection of the four vigilantes shown on a screen in the fashion of a TV crime series opening titles. At the same time, the world he recreates for the audience, the characters' motivations and the underlying social conditions that lead to the vigilante actions are undeniably real. It's social drama through a fantastical, satirical lens.
There's no lead among the four highly original characters Holter's given us, but Zora (Sydney Charles) is the one who sets the action in motion by hiring a trainer, Mark (Julian Parker), she found on Craig's List. The story opens with some very funny banter as the two meet for their first training session in the office of the alderman where Zora works. The tone turns on a dime, though, when Mark pries Zora to learn her motivation for learning martial arts. It turns out she was the victim of an especially brutal attack nearly two years earlier - something so heinous and publicized she became known as "the girl from the Red Line train." Mark, we gradually learn, is a former gang member who has become remorseful for his past gang activity and wants to help reduce the violence in the community. He tells Zora his goal is to help her learn to defend herself, not to turn her into an attacker. For all his martial arts skill, Mark seems a rather gentle soul and his concern for the community causes him to challenge a tagger (Donovan Diaz) he sees painting graffiti on a building. The tagger, Jax, is a mysterious type - we first see him in a face obscuring mask and goggles (to protect from the paint fumes) - and proves to be the tougher fighter when he and Mark go at it as Mark tries to stop Jax's painting. It turns out that the two are really on the same side and just have different means of responding to the community violence. Jax paints "OMFG" (oh my f-ing God) at the sites of violent crimes to protest, while Mark has taken on the mission of training residents in self-defense. Initially an adversary, Jax eventually joins the other three in their vigilante retaliation. Finally, we meet Andy (Andrew Goetten), a young white guy from Schaumburg who works in the office with Zora. It's the eighth job he's had in the past year. He keeps losing jobs because he's unable to focus after witnessing a violent crime. Presumably this job was his last hope for employment and he's moved into an apartment nearby as the only white person in the neighborhood. Though he accidentally stumbles onto a training session between Zora and Mark, his traumatic experience - a gas station holdup that took the lives of his two best friends and two others while he survived by hiding in the car - leads him to join Zora in her martial arts training by Mark.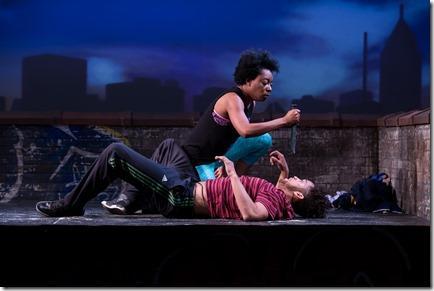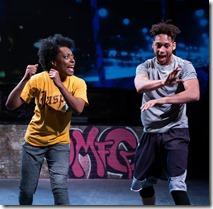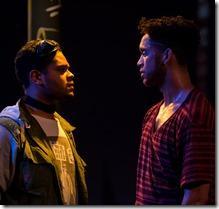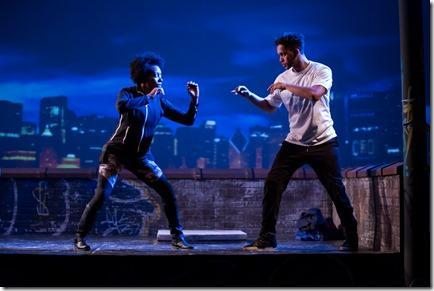 Holter has an ideal collaborator in Lyons, who directs the cast through segments of sharply funny, overlapping dialogue but knows exactly when to change the pace and let emotions rule. The funny stuff lands and the key lines strike home - as when Andy answers Zora's accusation that the sort of violence that happened to her "doesn't happen to you and never will." Andy retorts, "everybody else's pain always, always wins I'm just a (fuck) right, I mean I'm just some white boy right nothing bad can ever really happen to me." Andy proceeds to explain how he lost his two best friends in the gas station holdup.
Lyons' pacing of the actors through Holter's varied rhythms is absolutely perfect and, together with her design team, cleverly puts this whole environment on stage with a minimum of scenery and a cast of just four. Courtney O'Neill's set provides a semi-realistic setting for the office, but makes a rooftop, a doorstep and an el train out of practically nothing. The bare brick walls of the space in the Broadway Armory are supplemented by so-real-you'd-never-know-they're-fake wall sections and a representation of an iron support column for "L" tracks. Lighting designer Michael Stanfill and sound designer Matthew Chapman through their art suggest the broader environment outside the limits of the set, and in one scene create a drive-by shooting that is truly terrifying without the appearance of a real car. Stanfill also designed the stunning projections of Chicago street scenes and skyscapes - some realistic, some impressionistic - that viscerally take us in the inner city world of the story. Samantha Jones' costumes seem spot-on accurate for the place and time. The production includes a great deal of stunning fight choreography - starting with training sessions and moving to more violent interactions that become gradually more convincing and disturbing as the play progresses. The rapid-fire dialogue, fight choreography, fast-paced projections and the music by Chapman all complement Holter's script to create a kinetic and exhilarating experience.
None of this would be worth much without four stellar performances to bring Holter's unique characters to life in a way that makes us care about them. Charles has arguably the most range to cover as Zora, and she delivers in showing the woman's quick wit, deep pain and ferocious desire for revenge. Parker communicates the complexity of the young man haunted by his past actions but determined to make amends by making a difference. Diaz, chillingly scary when called to be, plays the character most grounded in reality. He's been thoroughly hardened by his life on the streets but proves, surprisingly, to be a lover as well as a fighter. Goetten stepped into the role of Andy during previews when the originally cast actor, Andrew Burden Swanson, was injured and had to withdraw from the show. You'd never guess all that, as Goetten creates something plausible out of the least plausible of Holter's characters - a scrawny, hardly street smart white kid from the suburbs whose role veers from comic to tragic and has to do a whole ton of fighting as well.
Bitingly funny, but touching and frightening at the same time, it's a play that reminds us that, as Chicagoans, we're not so far removed from the violence we learn about in the news. It's going to harder to turn past those pages in the newspapers after seeing Prowess .
continues through June 25th at Broadway Armory Park, 5917 N. Broadway (map), with performances Thursdays-Saturdays at 7:30pm, Sundays 3pm. Tickets are $15-$30, and are available online through (check for half-price tickets at Goldstar.com ). More info at JackalopeTheatre.org. (Running time: 2 hours 10 minutes, includes an intermission)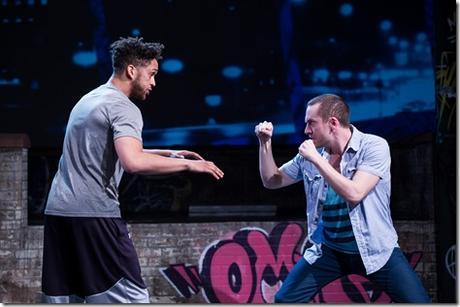 Photos by Joel Maisonet
behind the scenes
Marti Lyons (director), Courtney O'Neill (scenic design), Michael Stanfill (lighting design), Samantha Jones (costume design), Matthew Chapman (sound design), Corinne Bass (props design), Oliver Sava (dramaturg), Ryan Bourque (fight choreographer), Alex Hutson (technical director), Danielle Stack (production manager), Jon Beal (assistant fight choreographer), Johanna Beach (assistant props design), (assistant director), Linda Sherfick (assistant director), Marcus Carroll (assistant stage manager), Becky Bishop (production stage manager), Elana Buolos (casting director), Joel Maisonet (photos)
Tags: 16-0541, Alex Hutson, Andrew Burden Swanson, Andrew Goetten, Becky Bishop, Broadway Armory Park, Chicago Theater, Corinne Bass, Courtney O'Neill, Danielle Stack, Donovan Diaz, Elana Buolos, Ike Holter, Jackalope Theatre, Joel Maisonet, Johanna Beach, John Olson, Jon Beal, Julian Parker, Linda Sherfick, Marcus Carroll, Marti Lyons, Matthew Chapman, Michael Stanfill, Oliver Sava, Oliver Sawa, post, Ryan Bourque, Samantha Jones, Sydney Charles, Will Kiley
Category: 2016 Reviews, Broadway Armory, Jackalope Theatre, John Olson, New Work, World Premier