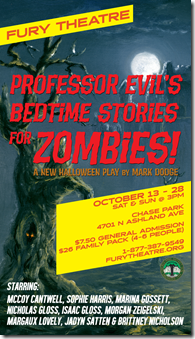 Prof. Evil's Bedtime Stories
   for Zombies 
Written and Directed by Mark Dodge  
at Chase Park, 4701 N. Ashland (map)
thru Oct 28   |   tickets: $7.50   |   more info  
  
  
  
        
  
---
It's evil!  It's horror!  It's zombies!  Aieee!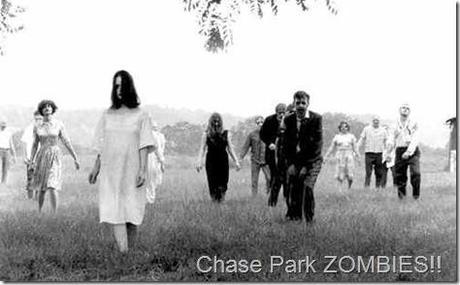 Fury Theatre Company presents
Professor Evil's Bedtime Stories for Zombies!
Review by K.D. Hopkins
When I read that this was going to be their second young performers production, I got excited. I love to watch young people get bit by the theater bug and Professor Evil's Bedtime Stories for Zombies provides the perfect spooky taste. Director and playwright Mark Dodge finds a good balance of satire, spoof, and just enough scary to please audiences of all ages who want to get into the Halloween mood.
Professor Evil (McCoy Cantwell) wants to take control of the dangerous brain eating zombies that are caged in his laboratory. He has hatched a plan and mixed a formula to do it. Cantwell is funny and would be perfect for a classic Hammer flick in the 1960′s. The phone calls to his mother are great dialog and he exchanges some witty lines with the sassy and adorable Brittney Nicholson as Irene the Temp/Li'l Sadie Sunflower.
Nicholson is given sarcastic lines about the work conditions that reach across age groups. The search for a cup of coffee takes on a different meaning in an Evil laboratory when she almost pushes the disintegrating button. Nicholson does good face expressions and asides reading the stories to keep the zombies calm.
The sketches run a humorous gamut. Dr. Killpatient (Issac Gloss) wants to save three sickly children, but there are lawyers on his case constantly. Gloss gets some good laughs as the psychotic surgeon who decides to take the lawyers hearts for transplants. Jadyn Satten, Nick Gloss and Morgan Ziegelski play the attorneys from Hades. The way they run off some catchy legal terms is appropriately campy.
Marina Gossett does well as Nurse Ratchett and the Bride of Frankenstein in a horror movie spoof with all of the Creature Feature classics. Isaac Gloss revives Dracula and Satten puts some howl into the Wolf Man. The favorite skit (mine and the audience) is the Scooby Doo spoof. Scooby spans every generation and everyone loves the unveiling of the real killer who always "would have gotten away with it if it weren't for you darn kids!" Sophie Harris plays the seemingly innocent Matilda who has knocked off her aunt until Marina Gossett is seen bound and gagged bouncing across the stage. It is a really well done spoof in the tradition of Mad Magazine (which is a childhood favorite of mine). There are other humorous pop culture references that are sly and done well. Margaux Lovely and Ziegelski nudge the Creepy Twins from "The Shining". Harris, Lovely, and Nicholson are a hoot as the Sunflower Trio: Sally, Sadie, and Sunflower.
The cast is talented and well prepared. There is even some more-than-competent choreography. I enjoyed myself for an hour on an autumn afternoon and I recommend that you take the kids for some lighthearted and spooooooky fun!
Rating: ★★½
Professor Evil's Bedtime Stories for Zombies continues through October 28th at Chase Park, 4701 N. Ashland (map), with performances Saturday and Sunday at 3pm.  Tickets are $7.50 (family pack $26 for 4-6 people), and are available by phone (877-387-9549) or online through BrownPaperTickets.com. More info at FuryTheaterCo.com.  (Running time: 1 hour, no intermission)  Boo!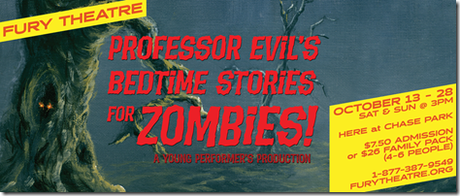 ---
artists
cast
McCoy Cantwell (Professor Evil, Cyborg), Jadyn Satten (Lawyer #3, Fred, Werewolf, Mr. Smith, and Ron Squirrely), Sophie Harris (Li'l Susie Sweetheart, Vicky, Matilda, and Jenny Squirrely), Nick Gloss (Lawyer#1, Scoopy Dan, Werewolf, Henry Planter), Isaac Gloss (Dr. Killpatient, Shakey, Count Dracula, Moldyvort), Marina Gossett (Nurse Ratchett, Olivia, Bride of Frankenstein, Madam Zolov, Minivan McGurney), Morgan Ziegelski (Lawyer #2, Velinda, Creepy Twin, Narrator, Loony Moonbeam),Margaux Lovely (Li'l Sally Sunshine, Dotty, Anne, Mrs. Carlisle, Hemoglobin Gardner), and Brittney Nicholson (Irene the Temp and Li'l Sadie Sunflower)
behind the scenes
Mark Dodge (writer and director), Krysten Williams-Sanders (stage manager), Arin Mulvaney (costume designer)