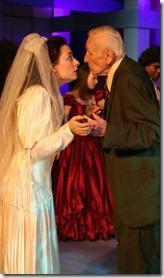 Lively ensemble make 'Kiss' a resonant romantic fantasy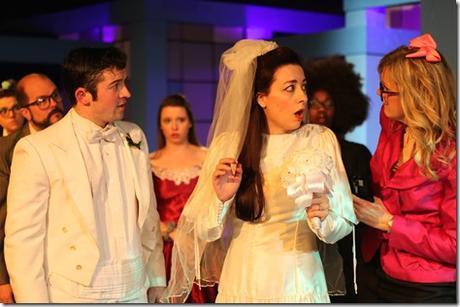 Review by Mark Davidson
Most people are familiar with Prelude to a Kiss through it's 1992 movie adaptationstarring Alec Baldwin and Meg Ryan. But Prelude, written by Craig Lucas, got its theatrical start four years earlier at the South Coast Repertory (a production that also starred Baldwin), quickly advancing to Off-Broadway and then Broadway two years later. Very much a romantic fantasy, Prelude was thought to be, at the time of its premiere, a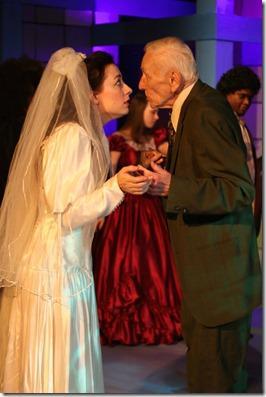 commentary on the ravages of the AIDS crisis - the observation that love could endure, even in the midst of your partner's body transforming from the disease. Thankfully we're long removed from those tragic days, but - with today's ever-aging population - it can be a broader study of the triumph of love for the soul in spite of one's altering physical appearance.
Prelude to a Kiss opens with Peter (David Coupe) meeting bartender Rita (Bethany Hart), followed by a six-week whirlwind romance, culminating in marriage. Briefly following the exchanging of vows, a mysterious old man () appears, asking to kiss the bride. And it's this kiss that sets the fantastical into motion. Along the way there are several thoughtful passages spoken about fears of old age, about marriage, life and love. These are acted with resonance and skill. However, the play also has a lot of laughs, and clever use of popular music.
Coupe and Hart play off each other with a liveliness, making their characters an appealing couple. The supporting cast includes James Spangler as Dr. Boyle, Rita's father, who convincingly shows us the doctor's frustration in a scene where he considers whether Peter, his son-in-law, is a raving lunatic. Many scene-stealing moments are enjoyed by Mike Newquist as Taylor. The office scene where Peter asks Taylor some rather unusual questions is hilarious in its oddness. And finally, McGuire provides an impressive range as the old man, a gently comic foil to a desperate Peter, a graceful presence in his monologue about age. The overall ensemble are a lively and versatile cast.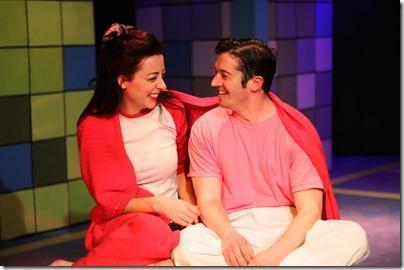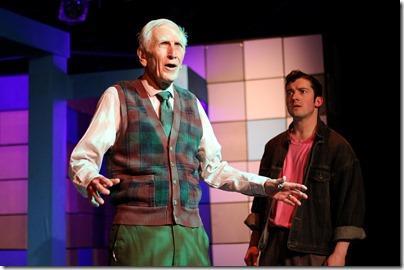 Director Derek Bertelsen keeps the play a brisk pace, feeling just the right length. The scene changes are choreographed in a funky and imaginative manner. The set design by Michael Lewis is unique and an added visual treat.
The only disappointing thing about the script is that the old man simply wanders off during the closing minutes. The audience is left to wonder how he re-integrated with his own family, and how his journey has affected him once it's over. This reviewer found this character deserved more of a send-off than he gets.
Overall, this play is a funny yet poignant production. Certainly worth your time. Recommended.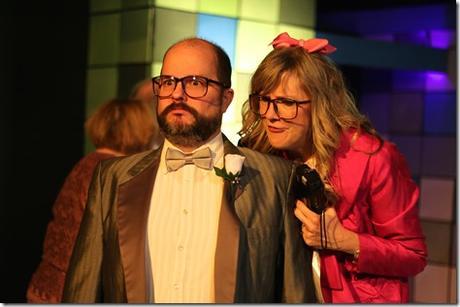 Prelude to a Kiss continues through February 4th at Greenhouse Theater Center, 2257 N. Lincoln (map), with performances Thursdays-Sundays at 8pm. Tickets are $20, and are available by phone (773-404-7336) or online through GreenhouseTheater.org (check for half-price tickets at Goldstar.com ). More information at The-Comrades.com. (Running time: play length, includes an intermission)
David Coupe (Peter), Bethany Hart (Rita), (Old Man), Carol Ludwick (Mrs. Boyle), James Spangler (Dr. Boyle), Mike Newquist (Taylor), Tom Lally (Uncle Fred), Anne Wrider (Aunt Dorothy), Cydney Moody (Leah), Raymond Jacquet (Tom), Jazzma Pryor, Alex Nolan (ensemble).
behind the scenes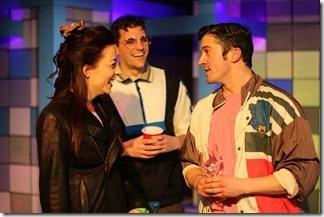 Derek Bertelsen (director, artistic director), Michael Lewis (set design), Uriel Gomez (costume design), Nicholas Caso (lighting design), Becca Venable (sound design), Melanie Kulas (stage manager), David Lew Cooper (assistant director), Asha McAllister (hair, make-up design), Michael J. Sanow (technical director), (photographer)
Tags: 17-0115, Alex Nolan, Anne Wrider, Asha McAllister, Becca Venable, Bethany Hart, Carol Ludwick, Chicago Theater, Cody Jolly, Craig Lucas, Cydney Moody, David Coupe, David Lew Cooper, Derek Bertelsen, Ed McGuire, Greenhouse Theater, James Spangler, Jazzma Pryor, Mark Davidson, Melanie Kulas, Michael J. Sanow, Michael Lewis, Mike Newquist, Nicholas Caso, post, Raymond Jacquet, The Comrades, Tom Lally, Uriel Gomez
Category: 2017 Reviews, Greenhouse Theater Center, Mark Davidson, The Comrades