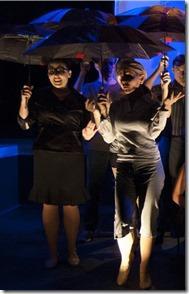 Pr0ne: A Casting Couch
   Musical Comedy 
Written by Alex Higgin-Houser, David Kornfeld,
   Brendan Siegfried and Laura Stratford 
Directed by Alex Higgin-Houser
at Chicago Dramatists, 1105 W. Chicago (map)
thru Sept 7  |  tickets: $25   |  more info
  
Check for half-price tickets 
  
  
   Read entire review
---
The internet (and musical theater) is for porn
Underscore Theatre Company presents
Pr0ne: A Casting Couch Musical Comedy
Review by John Olson
Chicago has a great musical theater community, but not one that takes a lot of risks. When we're not being offered revivals of bonafide Broadway classics, we're getting productions of lesser, rarely-performed works by acknowledged master writers of musical theater – less surefire than the classics, but still with a brand name that will sell tickets. At the community's edgiest, we get to see works by the recognized hot young composers like Jason Robert Brown, Adam Guettel and John Michael LaChiusa – writers who have already been given their stamp of approval from NYC-based critics.  How often do we see a Chicago company take a risk on a musical that is really new and risks offending or shocking its audience? Last year's Rise of the Numberless by The New Colony and Bailiwick Chicago comes to mind, but I'm hard-pressed to think of any others. Whatever else one might say about Pr0ne: A Casting Couch Musical Comedy, we must admire the guts and sheer abandon of the young Underscore Theatre Company in creating this frequently entertaining, intentionally outrageous and subversive original musical. Seeing this show about the pornography industry gave me a sense of what it might have been like to view an off-Broadway musical in 1960's Greenwich Village – perhaps one with kids getting naked like Hair.
Pr0ne (the spelling is a take on "pr0n" – an Internet-speak euphemism for porn) is a story about 19-year-old aspiring actress Jessica (Sarah Hoch), who on what she presumably thinks is a legitimate audition, is persuaded to have sex with the director on camera and later finds the video on the Internet. In telling her story, Pr0ne explores porn with an uninhibited and raunchy honesty. It uses pantomime, backs-to-the audience blocking and silhouettes to depict sex acts in detail but without putting the real deal on stage. There's just one bit of nudity (female) late in the show, but it's intended to be sad rather than sexy. For its two hours of stage time, writers Alex Higgin-Houser, David Kornfeld, Brendan Siegfried and Laura Stratford set new records for explicit gross-out humor in a musical comedy not written by someone with 16 years of a hit Comedy Central TV series on their resume. But like The Book of Mormon's Trey Parker and Matt Stone, Pr0ne's take musical theater conventions and use them to subversive ends. They begin the show with a song called "The Best Part of My Day," a classically-styled musical comedy opening number that establishes the theme and expectations for the show, and that the "best part of the day" is when the characters can sit alone in front of their computer and enjoy their favorite…entertainment. Their accompanying masturbatory acts are pantomimed in graphic enough style.
The director's note in the program contends that despite the wide availability of porn over the 'net, "seemingly no one speaks about it in public."  But somebody's watching it — how else could so much of it be produced? And at what cost to those who perform in it and what profit to those who produce it? Pr0n's plot also introduces us to pornographer Eddie Buonocazzo (Sam Button-Harrison) and his wife/partner Victoria St. John (Leah Isabel Tirado), and to the avid porn fan Todd Spudnik (Nick Druzbanski), who is the college roommate of the actress's gay brother Connor (Andres Enriquez). An ambitious District Attorney (Casi Maggio) is prosecuting Eddie for entrapment of his models, and Jessica's parents Bill and Charlotte (Colin Reeves and Susan Thomas) are having difficulty processing the knowledge that their daughter has, however inadvertently, become a porn star.
Along the way, we see and hear some very solid musical comedy numbers performed quite winningly by the cast. The big-voiced Button-Harrison has a specialty number in which his pornographer character tells the court "What Good I Can Provide," (which may remind audiences of Billy Flynn in Chicago or Jojo in The Life) and there's an ensemble number called "Porno Patter" that evokes "Favorite Son" from The Will Rogers Follies.  Horny roommate Todd – a Jack Black/Seth Roganesque man-child – gets a couple of comedy numbers in which he celebrates his arrested development along with his abundant libido. Vicki has a second act number, "You Get Used to It" that is cynically and sexily sold by Tirado. As Jessica's mom, Susan Thomas shows us a lovely voice that's one of the standouts in the cast.  The five-person ensemble of four girls and one guy are both fearless (in the outré costumes by Jerica Hucke that they get to wear and the sex acts they mimic) and tireless. They and the entire cast are kept moving in Alex Higgin-Houser's lively direction and Jon Martinez's clever choreography.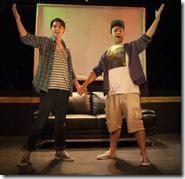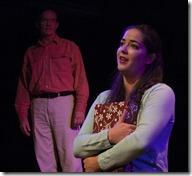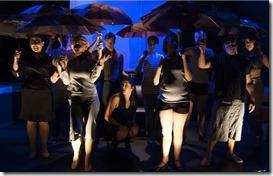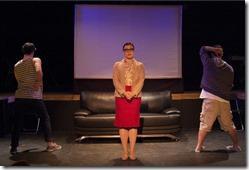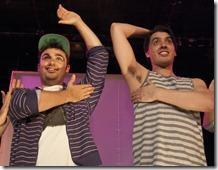 All that said, the show is overlong and has a needlessly complicated and non-linear storyline. The writers deliberately keep the plot turns ambiguous (was Jessica really as naïve as she seems?) and, even though all is made clear at the end, there are still holes in the story. Just when was Eddie indicted anyway, and on what evidence? We're led to believe Jessica and the porn studio are at the opposite end of the country from Jessica's parents and brother, yet in the second act, they all seem to move across country as if it were cross-town.
It's also hard to know where our sympathies (or our pity or scorn) are supposed to lie. The character most fully developed is not Jessica, but actually Connor (believably and sympathetically played by Enriquez) who's just trying to help Jessica make everything right.  Enriquez and Druzbanski also have a very funny scene with Tirado in which the possibility of their performing some gay porn is explored.
There's also the question of point-of-view toward the porn industry. The writers alternately show porn to be silly, its consumers laughable, the outrage against it misguided and the exploitation of its performers despicable. All of these are defensible positions and it's certainly possible for a piece to posit all of them, but Pr0n confuses us by mostly assuming a satirical tone against the industry and its consumers and then awkwardly inserting both its defense and attack of the industry. Jessica's ballad "This is My Picture," in which she reviews her childhood photo album and wonders where she went wrong, is abruptly and jarringly followed by a comic scene. Same with the second act "Father and Daughter," a number for the droll Colin Reeves as Bill.
In spite of this messiness, the young writers succeed in saying something and being an authentic voice of their generation. Sure, there's their familiarity with the Internet as a fact of life, but there's also the reminder that it's our society's young adults (maybe our own kids) who are performing in porn – and maybe they're doing that due to their limited opportunities for more traditional employment. It's a statement that's delivered most effectively in the closing number "There's Always Another Girl." The demand for porn goes on unabated and there will also be another 19-year-old to satisfy it. So while Pr0n may shock and titillate, it has something to say in own messy, outrageous and refreshingly enjoyable way.
Rating: ★★★
Pr0ne: a Casting Couch Musical Comedy continues through September 7th at Chicago Dramatists, 1105 W. Chicago (map), with performances Thursdays-Saturdays at 8pm, Sundays 7pm.  Tickets are $25, and are available online through BrownPaperTickets.com (check for half-price tickets at Goldstar.com). More information at UnderscoreTheatre.org.  (Running time: 2 hours 10 minutes, includes an intermission)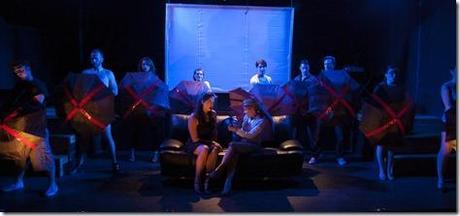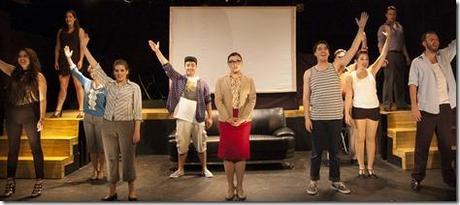 ---
artists
cast
Sarah Hoch (Jessica), Susan Thomas (Charlotte), Leah Isabel Tirado (Victoria), Sam Button-Harrison (Eddie), Colin Reeves (Bill), Andres Enriquez (Connor), Nick Druzbanski (Todd), Casi Maggio (Catherine), Miki Byrne, Kimberly Grossman, Kick Kern, Aubrey Stanton (ensemble).
behind the scenes
Alex Higgin-Houser (director), David Kornfeld (music director), Jon Martinez (choreographer), Lauren Lundy (asst. director, co-set design), Sophie Blumberg (lighting design), Aaron Stephenson (dramaturg), Jon Levitt (sound design), Jerica Hucke (costume design), Brendan Siegfried (production manager, co-set design), Jennifer J. Thusing (stage manager), Cara Polcynzski (assistant stage manager), John Kelly (master electrician), Mikey Moran (assistant sound design), Chris Rickett (flight choreography), Jarrod Bainter (technical director).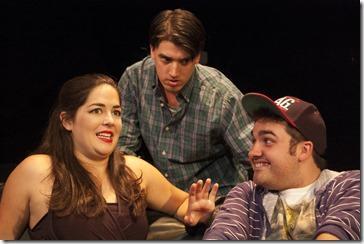 13-0818