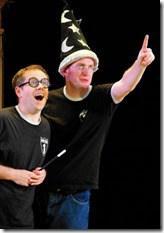 Potted Potter 
Written by Daniel Clarkson
  and Jefferson Turner
Broadway Playhouse, 175 E. Chestnut (map)
thru Jan 3  |  tix: $39-$69  |  more info
  
Check for half-price tickets  
  
---
Hilarious family-friendly fun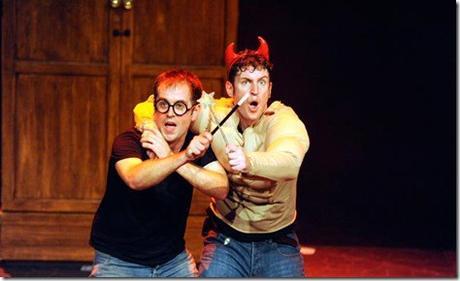 Broadway in Chicago presents
Potted Potter
Review by Lauren Whalen 
The men of Potted Potter know no fear. Whether they're writing on each other's faces, guiding the audience through a wacky PowerPoint presentation or refereeing a Quidditch match. Throughout, former TV hosts and creators Daniel Clarkson and Jefferson Turner leave no family-friendly parody stone unturned. Now back in Chicago after a successful run in 2012, Potted Potter is an ebullient joyride with just the right amount of snark. Clarkson and Turner's efforts to condense all seven Harry Potter books in less than 80 minutes is enjoyable for kids and adults alike, and a celebration of J.K. Rowling's bestselling boy wizard.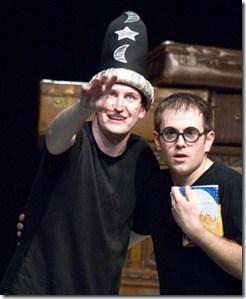 Clarkson and Turner themselves will rotate with two other sets of actors during the show's Chicago run. With only a few (slightly inappropriate) set pieces, a few puppets, a pair of glasses and all seven
Harry Potter
books, they create an experience that's positively giggle-inducing. Beginning with "Harry Potter and the Sorcerer's Stone," the two actors play all characters and provide constant commentary on everything from the Weasley family's hair color to Harry's knack for getting himself into sticky situations. Additionally, the question remains: will one of the actors finish reading "Harry Potter and the Deathly Hallows"
in time for show's end? There's only one way to find out…
Potted Potter ("potting" is synonymous with "condensing" – Clarkson and Turner have also written and performed in Potted Pirates, Potted Panto and Potted Sherlock) originated as a commissioned five-minute street show performed for Potter fans lining up for the sixth book's midnight release. A decade later, the show has played to sold-out houses in London, Edinburgh, Toronto and New York, and won the 2012 Olivier Award for Best Entertainment & Family Show. Potted Potter has enjoyed worldwide recognition and attendance for a reason: it's the rare kid-friendly show that parents, or even child-free adult Harry Potter fans, can also attend and have a glorious time. The show does poke fun at the Harry Potter series, but it's a gentle, even sweet, sort of fun that also acknowledges Rowling's brilliant storytelling. References to other smash bestsellers like the Twilight series and Fifty Shades of Grey only highlights Harry Potter's superiority (these books are actually good!).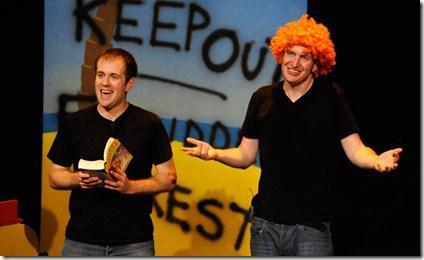 I was fortunate to see Clarkson and Turner perform at the show's Chicago opening. Their timing and repartee is spot-on, their relationship with the audience members reassuringly silly. It's easy to picture them as the BBC television hosts they once were: both are relatable as well as hilarious, two fellow nerds taking an escapist journey with the rest of us. Even ten years after the first iteration of Potted Potter, Clarkson and Turner seem delighted to share their comical take on the wildly popular series.
Potted Potter is a fast romp embedded with uproarious energy, and a testament to the power of creativity. With only a few props and costumes, a little over an hour and their own madcap humor, Clarkson and Turner transport audience members young and old to a world of wizardry. Hop on the Hogwarts train (platform nine and three-quarters, remember) and make a trip to the Broadway Playhouse this month. Whether you're a hardcore Harry Potter fan or an unfamiliar newbie, you'll laugh from beginning to end.
Rating: ★★★½
Potted Potter continues through January 3rd at Broadway Playhouse, 175 E. Chestnut (map)..  Tickets are $39-$69, and are available by phone (800-775-2000) or through Ticketmaster.com (check for half-price tickets at Goldstar.com). More info at BroadwayInChicago.com.  (Running time: 80 minutes without intermission)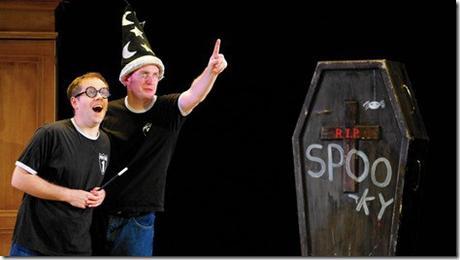 Photos by Brian Friedman
---
artists
cast
Note: casting for specific performances subject to change.
Daniel Clarkson and Jefferson Turner (December 1-16), Joseph Maudsley and James Percy (December 2-January 3), Craig Fletcher and Brendan Murphy (December 12-January 3)
behind the scenes
Daniel Clarkson and Jefferson Turner (creators), Richard Hurst (director and additional material), Hanna Berrigan, Daniel Clarkson (associate directors), Simon Scullion (set design), Tim Mascall (lighting design), Phil Innes (composer), Mati Johnson (production manager, technical director), Jennifer Lee, Shannon Hawes (company stage managers), Alex Maitland (tour manager), Seabright Productions (UK general management), Lani Milstein for Starvox Entertainment (general management), Brian Friedman (photos)
15-1205