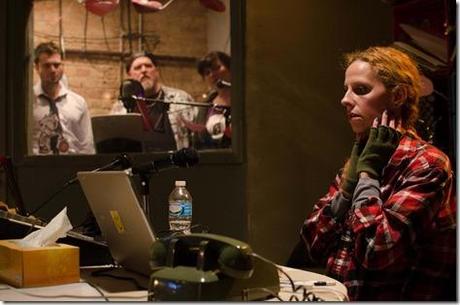 There's a little warning-a prefiguring, if you will-on the door of the darkly named "John Wilkes' Sound Booth" at the radio station in Pontypool, Illinois. Colorful magnetic letters spell the words "Shut Up or Die" next to the doorknob. Good advice, it would seem (and also the tagline from the of the same name.). Additionally, there's a haunting opening monologue about Norman Mailer's speculation of a "spasming of facts" around big events (in his case, JFK's assassination) and a similar 'spasm' around a local lost cat named Honey. In this theory-similar to apophenia -such a spasm of seeing sudden coincidences signals something...big.*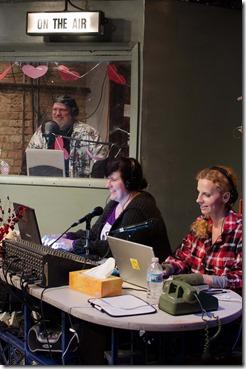 This Valentine's Day is going to be big indeed for everyone in Pontypool. Strawdog's mostly original remount of their 2012 premiere is, to my surprise, better the second time around. Pontypool is a fast-paced darkly comic tale rife with surreality that will leave audiences reeling-and possibly quieter.
Former radio shock jock Grant Mazzy () has found himself relegated from the big city to the more pastoral Pontypool where his "take no prisoners" attitude clashes with producer Sydney (Anita Deely). A standard day of backwoods news stories of drunken turkey hunters takes a turn for the strange when Ken in the Sunshine Chopper (voice of Michael Dailey) calls in with an extraordinary report. Crowds of people are attacking a doctor's office, and the National Guard is moving in to begin a quarantine. Soon the line between what are facts and what's just "being reported" blurs as bizarre witnesses call in, a frazzled doctor (Jacob Alexander) arrives and, most distressingly, one of their own () falls prey to a mysterious disorder consuming the town. It's a disorder of strange proportions. A seeming upswell in reality itself, a new lifeform taking root as an infection in language-not unlike a virus inside a computer-turns humans into mindless violent animals. Certain simple words have become transmitters, and Valentine's is made an even more horrible holiday by the fact that the words seem to show a predisposition to terms of endearment. "Honey" the cat is definitely screwed.
Despite only somewhat recommending the original premiere, it did inspire me to watch and begin reading Tony Burgess' book. People often erroneously compare the concept at the core of both to zombie fiction, but that's not quite accurate. Burgess rebukes this claim and calls the infected "conversationalists." He's certainly a man of interesting word choices, and the novel "Pontypool Changes Everything" enjoys its cult status largely because of its often frustratingly poetic disdain for narrative structure. The book is full of its own starts and endings and flights of fancy, so much so that it actually includes an apology from the author,
"And so, now that I have been asked to write this afterword, I realize it has to be an apology, not for the book, which can't be helped, but for the fact that I was unfaithful to its first virtue: I have asked you to read it, and now, sitting here at the end, I am telling you that it might be a mistake that you did."
How tongue-in-cheek this is is difficult to tell without knowing Burgess personally. He's a dadaist of sorts. Putting the book's narrative into a format that requires more narrow definitions helps sell the central conceit-and this is absolutely a conceit-driven work not unlike an episode of "The Twilight Zone"-more than the book does. Perhaps the movie and play represent his attempt at restitution, though how each one ends is different and could make for a subject of an entirely new review of his triptych.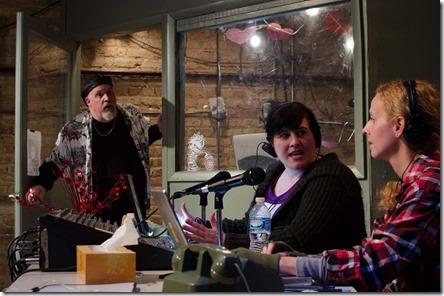 No evidence of a radio history is to be found in Vann's profile, but his portrayal of a gravelly disgraced shock jock would make any morning broadcaster proud. There may be three other people on stage but he's the center of gravity here. His deadpan recitation of a series of ultra-macabre obituaries of all the recently deceased will give anyone goosebumps. I would have liked a touch more of the acerbic in Deely's Sydney; she still seems a little detached from the role opposite a man who's fully committed.
My memory of 2012 is not perfect, but this version seems slightly different beyond a couple recastings. The length remains unchanged but the pacing seems less harried and more harrowing; the language altered ever-so-slightly in favor of more clarity. Burgess and Lawfer throw you into the deep end of the Pontypool and don't care if you come up for air, and that can be a thrilling way to enter suspense. Inside Hugen Hall, you can visit a very disturbing place indeed. The next time you find a song stuck in your head, or suddenly see a word looking strange as you write it, you may feel a slight itch in the back of your head and feel the pull of Pontypool....

continues through February 1st at Strawdog's Hugen Hall, 3829 N. Broadway (map), with performances Thursdays-Saturdays at 8pm, Sundays 4pm. Tickets are $15, and are available by phone (773-528-9696) or online through OvationTix.com (check for half-price tickets at Goldstar.com ). More information at Strawdog.org. (Running time: 60 minutes, no intermission)
*JFK and Lincoln had a lot of seeming coincidences famously elucidated on posters shortly after JFK's assassination that, while drawing massive leaps, made me wonder if the John Wilkes reference on the door was another sly inside joke about Mailer's 'spasms'.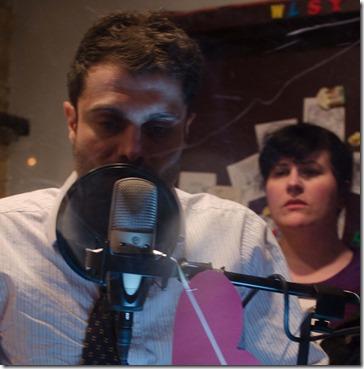 behind the scenes
Anderson Lawfer (director), Hilary Surface (stage manager), Alex Avery (effects supervisor), Gregor Mortis (sound design), Carmine Grisolia (set design), Aly Renee Amidei (costume, blood design), Jordan Kardasz (lighting design), Paige Reilly (property design), John Moran (combat design), (dramaturg), John Henry Roberts (marketing design), Tom McGrath (photographer), Morgan Gire (production manager)
Tags: 14-0106, Adam Schulmerich, Alex Avery, Aly Renee Amidei, Anderson Lawfer, Anita Deely, Carmine Grisolia, Chicago Theater, Clint May, Gregor Mortis, Hilary Surface, Hugen Hall, Jacob Alexander, Jamie Vann, John Henry Roberts, John Moran, John Wilkes Booth, Jordan Kardasz, Josh Sobel, Michael Dailey, Morgan Gire, Nikki Klix, Paige Reilly, post, Strawdog Theatre, Tom McGrath, Tony Burgess
Category: 2014 Reviews, Clint May, Extensions-Remounts, Hugen Hall, Strawdog Theatre