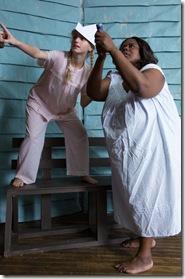 Pirate Bones 
Written and Directed by Kristina M. Schramm
at Lincoln Square Theatre, 4754 N. Leavitt (map)
thru Nov 24  |  tickets: $12-$20   |  more info 
  
  
  
   Read entire review
  
---
An unlikely friendship carries a stuttering storyline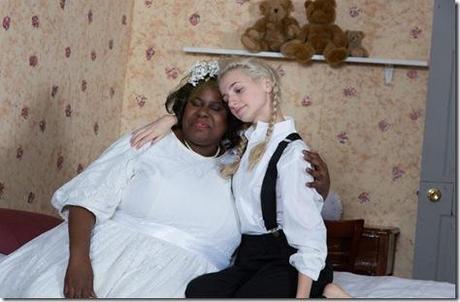 Lincoln Square Theatre presents
Pirate Bones
Review by Keith Glab
It's 1959. An immigrant German mother and daughter live next door to a middle-class black family with minimal culture clash. Kristina M. Schramm, executive/creative director of Lincoln Square Theatre, directs her own play, Pirate Bones.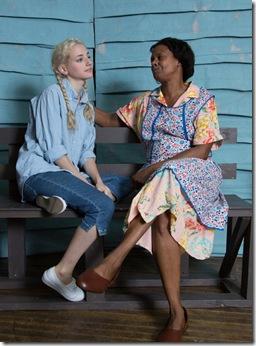 Schramm also designs the set, which both clearly denotes the time period and cleverly transforms a porch into a bedroom between acts. It's hard to understand why she chooses the setting she does, however, as the culture of the play – from single mothers easily succeeding in the workplace to people openly speaking of divorce to the lack of racial tensions – aren't reflective of the late 50s.
Edina (Gina DeLuca) is an adolescent growing up without a father. She buries her emotional troubles in Peter Pan fantasies. Oda Mae (Ashley J. Dearborn), a mentally challenged 25-year old, fantasizes about her wedding day. Her parents indulge their daughter in this dream, and the two girls become inseparable in their shared escapism.
This unlikely friendship between Edina and Oda Mae reads as both sweet and believable. DeLuca easily passes for an educated girl in her early teens who is often frustrated with Oda Mae's poor grammar. Her Edina is outwardly strong and capable, but her inner vulnerabilities aren't hidden too far beneath the surface. Dearborn excels at giving Oda Mae the look in her eyes of someone who struggles to grasp concepts that others take for granted. She imbues the character with real warmth.
The story plods along with low stakes and little narrative drive until Edina encounters a violent man (Donald Kubeczko) at the end of the first act. This scene plays out choppily, but it manages to terrify nonetheless. The second act works better, as the undercurrent of this encounter ominously affects everything else that occurs.
Two detectives visiting Oda Mae's mother Della (Carolyn E. Nelson) many years after these events took place serve as bookends for the story. This framing doesn't completely work, though. Della isn't present for many of the events in the play, so what the audience sees isn't the story she's telling, and we therefore can't know precisely how much she knows nor what she tells the detectives. Nelson does a great job playing the age difference, and indeed her character is the strongest of the ensemble. Her monolog telling how Oda Mae became developmentally challenged is quite moving and perhaps the highlight of the production.
Della's relationships with the other characters always prove interesting, but the relationship between Edina and her mother (Joy Thorbjornsen-Coates) might be explored more. Meanwhile, the characters Georgia (Mary Helena) and Regina (Judith Laughlin) have no function in the story other than as light comic relief, and the play would work better with one detective rather than two that are underdeveloped. Some of these superfluous pieces could be cut to give more attention to the interactions between the primary characters.
This production isn't too far from being quite compelling, but as currently constructed, you need to sift through some debris to uncover the hidden treasures of Pirate Bones.
Rating: ★★½
Pirate Bones continues through November 24th at Lincoln Square Theatre, 4754 N. Leavitt (map), with performances Thursdays-Saturdays at 8pm and Sundays at 2pm. Tickets are $12-$20, and are available by phone (773-275-7930) or online through BrownPaperTickets.com. More information at LincolnSquareTheatre.org.  (Running time: 1 hour 45 minutes, includes an intermission)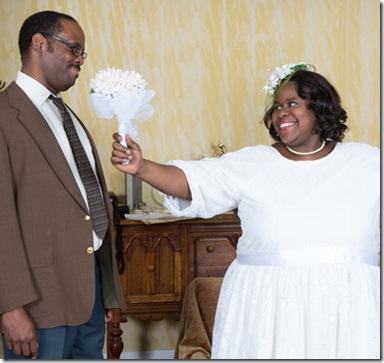 Photos by Tom Snow
---
artists
cast
Ashley J. Dearborn (Oda Mae), Gina DeLuca (Edina), Charles Glenn (Darling Davis), Mary Helena (Georgia Keeper), Brendan Hutt (Detective Chambers), Donald Kubeczko (Man), Judith Laughlin (Regina Trout), Carolyn E. Nelson (Della), Ed Schultz (Detective Johnson), Joy Thorbjornsen-Coates (Augusta Melkampf)
behind the scenes
Kristina Schramm (director/set design); Nathaniel Nesheim-Case (stage manager); Gina Patterson (lighting); Kim Baker (props); Erica Hohn (costumes); Rachel Ramirez (asst. stage manager); Tom Snow (photos)
12-1074