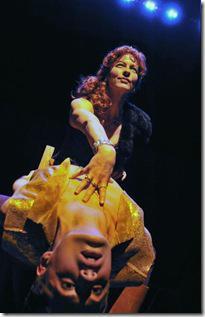 Pippin
  
Music/Lyrics by Stephen Schwartz 
Book by Roger O. Hirson
Directed by Peter Marston Sullivan
at Theater Wit 1229 W. Belmont (map)
thru Nov 13  |  tickets: $22-$28   |  more info
Check for half-price tickets 
  
  
   Read entire review
  
---
More awkward than magical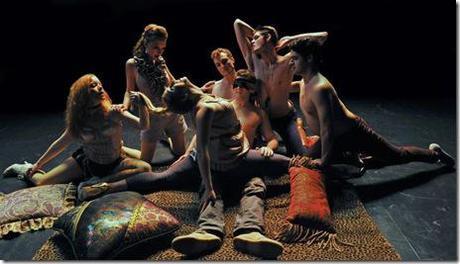 Boho Theatre presents
Pippin
Review by Catey Sullivan 
Oh dear. That's the two word summation of Bohemian Theatre Ensemble's two-hour sexyface fest, aka their staging of Pippin. Watching the piece is akin to watching a gaggle of awkward high school underclassmen doing their best super model imitation, were said supermodels in the sort of mega-stylized hot 'n bothered fragrance-ad mode that characterizes ad campaigns for perfumes with names like Sultryductress or VainGlorious. Here's the thing: If you're trying that hard to be sexy? You don't look sexy. You look like Courtney Studden.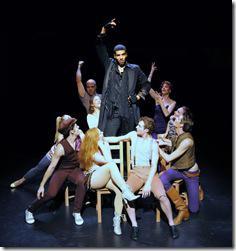 That's what dooms
Peter Marston Sullivan
's direction of
Pippin
. Well, that and some lead vocals that one might charitably characterize as all over the map. And while choreographer
Brenda Didier
draws heavily on Bob Fosse's original moves, the ensemble's execution of those moves is lamentable. Danced correctly, Fosse makes seduction – or the promise of it – seem as effortless as it is irresistible. What Boho achieves is a saucy-Fosse parody. Unlike that of Forbidden Broadway, it's an unintentional parody and thus deeply unfunny.
The trouble is apparent – both vocally and kinetically – from the start, as the Leading Player (Travis Porchia) gyrates his way through the glorious music of "Magic to Do". There's no denying the power of Stephen Schwartz' rapturous score. In addition to that beguiling opener, it contains "Corner of the Sky" and the dreamy "Morning Glow," all showtune classics for good reason. But with a few exceptions, that reason isn't apparent here, despite the valiant efforts of the on-stage band (which manages nicely under Nick Sula's musical direction. Porchia is thin and tentative where rich, complex assurance is called for. Moreover, he lacks the sinister, serpent-with-an-apple quality that defines the Leading Player. He's more cartoonish than dangerous, and that's the last thing you want in a character that is supposed to be an embodiment of sinewy menace.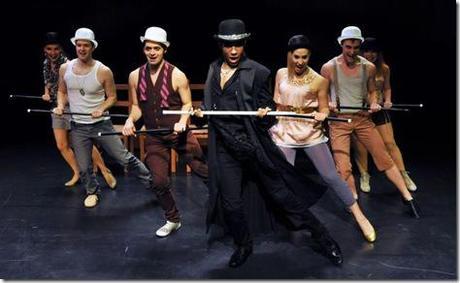 As for the title character, Shaun Nathan Baer's Pippin cracks in the upper register and becomes inaudible in the lower. Throughout, he's as bland as Wonder Bread, and renders Pippin's journey of self-discovery just about as interesting. As the vixenish Fastrada (Queen to Michael Kingston's decidedly un-regal King Charlemagne), Jenny Lamb is a shrill shrew indeed, delivering a performance that is defined primarily by Bill Morey's skin-tight bandage dress and sky-high heels. Only Dana Tretta, as the widow Catherine, manages anything like resonance and warmth; when she delivers the achingly melancholy "Guess I'll Miss the Man," you'd be hard pressed not to tear up.
Pippin stumbles hardest in the finale number, when the Leading Player abruptly strips the production of its design elements, bringing up the lights, removing the chairs that comprise the set, stripping the cast of their costumes and confiscating all vestiges of theatrical magic. The scene is rendered powerless because that magic wasn't there to begin with so its absence has no impact.
Rating: ★½
Pippin continues through November 13th at Theater Wit, 1299 W. Belmont (map), with performances Thursdays-Saturdays at 8pm and Sundays at 2pm.  Tickets are $22-$28, and are available by phone (773-975-8150) or online at Boho's website. More info at BohoTheatre.com.  (Running time: 2 hours, which includes one intermission)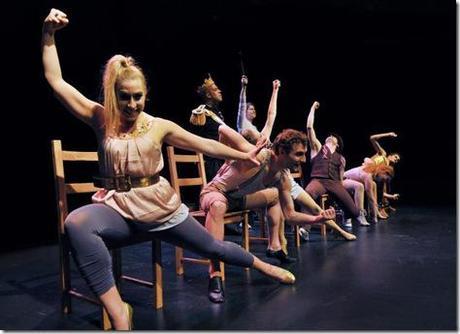 All photos by Peter Coombs 
---
artists