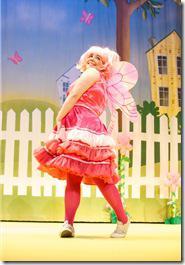 Pinkalicious
Book by Elizabeth Kann and Victoria Kann
Lyrics by John Gregor, Elizabeth/Victoria Kann
Music and choreographed by John Gregor
Directed by Ernie Nolan 
Broadway Playhouse, Water Tower Place (map)
thru Sept 3  | tickets: $16-$22  | more info
Check for half-price tickets
   Read entire review
---
Prepare to be tickled pink!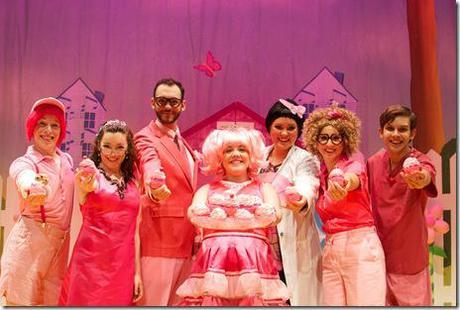 Emerald City Theatre and Broadway in Chicago present
Pinkalicious the Musical
Review by Katy Walsh 
"Just one more" is often the difference between satisfied and regret.  It's the last happy thought before something bad happens.  In a startling example of you-are-what-you-eat, a little girl has one too many pink cupcakes.  Emerald City Theatre brings Pinkalicious to the Broadway Playhouse at Water Tower Place. 
The Pinkertons are an average, every-day family.  Dad is at work.  Mom is at the computer.  The kids are playing… and eating.  A big platter of pink cupcakes entices the kids to overindulge.  Liking cookies better anyway, Peter stops eating.  Pinkalicious likes cupcakes more than cookies!!  She eats herself pink, literally.  She's delighted at the change.  Her family is concerned. The doctor prescribes a steady diet of green foods to cure her Pinkititis.  Pinkalicious is an upbeat musical about taking time for a healthy dose of family, friends and food.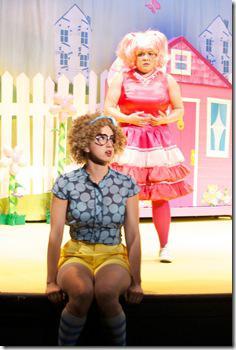 Emerald City Theatre, in conjunction with
Broadway in Chicago
, takes its 2010 hit production downtown!  Based on the best-selling novel "
Pinkalicious
,"
the kids' story comes to life in a colorful explosion of fun.  An effervescent Lara Maineir (Pinkalicious) is bursting with song and a love off all things pink. She radiates a joyful, pink glow! Maineir teams up with an animated
Mark Kosten
(her brother Peter). The sibling rapport is purely adorable!  Kosten is eager to please his family and the audience.  He jumps, flips and splits in an energetic frenzy.  He's hilarious.
Under the direction and choreography of Ernie Nolan, the entire ensemble sings and dances life lessons with a catchy tune and lively step.  There is an especially cute visual when the family bikes together to the doctor. The focus is eating right and enjoying treats in moderation.  But the show goes further to capture other teachable family moments.  Parents need to make time for their kids.  A friend should keep her promise.  It's okay for boys to love the color pink.  For a show about pink cupcakes, there is some sustenance to help young things grow.
As is a hallmark of Emerald City Theatre, there are activities before and after the curtain.  The program has games for kids and discussion starters for parents.  After the show, the cast is available for pictures and autographs.  The perfect target audience is probably 5 to 10 year-olds.  I saw a lot of younger ones get Audiencititis during bigger talking scenes. They get a little blue and maybe even see red watching scenes without Pinkalicious and her brother.  Luckily, Pinkalicious and Peter are primarily onstage the entire time.  Even though the rest of the ensemble is talented, Pinkalicious and Peter are pinktastic!  They are just so sweet together!  Pinkalicious tickles me pink!  
Rating: ★★★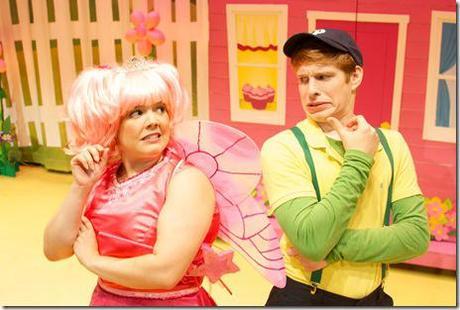 Emerald City Theatre's Pinkalicious continues through September 3rd at the Broadway Playhouse, 175 E. Chestnut (directly behind Water Tower Place), with performances Thursday-Sundays at 10am. Tickets are $16-$22, and can be purchase by phone (800-775-2000) or online at BroadwayInChicago.com. More information at EmeraldCityTheatre.com.  Running Time: Sixty minutes with no intermission
All photos by Tom McGrath 
---
artists
cast
Ashley Braxton (Dr. Wink), Patrick Byrnes (Mr. Pinkerton), Rachel Klippel (Mrs. Pinkerton), Mark Kosten (Peter Pinkerton); Lara Mainier (Pinkalicious), Alex Ring (Ensemble), Julia P. Gordon (Alison)
behind the scenes
Ernie Nolan (director, choreography, sets); Julia P. Gordon (asst. director); Marta Johnson (music director); Nathan R. Rohrer (costumes); Nic Jones (lighting); Daniel Black (sound); D.J. Reed (props); Scott Flores-Deter (stage manager);Tom McGrath(photos).