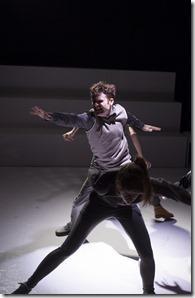 Pink Milk
Written by Alex Paul Young  
Directed by Brandon Powers
at Oracle Theatre, 3809 N. Broadway (map)
thru Sept 7  |  tickets: FREE   |  more info
  
Check for half-price tickets 
  
  
   Read entire review
  
---
Imaginative and energetic 'Milk' still turns sour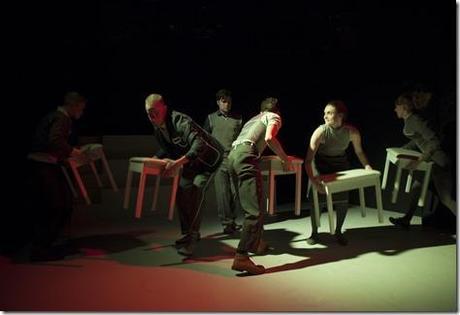 Oracle Theatre i/a/w White Elephant presents
Pink Milk
Review by Keith Glab
Pink Milk is billed as "a drama infused with dance inspired by the life of Alan Turing, the British mathematician known as the father of modern computers." While this summary is not exactly misleading, the main focus of the piece concerns a man struggling with his sexuality in a society in which homosexuality is illegal. The protagonist's role as a pioneer in the development of computer science is more of a side detail.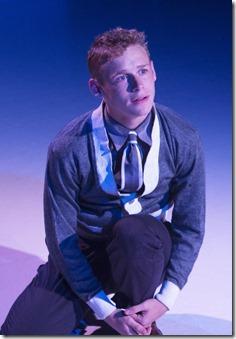 This detail is exaggerated to seem as though Turing (
Aaron Stephenson
) is building progressively more advanced androids (
Darren Barrere
) that run on apples as an adolescent. Adding to the surrealism, Turing develops a close relationship with an anthropomorphic daisy (
Carrie Drapac
). Layered with this are stylized movements and dance that are incorporated throughout the piece. While well-choreographed and ably performed, these movements often do not associate with any discernible meaning.
Although the actors are dressed completely in greytones on a black-and-white set, stark colored lighting creates various effects on the stage. Electronic music plays over some of the dance sequences to further give a dizzying effect.
The cast alternates between narrating the action in the third person and assuming the roles themselves. This combined with actors taking on multiple roles can make the story hard to follow. Alex Paul Young doesn't help matters by overloading his script with metaphors of varying appropriateness. Once music, dance, and strobe lighting get incorporated – probably as an illustration of Turing's chaotic emotional state – it's pretty easy to miss an important point in the storyline that culminates in Turing having to decide whether to serve time in jail or accept estrogen injections as treatment.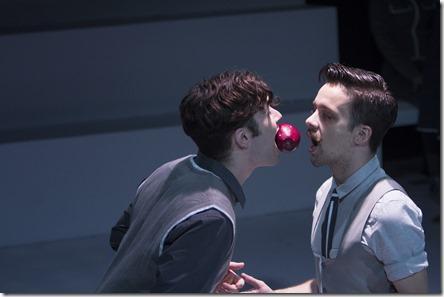 Stephenson gives an understated portrayal of Turing, allowing the other elements of the production to underscore emotional bullet points. The rest of the ensemble boasts strong vocal skills along with their obvious aptitude for movement. Jessica Dean Turner, who portrays a variety of Authority Figures ranging from piano teacher to military commander, stands out as the strongest of the bunch. Her voice and presence effortlessly fill Oracle Theatre's close quarters, yet she's also able to find the nuanced humor in Young's words that the other castmates miss. It's a shame that she is given the least to do among the seven cast members.
These strong performances might be able to carry this jumbled piece if it were more tightly constructed. From the labored process of seating the audience, Pink Milk spills out to over 100 minutes without an intermission. Selecting fewer images to use as motifs would make the entire experience more digestible than this overload of imagery given in piecemeal scenes that are separated by dance sequences. Despite a talented, energetic cast and an imaginative design team, this production turns sour from a bombardment of unfocused images, themes, movements, metaphors, and storylines. It's a classic instance where less would have been more.
Rating: ★★
Pink Milk continues through September 7th at Oracle Theatre, 3809 N. Broadway (map), with performances Fridays, Saturdays and Mondays at 8pm, Sundays 7pm.  Tickets are always FREE – it's important to reserve tickets in advance HERE. More info at PublicAccessTheatre.org.  (Running time: 1 hour 45 minutes, NO intermission)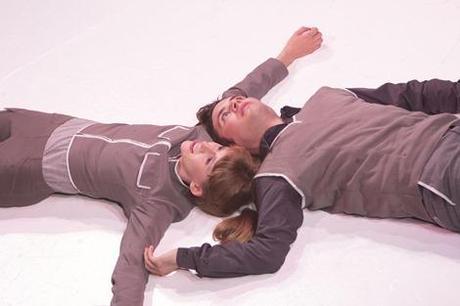 ---
artists
cast
Aaron Stephenson (Alan), Cole Doman (Christopher), Charlie Kolarich (Arnold, Mr. Turing), Carrie Drapac (The Inanimate Objects), Darren Barrere (The Experiments), Jessica Dean Turner (The Authority Figures), Caitlin Collins (The Mothers [August 10 - 25]), Casey Hartley (The Mothers [August 26 - September 7]), Amelia Hefferon, Scott Shimizu, Justin Leider (understudies)
behind the scenes
Brandon Powers (director, choreographer), Emma Pardini (set design, props), Jessica Carson (lighting), Cassie Bowers (lighting), Visager (original music), Rachel Stubblefield-Tave (stage manager), Juli Del Prete (graphic design), Rachel Birnbaum, Louis Schermerhorn (production co-producers), David Boren (Oracle producer), Ben Fuchsen (Oracle executive producer)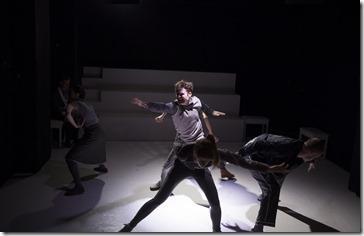 13-0814