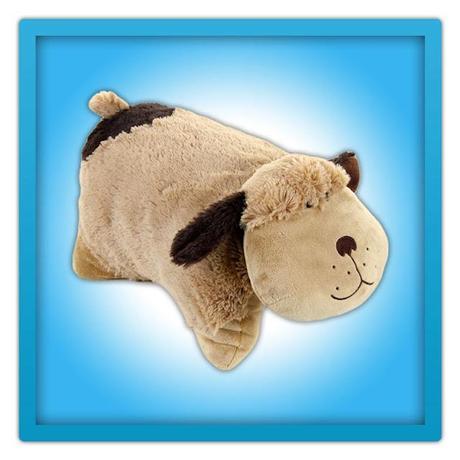 Snuggly puppy being a soft toy...
We were asked if we would like to do a review for Pillow Pets a few weeks ago. Before then I had never heard of them, not surprising really since they are only just being launched in the UK this spring. Originally developed by an American mom in 2003 (which sounds like last week but is in fact nearly ten years ago, eeek!) they are, as the name suggests, both a pillow and a pet.
The idea is actually remarkably simple: imagine a pillow which can fold in half and hold in place with a velcro strap. When it is folded, it becomes a soft cuddly toy, when unfolded it is a full sized pillow. Our particular new little friend is a puppy dog, though this is only one of eight designs you can buy. Since Daddy is a very keen dog lover and is trying his best to instill this in our baby boy, he was thrilled that we were sent this cute little dog.
When it arrived I was immediately struck by how soft the fabric it is made from is - I think it must be one of those super-soft micro fiber fabrics that they make things for babies out of, which just invite you to snuggle up with them. Its face is very cute and appealing, and my son seems to enjoy playing with it. In terms of function, the Velcro strap that converts it from pet to pillow is as simple to use as... well, as Velcro is, and there is a little flap to cover up the scratchy side of the Velcro when it is being used as a pillow, which I thought was a clever touch.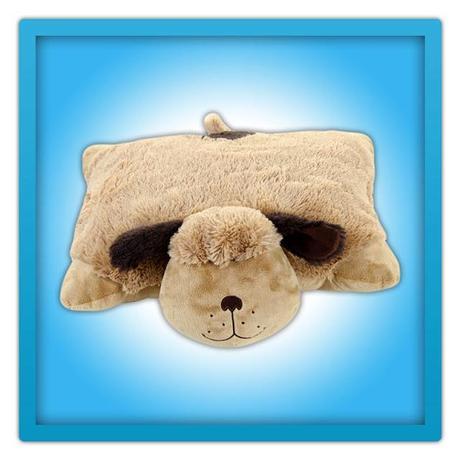 ...and then, in a flash, he's a pillow!
This idea really is a good one, since they are cute enough to work as a cuddly toy and large and firm enough to be a proper pillow for a child or an adult - Mr W has taken to snuggling up with his puppy pal under his head when watching TV in the evenings, not that he'll thank me for sharing that! From a mum's perspective, if I am going to have toys littering every room of my house - and it seems that I am - then it is great if they can also serve a useful purpose for the whole family as well. I would say that the Pillow Pet is larger than most of our other soft toys, but this does mean that it unfolds to be a proper sized pillow, which means it can be used for adults as well ad kids.
The website recommends that Pillow Pets are ideal for little ones to snuggle up with on long car and plane journeys. We haven't had much chance to test our Pillow Pet on any long journeys since we got it but I can imagine that it would be especially comforting for children who get travel sick or are nervous about a big trip to have a familiar snugly toy that they can comfortably sleep with in strange surroundings.
Although my son was perhaps a little younger than their target market (the website recommends Pillow Pets), we have already found our Pillow Pet to be useful, cute and well made, and the price tag of around £20 seems reasonable, so I would be happy to recommend this product to other mums.
Website:
http://www.pillowpets.co.uk
Facebook:
http://www.facebook.com/MyPillowPets
Available from: Directly from the website,
on Amazon
, or from
Toys R Us
Retail price: £16.95