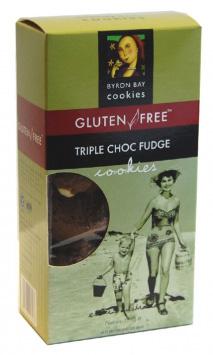 Hot on the heels of reviewing mother's day chocolates, I was asked if I would also like to write a review for Byron Bay Cookies. So much for the new year diet... I was amazed when the box arrived from Byron Bay (not Australia) filled with every flavor of cookie you could imagine. This was going to be a serious job!
Byron Bay Cookies is originally an Australian company but since 2007 they have been working with a UK bakery to produce their cookies in the UK, meaning they could use as many locally sourced ingredients as possible. Their cookies are available from independent cafes and coffee shops and selected health food shops.
Byron Bay Cookies are certified by the Vegetarian Society, use only free range eggs, and are free from artificial colours, flavours and preservatives. Importantly for mums whose children have food intolerances (or mums with food intolerances themselves), Byron Bay also produce a range of gluten free cookies which have been approved by Coeliac UK and display the Cross Grain Symbol. The gluten-free range is also available as packs of mini cookie bites in the Free From section in larger Sainsbury's stores.
I was interested to read about their environmental pledge as well. Here's some more information about what Byron Bay Cookies are doing to be socially and environmentally responsible, taken from their website:
"We are leading the way with the following initiatives:
reducing greenhouse gas emissions by 86% ie 13, 000 tonnes

installing a recycling plant for cardboard & plastic

international orders now shipped by sea rather than air

all palm fat used in our cookies is sourced sustainably

we use as many locally sourced ingredients as possible

all outer packaging is now bleach free and 100% recyclable

employees are offered cash incentives to use pedal power to work"
So, with the science but out of the way, let's get down to business: what do they taste like? In short, delicious. These are mostly crumbly cookies rather than the soft-baked type, and they taste buttery and crisp. The exception would be the sticky date, ginger and walnut cookie which was softer, maybe because of the dried fruit.
My favorite flavour, which turns out to be their original recipe, was the white chocolate and macadamia. I was really curious to try the gluten free cookies: since I am not gluten intolerant, I haven't really tried any gluten free biscuits before and wondered whether the would be as nice as the ordinary ones. I have to say, if I'd been tasting these blind, I don't think I would have guessed these were 'free from' cookies and I especially loved the strawberry, clotted cream and white chocolate chip gluten free cookie (as gorgeous as it sounds). My husband, who I got involved in the cookie tasting session to canvas a range of opinions, thought that the gluten free chocolate cookie he tried was drier than the regular one, but perhaps this is more to do with personal taste as I thought the buttery, crumbly texture was great. I certainly think if I was gluten intolerant and couldn't eat normal cookies I would be thrilled to have these as an option in my local coffee shop.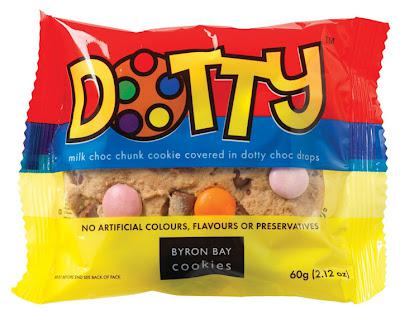 Apparently Byron Bay's best selling cookie is the Dotty cookie, available in regular and gluten free varieties, which is a chocolate chip cookie studded with coloured chocolate drops (think the popular multi coloured chocolate sweets that come in tubes and rhyme with "arty"). I can imagine this would be the first one that kids would go for, though it was also the first one my husband picked out as well...
In conclusion, I really liked these cookies. They tasted great, their ethical and environmental credentials seem solid, they fill a big gap in the market for people who are vegetarian and gluten intolerant and they offer a range of flavours which is a bit more unusual than your average cookie (lemon and macadamia nut shortbread, fig and pecan). I'm just hoping the next review I do is for mineral water or dumb bells, otherwise this mommy tummy is going nowhere...
Website:
http://www.byronbaycookies.co.uk/
Facebook:
http://www.facebook.com/byronbaycookies
Twitter:
https://twitter.com/ByronBayCookie