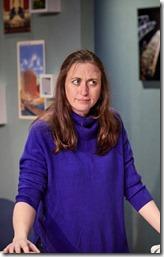 World premiere covers complex matters with broad strokes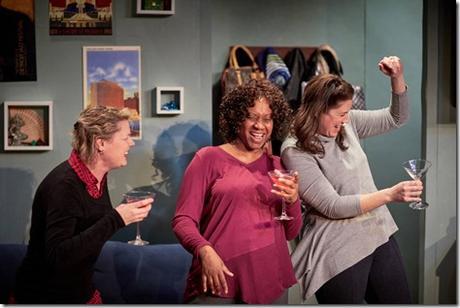 Today's society is very different than it was a year ago, yet racism has always been a pervasive issue in the United States and worldwide. This past season, it's been refreshing to see more theater companies, small and large alike, take on tough questions that don't always have easy answers. That said, there are effective ways to explore difficult topics, and there are plays that feel like Lifetime Movies crossed with Very Special Episodes. Phantom Pain does its very best to convey a message, but Barbara Lhota's world premiere conveys its characters, plot and dialogue in wide sweeps rather than fine brushstrokes, resulting in a well-intentioned but overly broad look at race.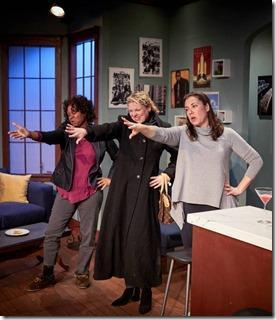 Told alternately in present day and flashbacks to the 1970's,
Phantom Pain
follows childhood best friends Marnie (
Lisa Herceg
), who is white, and Angela (
Pamela White-Raines
), who is black. The two grew up together in Detroit, though they were bused to a suburban Catholic school, and both endured significant trauma in their youth. As a teenager, Angela was subject to a racially-motivated act of violence that resulted in the loss of a limb, and at age seven, Marnie was assaulted by a group of older black girls. Now, Marnie and Angela are still friends and live in Chicago, and tonight they are expecting a visit from Bets (
Kristen Williams
), their third musketeer who was subject to the same attack as Marnie. Along with Marnie's partner Meg (
Stephanie Sullivan
), the three tiptoe around one another and drink heavily, before tackling the atrocities of their past and their relationships with one another.
At times, Lhota's script accurately hits on the complexities behind Marnie, Angela and Bets, and the motivations for what they say and do as children and adults. Besides racism, Phantom Pain attempts to tackle class privilege, toxic masculinity and LGBT acceptance - a tall order for a 90-minute one-act, but not impossible. Unfortunately, more often than not, Lhota resorts to broad stereotypes (the character of Bets is a textbook former liberal who idealizes a childhood that wasn't at all ideal) rather than delving into the nuances and moral relativism that people like Bets often employ. The plot twists are either incredibly predictable or out of left field, neither of which lends to the story's credibility. Lhota set out to write a play about the horrors of racism and segregation but instead ends up with a staged Facebook argument where everyone walks away frustrated and no one learns anything. As for the flashbacks, the teenage scenes are effective, while the scenes of the three women as small children are awkwardly written and staged.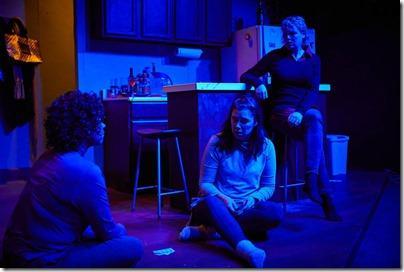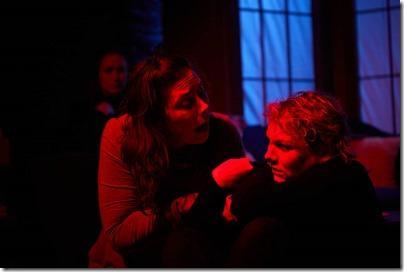 Scenic designer Austin Wood assembles a realistic Chicago apartment for a schoolteacher and a historical preserver. Nothing is too fancy or out of character, but the pictures of Chicago and Detroit on the wall and the calming blue paint are homey and realistic touches. The cast also does a respectful job with what they are given, with the exception of Williams, who seems stiff and out of place. Sullivan transforms Meg from what could have been a throwaway character into an intelligent observer. Herceg is believable as the awkward, closeted teenage Marnie and her adult counterpart, now out of the closet but still finding her place in the world. And White-Raines' Angela is strong and smart, a woman who could have been beaten down daily but has the steely resolve to keep going.
A few years ago, I reviewed Stage Left's production of Lhota's , and enjoyed the chilling he-said-she-said anatomy of an assault. Sadly, Phantom Pain doesn't have the same suspense or skill. What could have been a nuanced portrayal of friendship, race and privilege is instead a thin, one-dimensional ploy for controversy.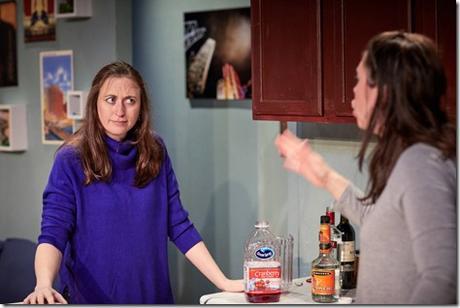 Phantom Pain continues through April 2 at Greenhouse Theater Center, 2257 N Lincoln Ave. (map), with performances Wednesdays-Fridays at 8pm, Saturdays at 3pm and 8pm, and Sundays at 3pm. Tickets are $25, and are available online through their website (check for half-price tickets at Goldstar.com ). More information at OrganicTheater.org. (Running time: 90 minutes, no intermission)
Photos by John Lee Jennings
(Marnie), Stephanie Sullivan (Meg), Pamela White-Raines (Angela), Kristen Williams (Bets)
behind the scenes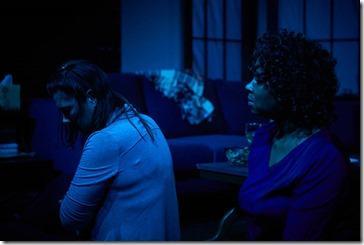 (director), Anna H. Gelman (assistant director), Angela Kring (stage manager), Nyssa Lowenstein (costume design), Austin Wood (scenic design), Ryan Breneisen (lighting design), M. Anthony Reimer (sound design), Alexis Yordon (properties), Wilson Cain III (dramaturgy), John Lee Jennings (photos)
Tags: 17-0321, Alexis Yordon, Angela Kring, Austin Wood, Barbara Lhota, Chicago Theater, Greenhouse Theater Center, John Lee Jennings, Kristen Williams, Laura Sturm, Lauren Whalen, Lisa Herceg, M. Anthony Reimer, Nyssa Lowenstein, Organic Theater, Organic Theater Company, Pamela White-Raines, post, Ryan Breneisen, Stephanie Sullivan, Wilson Cain III
Category: 2017 Reviews, Greenhouse Theater Center, Lauren Whalen, Organic Theatre, World Premier