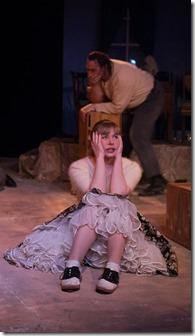 Peyton Place 
Written and Directed by Paul Edwards  
Based on the novel by Grace Metalious  
at City Lit Theater, 1020 W. Bryn Mawr (map)
thru March 30  |  tickets: $28   |  more info
  
Check for half-price tickets 
  
  
   Read entire review 
  
---
An overlong, unfocused visit to a steamy small town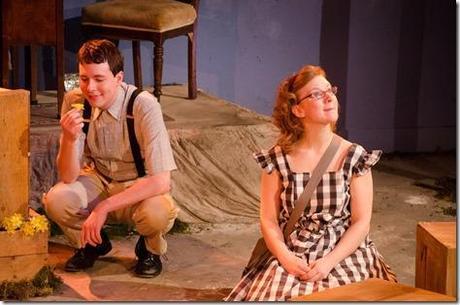 City Lit Theater presents
Peyton Place
Review by John Olson
For those who may not remember, Peyton Place was a steamy best selling page turner novel of the 1950's. According to this production's program notes, 12 million copies of it were sold by the end of the decade and film director John Waters has called it "the first dirty book the baby boomer generation ever read." It was adapted into a 1958 feature film and later into a primetime TV serial that ran for five years. Paul Edwards' adaptation of the original novel for this City Lit production doesn't feel half that long. Its two hour and 40 minute playing time would be a challenge for many a script, but Edwards' lack of focus on the piece makes it an exceptionally long slog.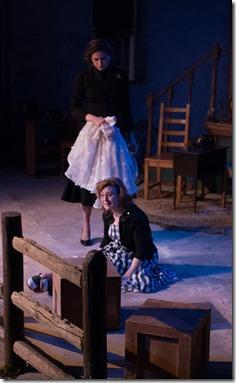 Grace Metalious' novel is set in a fictional New Hampshire small town where the residents all have dirty secrets, sordid pasts and lusty desires. It deals with incest, abortion, sexual child abuse, VD, and murder. The story, focusing on female characters that nearly all have had or may have illegitimate pregnancies, might be played many ways. Its attitude toward this then-shocking-but-now-commonplace subject matter might be done as campy satire. Or, it could be done as pastiche, in the manner of the film "Far from Heaven" – acknowledging but celebrating its dated material and style. It might even have been played straight – empathizing with the characters' tension between their sexual desires and their fear of social disapproval in a gossipy small town. It seems that any of these approaches might have worked – but not all of them in the same show. Edwards, who directed as well as wrote the adaptation, can't decide. There are funny moments in the show, but not enough of them to sustain two hours and fort minutes, and they fight against the moments when it seems we're supposed to take the characters seriously. The earlier signals have been that this is camp and we don't need to care.
In the first act at least, Edwards does a pretty good job of condensing the 500 page novel – taking some 15 characters and six major subplots and getting them onstage in an efficient manner. In the second act, he lets some of the dialogues go on too long. Then, halfway through the long second act he shoehorns some of the plot resolutions into a confusing meta device in which lead character Allison McKenzie – initially introduced as a teenaged aspiring writer but now an adult published author of short stories – has written a novel detailing everything we have just seen . She describes the fates of some of the characters in her novel to her agent and then at his request creates a sex scene involving her mother. As Allison imagines the scene, it's acted on stage by the actors playing the mother and the mother's boyfriend. After that, even though we are led to believe all we saw earlier may have been Allison's creation (or at least fictionalization), Allison returns to Peyton Place and rejoins the earlier characters to take part in the last few scenes. Coming as these scenes do after the two hour and 20 minute mark, we don't much care if they're supposed to be real or not, but it's confusing nonetheless.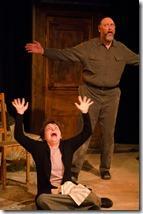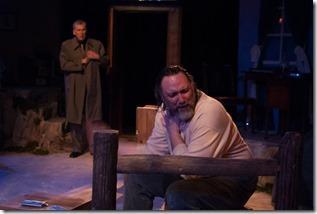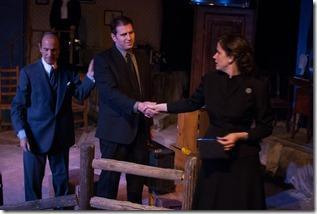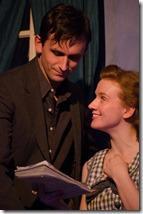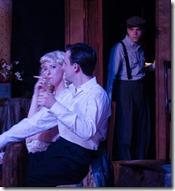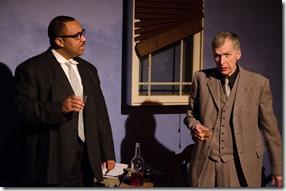 All that said there are some pleasures in this marathon. City Lit is to be admired for the ambitiousness of the project. Its cast of 15 playing 26 characters moves fluidly across the stage in its intimate and comfortable space. As antsy as I found myself in the second act, Edwards' direction of the first act keeps the action moving and engaging. The set by Jacob Watson is simple and low budget, but enough to establish the early 1950s period. So are the costumes by kClare Kemock (again with budget constraints evident in its one costume per character scheme).
There are also a few very fun and interesting performances. Best of all is Judy Lea Steele as the tough, and very New Englander abused wife Nellie Cross. She comes off believably rural and working class in a mixture that feels entirely original. Caron Buinis is a trip as the overprotective mother of Norman Page, the shy but sweet suitor of Allison who gets a sensitive portrayal by Jeremy Myers.
Critical opinions of "Peyton Place" the novel range from those who see it as a trashy potboiler to others who find it at least a workmanlike piece of social commentary on small town life. This adaptation might be a good first draft if its author would commit to a take on which of those two opinions he holds of the source material. If the piece were to be played as flat-out satire, I'm not sure it could sustain more than 90 minutes of such material, though. And if it's to be commentary on a specific time and place, we have to care more about the characters, though probably lose a few of them for time concerns. As it is, the first half is entertaining enough that you won't want to leave at intermission, but the second act is so laborious you'll soon enough wish you had.
Rating: ★★½
Peyton Place continues through March 30th at City Lit Theater, 1020 W. Bryn Mawr (map), with performances Fridays/Saturdays at 8pm, Sundays 3pm.  Tickets are $28, and are available by phone (773-293-3682) or online through BrownPaperTickets.com (check for half-price tickets at Goldstar.com). More information at CityLit.org.  (Running time: 2 hours 40 minutes, includes an intermission)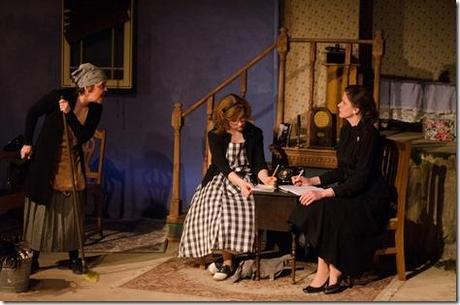 Photos by Tom McGrath
---
artists
cast
Catherine Gillespie (Allison McKenzie), Sheila Willis (Constance McKenzie), Todd Neal (Rollins), Kingsley Day (Dr. Swain), Judy Lea Steele (Nellie Cross), Dave Skvarla (Lucas Cross), Sara Renee Gilbert (Selena Cross), Caron Buinis (Mrs. Page, others), Lisa Stran (Mrs. Prescott, others), Jerry Bloom (Leslie Harrington, Brad Holmes), Abdrew Jorczak (Ted Carter, others), Charle Rasmann (Rodney Harrington, David), Jeremy Myers (Norman Page), Christina Renee Jones (Betty Anderson, Kathy), Mark Pracht (Tom Makris),
behind the scenes
Paul Edwards (adapter, director, audio-visual design), Jacob Watson (scenic design), Liz Cooper (lighting design), kClare Kemock (costume design), Miriam Cross (props design), Alexa Berkowitz (stage manager), Tom McGrath (photos).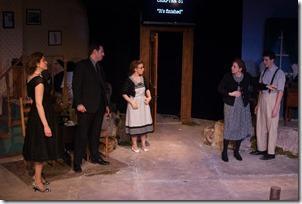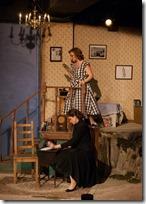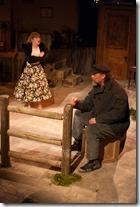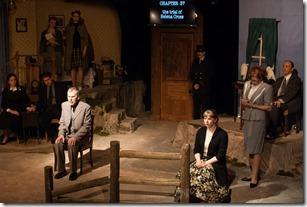 13-0260