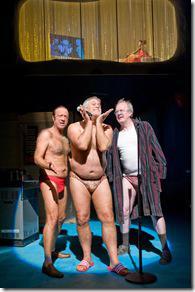 Penelope
Written by Enda Walsh
Directed by Amy Morton 
Steppenwolf Theatre, 1650 N. Halsted (map)
thru Feb 5  |  tickets: $20-$78   |  more info
  
Check for half-price tickets 
  
  
   Read entire review
  
---
'Penelope' tries too hard, talks too much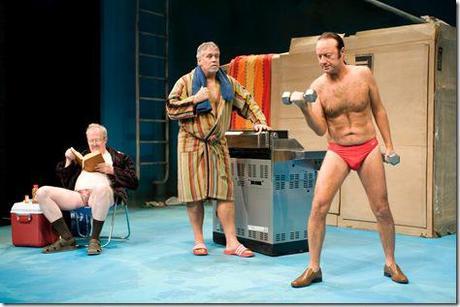 Steppenwolf Theatre presents
Penelope
Review by Lauren Whalen 
It's a tricky business watching other people wait. Leaving characters of various personalities stranded in one space until they can figure out their issues – otherwise known as purgatory – can be an excellent challenge for the writer engineering the script and the actors taking part. Whether this structure is entertaining for the audience is another story. In Beckett's Waiting for Godot and Sartre's No Exit, the results are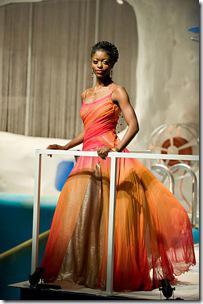 fascinating studies of the human condition that leave the audience wondering, "what would I do if faced with the same circumstances?" In the case of Steppenwolf Theatre's production of Enda Walsh's
Penelope
, the writer and performers appear to be having a good time, but all the audience wonders is, "is it over yet?"
Irish playwright Walsh's riff on the Greek myth takes place in the present day on an unnamed island. There, the beautiful Penelope waits in her abundant and secure quarters for her husband to return from war. Just below Penelope's window, a group of Speedo-clad men congregate in a drained swimming pool. Out of the 100 that originated, only four remain: the haphazardly piled plastic lounge chairs and a trail of blood the only evidence of the ones who have gone before. As supplies and time are running low, the men's only chance at life is if one wins Penelope's heart, and the competition is on.
The inherent issue with Penelope lies in Walsh's script. While his writing is beautiful and poetic and the characters' extended monologues occasionally strike a profound chord, the playwright is so in love with language itself that the dialog tends to meander. The circumstances of the much-discussed war, the reasons the men found themselves in a swimming pool, why Penelope doesn't either help them or boot them out: none are explained. These unanswered questions might be forgiven in a less indulgent play, but in the case of Penelope, the characters' nonsensical rambles afford the audience a lot of time to think about details.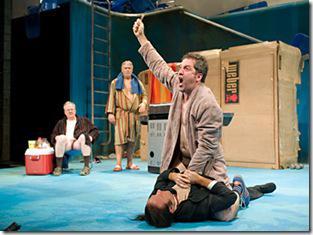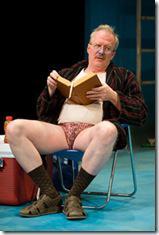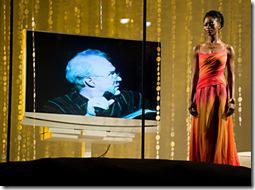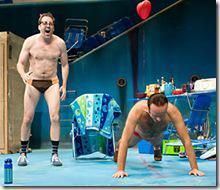 Walt Spangler's scenic design of the aforementioned pool, though it's certainly detailed with patches of worn paint and scattered empty bags of Bugles, should be impressive but instead underwhelms: perhaps Walsh's dull script casts a pall over all trying to execute it. On the bright side, Penelope boasts a strong ensemble of skilled actors. Taking over at the last minute for John Mahoney – who had to drop out of the production due to a death in the family – the brilliant Tracy Letts excels as Fitz, a jolly gentleman who's content to die with his books and his happy pills, but who finds himself swept up in the race for Penelope and whose gorgeous soliloquy in her honor is one of the show's highlights. The ambitious Quinn's ruthless quest for Penelope and cutting banter with the other three men are always interesting to watch thanks to Yasen Peyankov's calculated interpretation. Scott Jaeck provides light comic relief as the blustery Dunne, and Ian Barford is convincingly bitter and mournful as Burns, the youngest of the men who has recently suffered a tremendous loss. Finally, though Penelope's voice is never heard, Logan Vaughn's regal countenance and beautifully expressive eyes speak volumes.
Director Amy Morton is having a busy season at Steppenwolf, having also helmed Clybourne Park (our review), the thrilling season opener. Certainly Morton has considerable chops – if only she were working with better source material. Even Penelope's stellar cast can't save the show from becoming a purgatory for the audience: stranding them in they're seats without hope of an intermission, wondering what exactly they're supposed to get out of this experience.
Rating: ★★½
Penelope continues through February 5th at the Steppenwolf Downstairs Theatre, 1650 N. Halsted (map), with performances Tuesdays-Fridays at 7:30pm, and Saturdays and Sundays at 3pm and 7:30pm.  Tickets are $20-$78, and are available by phone (312-335-1650) or online (check for half-price tickets at Goldstar.com). More information at steppenwolf.org.  (Running time: 1 hour 30 minutes with no intermission)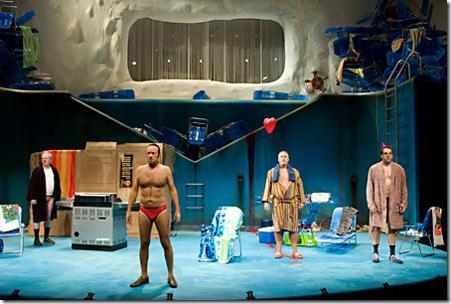 All photos by Michael Brosilow 
---