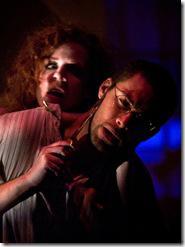 Peer Gynt 
Written by Henrik Ibsen  
Directed by Jeremy Wechsler 
DCA Storefront Theater, 66 E. Washington (map)
thru Dec 18  |  tickets: $15-$20   |  more info
Check for half-price tickets  
  
   Read entire review 
---
A meandering epic that never quite finds its way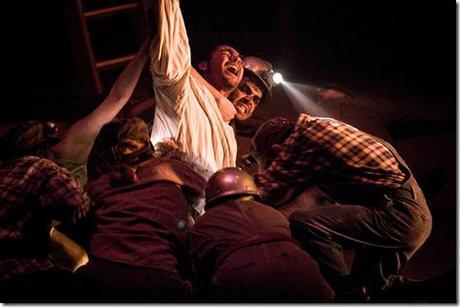 Polarity Ensemble Theatre presents
Peer Gynt
Review by Keith Ecker 
Norwegian dramatist Henrik Ibsen's sprawling five-act epic Peer Gynt originally saw its debut in 1876. The allegorical play, written entirely in verse, tells the tale of Peer Gynt, an ambitious and foolhardy lad who believes himself to be destined for greatness and seeks to achieve it at any cost. Polarity Ensemble Theatre's version has been significantly trimmed down to fit into a concise two-act format, and the original Norwegian tongue has been traded in for English poetry as translated by Minnesota Poet Laureate Robert Bly. And yet even with the modifications to appeal to a modern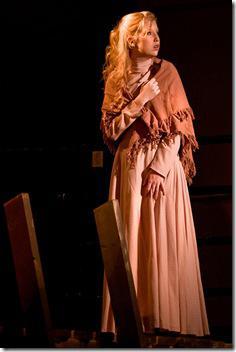 audience, the production moves forward with the speed and grace of a Model T.
We begin with young Peer (Bryson Engelen), a young lad who has a proclivity for telling tall tales. Despite the fact that he and his mother (Devorah Richards) believe that he is destined for great things, the townspeople think of him as a fool. Peer's reputation goes from fool to lecher when he whisks away a bride on her wedding day. Wanted for his misdeed, Peer hides out in the woods where he falls asleep only to awaken and find that he has entered the troll kingdom. (The kingdom, as it turns out, is equipped with an overactive fog machine.)
Peer is accused of making love to the troll princess and thus must assume the role of heir to the throne. In shotgun-wedding fashion, the troll king (Clay Sanderson) attempts to coerce Peer into assuming the troll lifestyle, but Peer refuses, showing only contempt for their strange ways.
In the second act, we have propelled forward through time and are introduced to old Peer (Richard Engling). Peer is now wealthy, having made his money by selling religious idolatry in the East and trading slaves. He's in the Caribbean chatting it up with an international assortment of millionaires. What ensues is a series of unfortunate events, which quickly deplete Peer of his fortune and eventually force him to face not only his eternal place in the afterlife but also his real self.
Directed by Jeremy Wechsler, Polarity's dramatic incarnation lacks focus. The story fails to ground itself or flesh out its characters at length. Instead, the plot jumps around from the get go. This creates immense confusion as actions have little justification and time and place are an afterthought. Heath Hayes' set design, which is sparsely composed of two levels of boards and ladders, does little to establish a context. Things congeal more during the second act, which is tremendously more watchable than the first. But little can save the play from drifting.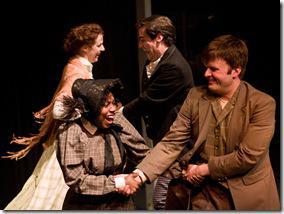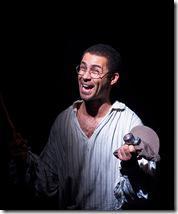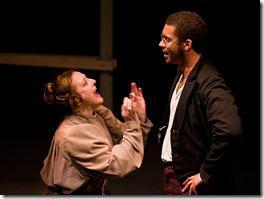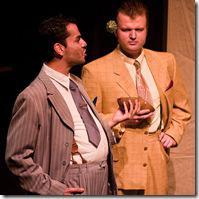 Perhaps the first act would be stronger if Engelen takes a different approach to portraying the boisterous Peer. He plays the character as a naive child rather than an eccentric braggart. Peer Gynt is not an antisocial savant with a flare for storytelling. He's an insecure liar who's crazy enough to believe his own tall tales. And it's the eccentricity that is really the draw for the character and his colorful verse, yet that is exactly what we are missing here.
Engling's second act portrayal of Peer is much more compelling. Here's a man who I believe is clever and selfish enough to achieve great wealth, usually at the expense of others. There is an Ebenezer Scrooge-quality to his look and manner that resonates with the character, especially when he seeks repentance as death draws near.
The themes of Polarity's production of Peer Gynt will resonate with a modern audience, thanks in part to the efforts of Occupy Wall Street. The play highlights the fact that the rich sacrifice their humanity to pursue wealth for the sake of wealth, a problem that was prevalent even in Ibsen's day. But the cut-and-paste feel of the story combined with the lack of clear direction muddles the message. Instead, we are left hoping another theatre company will come along and occupy the DCA Storefront Theater with something more cohesive.
Rating: ★★
Peer Gynt continues through December 18th at the DCA Storefront Theatre, 66 E. Washington (map), with performances Thursdays-Saturdays at 7:30pm, Sundays at 3pm.  Tickets are $15-$20, and are available by phone (312-742-TIXS) or online (check for half-price tickets at Goldstar.com). More information at DCATheatre.org.  (Running time: 2 hours 25 minutes, which includes one 10-minute intermission)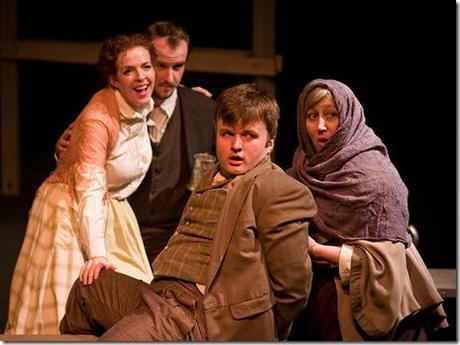 All photos by John W. Sisson, Jr. 
---
artists
cast
Elaine Bell, Erica Bittner, Bryan Breau, Joe Ciresi, Meg Elliott, Bryson Engelen, Richard Engling, Alex Fisher, Carrie Hardin, Hilary Holbrook, James Holbrook, Jim Morley, Clay Sanderson, Devorah Richards, Abbas Salem, Maggie Speer, Miranda Zola