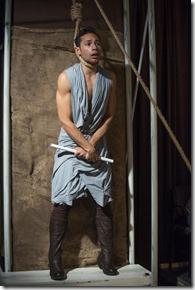 Paulus
Written by Motti Lerner
Translated by Hillel Halkin 
Directed by Jimmy McDermott
at Pierce Hall, 77 W. Washington (map)
thru Dec 15  |  tickets: $35   |  more info
  
Check for half-price tickets 
  
  
   Read review
  
---
Dynamic cast elevates lost-in-translation script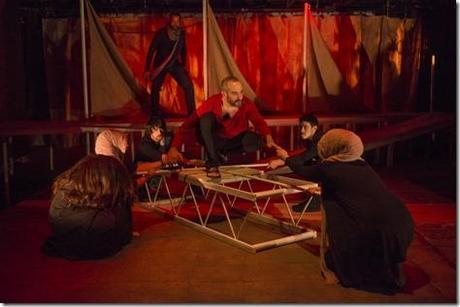 Silk Road Rising presents
Paulus
Review by Lauren Whalen 
The stories of Jesus, his disciples and the trouble they caused have great potential for artistic interpretation. Silk Road Rising has invested a great deal of time and energy in Paulus, one such story chronicling the Apostle Paul and his uphill battle to universalize monotheism. The passionate theater company worked with Israeli playwright Motti Lerner, commissioned Hillel Halkin's translation and hosted readings and workshops surrounding the play this past year. Some aspects of Paulus, such as its production values and cast, are incredibly successful. Others, mainly the source material, lag and disappoint.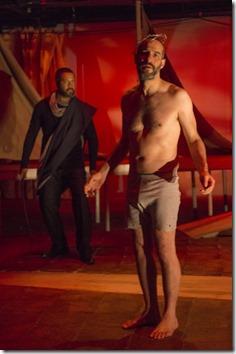 Paulus (
Daniel Cantor
), also known as Paul of Tarsus or the Apostle Paul, journeys with his loyal servant Trophimus (
Anthony DiNicola
), on a mission that will surely end in death. A former Jew who converted to Christianity after a life-changing vision, Paulus is dedicated to spreading the gospel through the Mediterranean Basin. He has loyal followers and mortal enemies, the latter of which includes the egomaniacal emperor Nero (
Glenn Stanton
), who's set on permanently silencing Paulus. As he alternately fights and accepts his fate, Paulus is haunted by more visions of Jesus (
Torrey Hanson
), appearing to be 62 years old and deeply conflicted about his apostle's motivations.
Paulus' main weakness lies in its script, which never quite hits the mark. The play runs nearly two hours, when 90 minutes or less could have effectively and clearly told the story, and both dialogue and plot suffer from chronic repetition. So many times, Paulus is a hair's breadth from death, only to escape it at the last minute. He argues with his servant, who is resistant yet loyal. He sees Jesus and they argue some more. Once in a while, Nero delivers a darkly comic moment. These scenes are interspersed with Paulus' actual execution that's just as drawn out. Additionally, a few of designer Elsa Hiltner's costume pieces are problematic. Why, for example, is the royal Drusilla (Dana Black) wearing leggings? During the curtain call, I noticed kneepads under the leggings – isn't there a better way to cover them?
Other parts of the production, however, almost overcome the less-than-perfect script. Rebecca A. Barrett's lighting is gloriously moody, a perfect match for Peter J. Storms' original score, an innovative blend of traditional Jewish and Christian musical forms and American shapenote singing. Dan Stratton's set and Jesse Gaffney's props incorporate PVC pipe in incredible ways, and Paulus' bright red garb speaks well to costume designer Hiltner.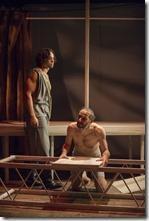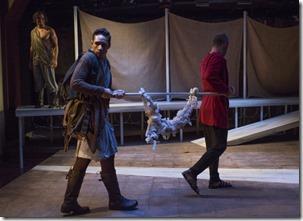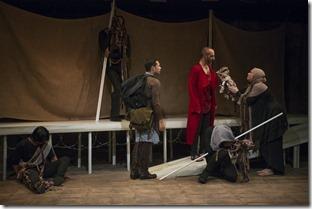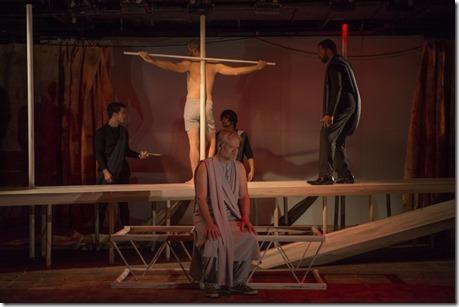 Additionally, Paulus boasts an excellent cast ably led by director Jimmy McDermott. Black's rich speaking voice is a pleasure to listen to, and D'Wayne Taylor handles intensity well as an alcoholic leader. Hanson is appropriately guarded as the reimagined Jesus, and Cantor's Paulus is never anything less than genuine and dedicated. As Greek servant Trophimus, DiNicola provides comic relief and real angst without going over-the-top. Stanton is the play's standout, shining in a double role: as Paulus' devoted nephew Eleazar, he fumbles and tries to protect an uncle who's already long gone. And in the role of Nero, he's terrifying, seductive and utterly captivating.
It's safe to say that I wanted to like Paulus more than I actually did. The production had so many strengths, I wished for a script to match. I'm not sure whether the original was problematic to begin with, or much was lost in translation. Either way, Paulus is worth seeing, but comes with a caveat: enjoy the visuals and actors, but don't expect too much of the script.
Rating: ★★★
Paulus continues through December 15th at Pierce Hall at the Historic Chicago Temple, 77 W. Washington (map), with performances Thursdays at 7:30pm, Fridays 8pm, Saturdays 4pm and 8pm, Sundays 4pm.  Tickets are $35, and are available by phone (312-857-1234 x201) or online through OvationTix.com (check for half-price tickets at Goldstar.com). More information at SilkRoadRising.org.  (Running time: 2 hours, includes an intermission)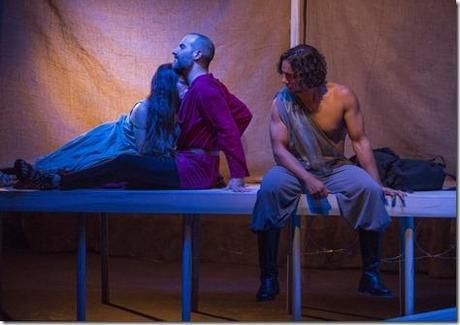 Photos by Michael Brosilow 
---
artists
cast
Daniel Cantor (Paulus), Torrey Hanson (Jesus), Bill McGough (Hananiah), Dana Black (Drusilla), Anthony DiNicola (Trophimus), Carolyn Hoerdemann (Adima), Glenn Stanton (Nero, Eleazar), D'Wayne Taylor (Lysias, Felix), Torrey Hanson, Dana Black, Kroydell Galima, Carolyn Hoerdemann, Scott Shimizu, D'Wayne Taylor (ensemble), Kroydell Galima, Daniel Houle, Virginia Lee Marie Martinez, Jonathan Nichols, Scott Shimizu (understudies)
behind the scenes
Jimmy McDermott (director), Malik Gillani and Jamil Khoury (producers), Dan Stratton (set design), Rebecca A. Barrett (lighting design), Elsa Hiltner (costume design), Peter J. Storms (sound design, original score), Jesse Gaffney (props design), Neal Ryan Shaw (dramaturg), Donald E. Claxson (stage manager), George Bajalia (assistant director), Corey Pond (production manager), Ellie Humphrys (master electrician), Jason Pikscher (tech director), Glenn Stanton (fight choreographer), Becca McCracken, Claire Simon Casting (casting), Heather Timmerman (asst. stage manager), Sarah Ibis (program book editor), Al Gillani (box office manager), Deann Baker (video coordinator and editor), Brandon Allen (arts management intern), David Chack (community outreach coordinator), Michael Brosilow (photos)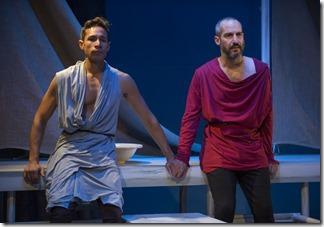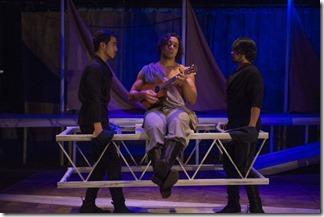 13-1131