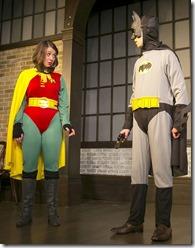 Panic on Cloud 9
Written by the Ensemble 
Directed by Ryan Bernier
Second City Mainstage, 1616 N. Wells (map) 
open end  |  tickets: $23 and up   |  more info
  
Check for half-price tickets 
  
  
   Read review
  
---
Second City reminds us why they're first in sketch comedy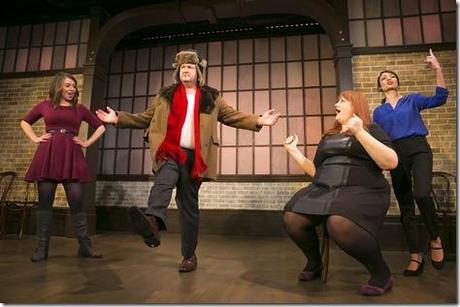 Second City presents
Panic on Cloud 9
Review by Keith Glab
Invariably, The Second City touts its success by listing their plethora of alumni that have gone on to star on Saturday Night Live. Ironically, the live sketch comedy shows they put on in Chicago tend to prove far funnier than anything you'll see on SNL.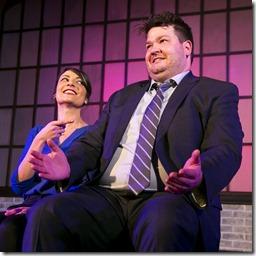 Their latest mainstage production, nebulously dubbed
Panic on Cloud 9
, doesn't contain any strong linking themes and only one callback that I noticed. Nevertheless, a couple dozen skits of unrelated material can truly entertain when skit after skit is strong. This six-writer/actor ensemble tackles topical issues such as Ebola, Chicago's rise in gun violence (in a great Batman and Robin skit), and the Chicago Bears' disappointing season, but most of the comedy is timeless.
Some examples include "Tarmac", which explores the semi-topical subject of a nervous man (Paul Jurewicz) flirting with a girl (Christine Tawfik) on a plane before freaking out upon realizing that she is an Arab. What makes this vignette work, however, is the subtle physical mannerisms between Jurewicz and Tawfik that establish their characters so well. In "Camp Fire", a couple of rural rubes pontificate on such common philosophical quandaries as what it's like to be a shy architect. Here, Jurewicz teams with Mainstage veteran John Hartman, and the two play the empathic absurdity with such earnestness that eventually their pauses for laughter elicit laughter. Contrary to popular belief, subtlety and realism often work better in sketch comedy than outrageousness and exaggeration do.
While each of those carefully crafted sketches plays extremely well, a sketch that's almost entirely improvised highlights the show. In "Barber", a stereotypically chit-chatty Italian cosmetologist (Daniel Strauss) will discuss various subjects with his customers before the discussion gets summarized in a worldly adage by Santiago (Emily Walker), a gruff barbershop fly who hides behind sunglasses and a newspaper until he reveals his wisdom. The final subject gets chosen from the audience, and Santiago drops his knowledge after fun banter between the barber and the audience member.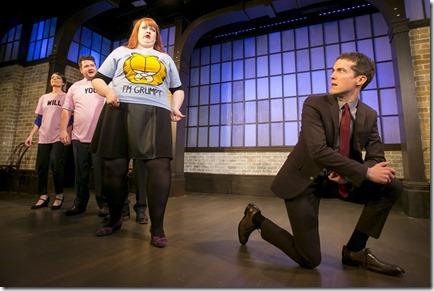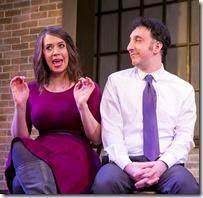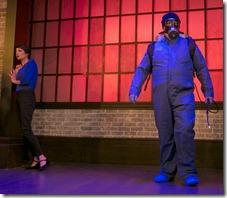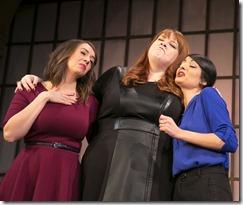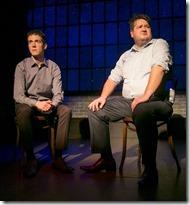 My only caveat to recommending this production is the musical numbers that bookend the performance. Musical director and composer Jacob Shuda makes his Mainstage debut here, and even though I don't expect a lot from music in a sketch revue, this effort disappoints. The songs drone on without much discernable rhythm, rhyme scheme, or comedy. The ensemble doesn't do much to help Shuda out in his debut, delivering these songs flatly and strangely stoic.
But don't let a few minutes of subpar songs deter you from two hours of raucous laughter. Panic on Cloud 9 showcases the best of Chicago sketch comedy. It's the perfect show to bring your friends and family who are visiting from out of town and a great destination for local sketch comedy veterans as well.
Rating: ★★★½
Panic on Cloud 9 continues at Second City's Main Stage, 1616 N. Wells (map), with performances Tuesdays-Thursdays 8pm, Fridays and Saturdays 8pm and 11pm, Sundays 7pm.  Tickets start at $23, and are available by phone (312-337-3992) or online through their website (check for half-price tickets at Goldstar.com). More information at SecondCity.com.  (Running time: 2 hour, includes an intermission)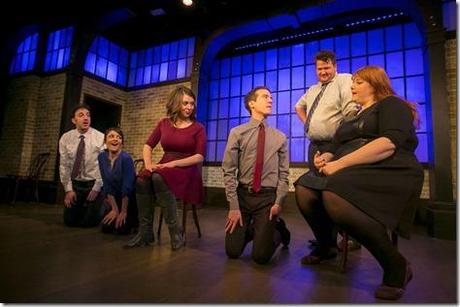 Photos by Todd Rosenberg and Kirsten Miccoli
---
artists
cast
Chelsea Devantez, John Hartman, Emily Walker, Paul Jurewicz, Daniel Strauss, Christine Tawfik 
behind the scenes
Ryan Bernier (director), Jacob Shuda (musical director, composer, sound design), Craig Taylor (stage manager), Bob Knuth (set design), Greg Mulvey (projection design), Kyle Anderson (lighting, technical director), Todd Rosenberg, Kirsten Miccoli (photos)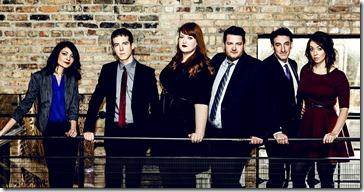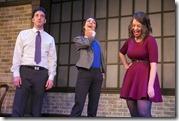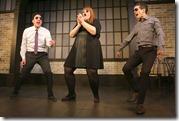 14-1203