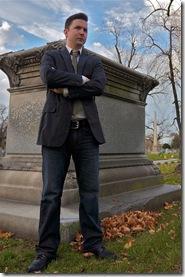 Over My Dead Body  
Adapted from interviews by Waltzing Mechanics  
Directed by Thomas Murray 
at Greenhouse Theater, 2257 N. Lincoln (map)
thru Jan 6  |  tickets: $20-$25   |  more info
  
  
---
Static yet poignant documentary theater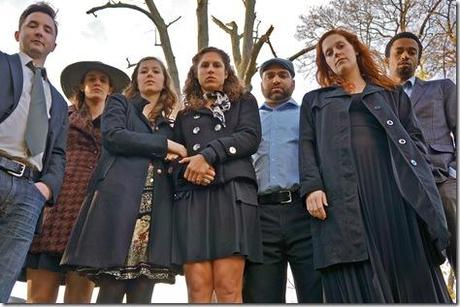 Waltzing Mechanics presents
Over My Dead Body
Review by Keith Glab
The Waltzing Mechanics create original documentary theater inspired by interviews they conduct with ordinary people. El Stories: Holiday Train is a lighthearted hour-long compilation of various CTA commuter stories. Over My Dead Body, which runs concurrently at the Greenhouse Theater, takes on a different tone. This is the story of how the City of Chicago relocated a cemetery to make room for a new O'Hare Airport runway.
Interviews of families affected by the move, notable historians, and media correspondents are woven into a full-length tale exploring the relocation of St. Johannes Cemetery from all angles. Although the production clearly sides with those who were opposed to this upheaval, the interviews do not appear to be cherry-picked towards this end, as they include accounts from families who were in favor of the relocation.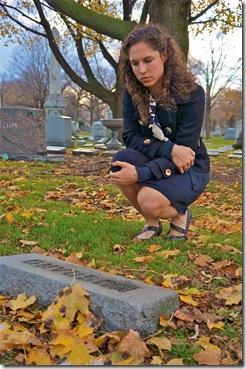 The closest thing to a chief protagonist in these tales is Bob Sell (
Bryan Campbell
), a lawyer who has ancestors buried at St. Johannes who leads the cause to fight the relocation. Campbell uses a dry, measured delivery that establishes Sell's character but makes some already heavy material even less digestible. Others in the cast play bigger characters, with
Danni Smith
standing out by skillfully varying several Midwestern accents as she dons multiple characters.
The cast of ten – all of whom are Waltzing Mechanics company members – play multiple roles. It's a young cast, and many of the characters depicted are elderly. They do a good job of playing age, particularly Eleni Pappageorge as Shirley Steele, but it might have made sense to simply diversify the cast a bit. Eric Loughlin plays both George Ryan and Richard M. Daley despite looking and sounding nothing like either and Maggie Scrantom is asked to portray a Hong Kong reporter.
Keely Leonard, Shariba Rivers, and Lance Hill represent interred corpses, so for most of the show they remain on stage sitting on chairs with tombstone backs. Some of the show's most interesting moments originate from that trio's subtle reactions to the events transpiring around them. That being said, the other seven actors spend a lot of their stage time also facing shoulders squared to the audience, making for an uninteresting tableau. The small stage often feels cluttered, and the background characters aren't given much to do while others take turns speaking to the audience.
In the most visually interesting moment of the show, a dog-sized remote-controlled model is used to illustrate the movement of St. Johannes church. More innovative and stimulating elements such as this would help make the show less static. It's certainly a welcome contrast to the blank, white protest sign props or monotonous air traffic noises heard throughout the play.
The experience feels like it lasts longer than 90 minutes, though a sudden set change at the end of the play is both aesthetic and powerful. Over My Dead Body tells a poignant true story that needs to be heard, but doesn't fully succeed in making the material engaging.
Rating: ★★
Over My Dead Body continues through January 6th at Greenhouse Theater, 2257 N. Lincoln (map), with performances Thursdays-Saturdays at 8pm and Sundays at 3pm.  Tickets are $20-$25, and are available by phone (773-404-7336) or online through Tix.com (check for half-price tickets at Goldstar.com). More information at WaltzingMechanics.org.  (Running time: 90 minutes, no intermission)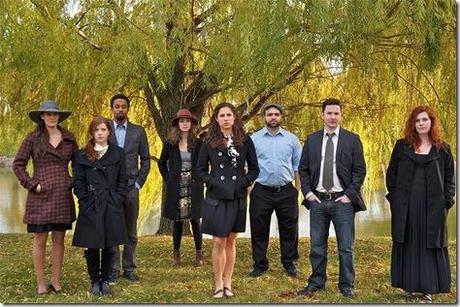 ---
artists
cast
Bryan Campbell, Lance Hill, Barry Irving, Keely Leonard, Eric Loughlin, Adrienne Matzen, Eleni Pappageorge, Shariba Rivers, Maggie Scrantom, Danni Smith
behind the scenes
Thomas Murray (director); Tina Frey (stage manager); Dylan Marks (set design); Rachel S. Parent (costumes); Karen M. Thompson (lighting); Robert P. Lloyd (sound design)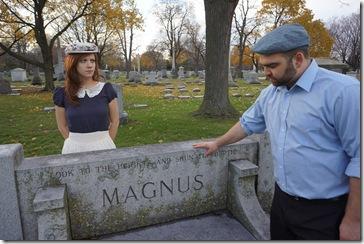 12-1204