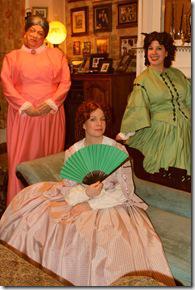 Our Leading Lady 
Written by Charles Busch  
Directed by Michael Rashid
at City Lit Theatre, 1020 W. Bryn Mawr (map)
thru Dec 4  |  tickets: $20   |  more info
Check for half-price tickets 
  
  
   Read entire review
  
---
Learn a little, but laugh more at 'Leading Lady'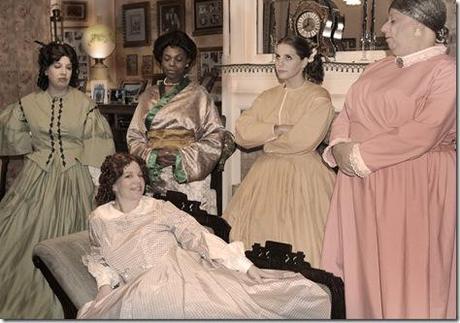 Project 891 presents
Our Leading Lady
Review by J.H. Palmer
Project 891 Theatre has taken on Our Leading Lady, an original play by Charles Busch, who some years ago brought us Vampire Lesbians of Sodom. (A personal aside, I saw VPOS on my first date with the man who later became my husband, and was pleased as punch to see the title listed among Mr. Busch's credits). In keeping with Mr. Busch's on and off-screen (and stage) personality, this piece includes cross-dressing, as well as cross-racial confusion and humor in the face of national tragedy. The cast manages to make sense of a storyline that I had some doubts about when I first opened my playbill: to tell the story of the actors who performed at Ford's Theatre on the night Lincoln was shot… and make it funny.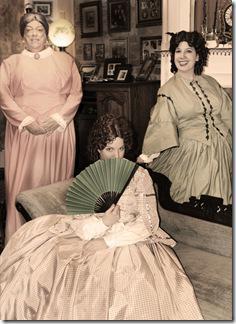 The lead (and thus
Our Leading Lady
) is the character of Laura Keene, who ran Ford's Theatre and performed in the play
Our American Cousin
in 1865, played by actress
Mary Anne Bowman
. A number of the funniest lines in the play come from Keene's character in the form of dark humor, which she delivers with just the right amount of tongue-in-cheek; she declares that the performance of
Our American Cousin
that Lincoln attends will be "the symbolic end of the war", and runs down a litany of complaints about the Booth family, ending with "well, at least there's nothing left they can do to me."
Bowman is surrounded by a strong supporting cast that bring out the satire in the script while maintaining a sense of individual character that can sometimes get lost in this genre. Michelle X. Taylor plays Keene's assistant, Madame Wu-Chan, an African-American woman passing for Chinese in a way that is only convincing to the characters in the play. This is by design – as the story progresses Madame Wu-Chan gets rid of first the wig, then the makeup, and finally the fake Chinese-inflected speech. She's an escaped slave and, now that the war is over, is eager to reconnect with lost relatives. As the play progresses it becomes evident that she has more in common with Laura Keene than is obvious at first; like Madame Wu-Chan, Keene has a past that she's tried to escape from by changing her name and taking on a new life.
David Besky and Liz Hoffman play opposite each other as Gavin De Chamblay and Verbena De Chamblay, a Southern couple who have their own identity issues to discover and satirize, and Michael Bassett plays Harry Hawk, Keene's somewhat secret lover who has a sarcastic streak and a penchant for his hip flask. Danne W. Taylor's cross-dressed interpretation of Maude Bentley is understated and hilarious in a way that put me in the mind of Betty White; all he has to do is make a face in reaction to another actor's line and he draws attention, I found myself pining away for him every time he left the stage. Jason Nykiel and Laura Korn as W.J. Ferguson and Clementine Smith, respectively, are by turns naïve and full of unexpected zingers that keep the storyline interesting, and Caleb Probst has been charged with taking on what are the least funny roles in the whole play: John Wilkes Booth and Major Hopwood, who comes in to interrogate the theatrical company post-assassination, and provides a necessary gravity to the piece.
This is an unusual and unexpectedly funny play, light-hearted and yet historically provocative, pulled off with a wry smile and a wink. If nothing else I'd go back just to see Danne W. Taylor play Maude Bentley again; she's a scene stealer if I've ever seen one.
Rating: ★★★
Our Leading Lady continues through December 4th at City Lit Theatre, 1020 W. Bryn Mawr (map), with performances Thursdays through Saturdays at 7:30pm and Sundays at 2pm. Tickets are $20 ($15 for students/seniors), and can be purchased by phone (773-853-3210) or online at brownpapertickets.com. More info at project891theatre.com (Running time: 2.5 hours with one 10-minute intermission)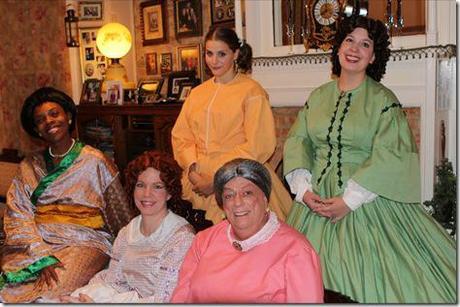 All photos by Kat Dennis
---