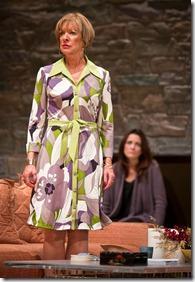 Other Desert Cities 
Written by Jon Robin Baitz
Directed by Henry Wishcamper
Goodman Theatre, 170 N. Dearborn (map)
thru Feb 17  |  tickets: $25-$86   |  more info
  
Check for half-price tickets 
  
  
   Read entire review
  
---
Dishin' dirt in the desert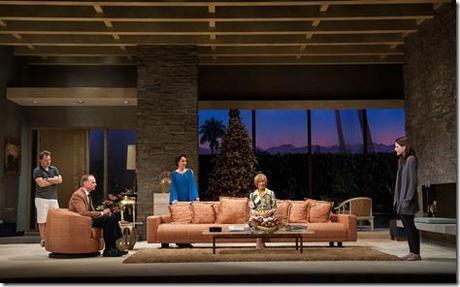 Goodman Theatre presents
Other Desert Cities
Review by Lauren Whalen
There are many ways to hide. If you're a depressed writer, you can escape in your own words. You can try to shuck a sorrowful family history by producing an inane reality show. You can turn to alcohol and drugs, as many do, or you can forgo a public life with high-profile friends in Los Angeles for the quiet heat of Palm Springs. The Wyeth family has tried all of these and nothing's quite worked. Perhaps a confrontation will? Goodman Theatre's Other Desert Cities hits the right notes emotionally, but the exceedingly slow first act makes the Wyeths seem self-absorbed and naïve, rather than tortured and sympathetic.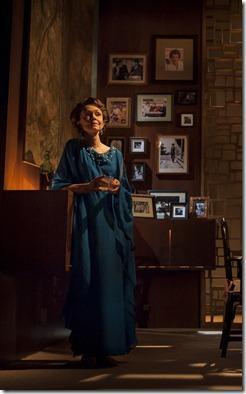 It's
Christmas
Eve, 2004 and the small but powerful clan is enjoying a rare reunion – somewhat. Banter with plenty of passive-aggressive undertones flies through the air like the snow that never appears in Palm Springs. At its center is prodigal daughter Brooke (
Tracy Michelle Arnold
), who's recovering from a serious bout of depression and a failed marriage. She's closer to her father Lyman (
Chelcie Ross
), an actor turned Republican ambassador, than her mother Polly (
Deanna Dunagan
), who claims Nancy Reagan as both a close friend and role model. And she's never watched her laid-back brother Trip's (
John Hoogenakker
) celeb-studded reality show
Jury of Your Peers.
But Brooke's brought a lethal weapon for Christmas: her latest manuscript, a memoir crafted with the help of recovering alcoholic aunt Silda (
Linda Kimbrough
) that, when published, will air the family's dirtiest laundry.
Playwright Jon Robin Baitz (who also created the ABC series "Brothers & Sisters") knows his way around words. It's action that sometimes eludes him. Other Desert Cities' opening scene is both overly long and laced with heavy-handed references to the impending conflict. While I love nothing more than peeking in the snowglobe of dysfunction – and watching what happens when it's shaken up – I wanted the meat of the story about 20 minutes sooner. And certain plot elements, while perhaps necessary, come off utterly contrived. The most glaring: if Brooke had grown up with this family, had experienced firsthand her parents' avoidance and denial of a family tragedy, why on earth would she think they'd be completely supportive of her memoir about said tragedy, which paints them in a very negative light?
The second act contains many genuine moments and a truly impressive reveal, and runs at a tighter pace. Mr. Baitz, an intelligent audience can fill in the blanks. There's no need for excessive setup. And Henry Wishcamper's direction, while mostly strong, has a few hiccups. Wishcamper last directed the Marx Brothers musical Animal Crackers at Goodman, and his penchant for broad bawdiness shines through at inopportune times. Kimbrough's sassy Aunt Silda provides a few good laughs, but at times feels like she's in an altogether different show.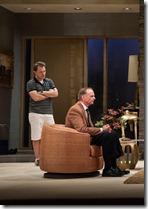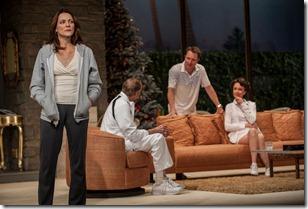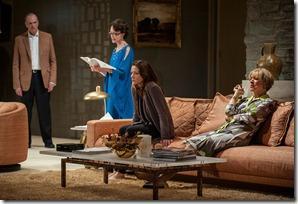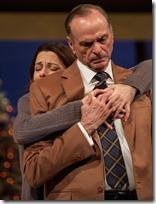 Despite less-than-perfect source material and direction, Other Desert Cities boasts keen production values and admirable performances. Thomas Lynch's set design perfectly recalls the airy surroundings of a staunch Republican couple who've embraced the California lifestyle. Costume designer Kaye Voyce deserves kudos for Dunagan's vibrant turquoise caftan: a pop of bright color sported by a woman who's never been afraid to stand out (as the constructs of high society allow, of course). Tony Award-winner Dunagan is every bit as fabulous as her costume, relishing each pointed remark and display of outright grief. Perhaps best known for his portrayal of Connie Hilton on "Mad Men", Ross effortlessly incorporates Golden Age of Hollywood charm into even his angriest moments. It's easy to believe him as a conservative, as a movie star, as a beleaguered dad offering to send his daughter a check. Hoogenakker tosses off quips while rolling the perfect joint, and Arnold has gorgeous vocal inflection (even though I wish her interpretation of conflicted, frustrated Brooke had been a smidge more empathetic).
It's fascinating to watch a family fall, and Other Desert Cities dishes dirt with aplomb. The Wyeths are successful, wealthy and very real in their neuroses. I caught that. I loved it. I didn't need quite so much setup.
Rating: ★★★
Other Desert Cities continues through February 17th at Goodman Theatre, 170 N. Dearborn (map), with performances Wednesdays at 7:30pm, Thursdays at 2pm and 7:30pm, Fridays and Saturdays at 8pm, Sundays at 2pm and 7:30pm.  Tickets are $25-$86, and are available by phone (312-443-3800) or online through their site (check for half-price tickets at Goldstar.com). More information at GoodmanTheatre.org.  (Running time: 2 hours 15 minutes, includes an intermission)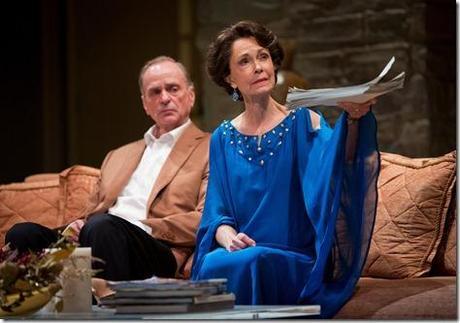 Photos by Liz Lauren
---
artists
cast
Chelcie Ross (Lyman Wyeth), Deanna Dunagan (Polly Wyeth), John Hoogenakker (Trip), Tracy Michelle Arnold (Brooke), Linda Kimbrough (Silda)
behind the scenes
Henry Wishcamper (Director), Thomas Lynch (Set Design), Kaye Voyce (Costume Design), David Lander (Lighting Design), Richard Woodbury (Music and Sound Design), Adam Belcuore (Casting), Joseph Pindelski (Dramaturg), Joseph Drummond (Production Stage Manager), William Collins (Stage Manager), Liz Lauren (photos)
13-0136