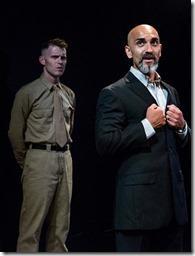 Othello
Written by William Shakespeare  
Directed by Jonathan Berry 
The Gift Theatre, 4802 N. Milwaukee (map)
thru Aug 24  |  tickets: $20-$35   |  more info
  
Check for half-price tickets 
  
  
   Read review
  
---
A simply staged masterpiece proves mesmerizing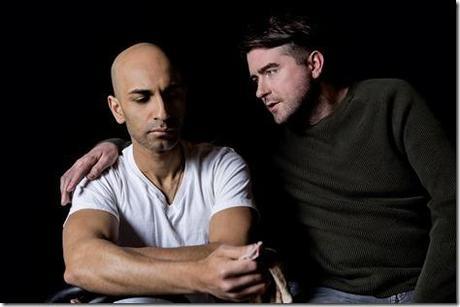 The Gift Theatre presents
Othello
Review by Keith Glab
The Gift Theatre's mission statement is to "tell great stories onstage with honesty and simplicity." In Othello, the company's first venture into producing Shakespeare in their 13-year history, they obviously have a truly great story to tell. They honor the second half of their mission statement with a no-frills production that features minimal set, props, music, lighting effects, or directorial agenda. A dozen remarkable actors are entrusted to perform one of the greatest plays ever written in close quarters, and the result enthralls.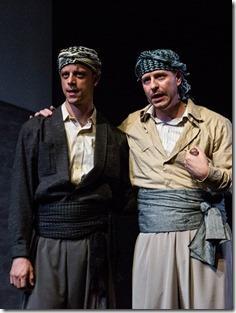 Surprisingly, the large cast never overwhelms the diminutive space, which is a credit to Gift veteran
Jonathan Berry
's staging. The intimate conditions allow for more nuances to be seen and heard in a play that is all about nuance. As in all Shakespeare, there are portions where several characters aren't given much to do onstage while one or two characters deliver long speeches. The Gift's setup allows the audience to see the subtle reactions from those listening characters. Iago (
Michael Patrick Thornton
), Emilia (
Darci Nalepa
), and Brabantio (
John Kelly Connolly
) gave the most interesting reactions that I noticed opening night.
The entire cast excels at making the Bard's words their own, the resultant naturalistic quality being so often absent from Shakespeare performed in the States. Thornton takes it too far on occasion by throwing away lines, particularly the heroic couplets that conclude scenes. Part of this may be done in an effort to speed through scene transitions. Indeed, there are several instances when the dialog feels rushed in order to facilitate an iteration of Othello with minimal cuts that concludes in less than three hours. There are also times when an actor delivers large chunks of lines upstage to create a more visually interesting tableau on the Gift's long-yet-shallow stage. Even understanding the motivations behind these choices, it's hard to reconcile losing lines of dialog when the language in the script is so phenomenal.
Kareem Bandealy's performance as the eponymous character is the best I've ever witnessed. Too often, Othello is portrayed as a hapless and somewhat foolish victim of Iago's malice, forgetting that it takes an incredibly intelligent and perceptive man to pick up on Iago's insidious hints. Bandealy's Othello is intelligent, powerful, virile, and passionate. The play has so much more impact when a great man falls prey to the green-eyed monster.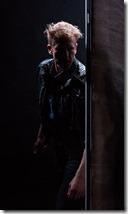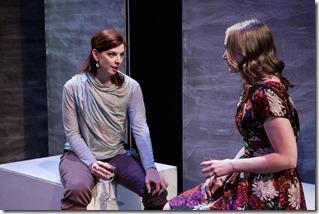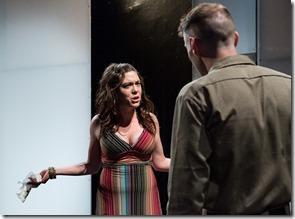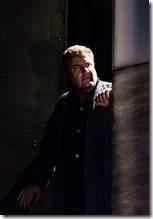 Thornton, The Gift's artistic director, provides a new dynamic for the despicable Iago. The actor is wheelchair-bound from a stroke he suffered many years back, so his Iago also is wheelchair bound, and the audience fills in that he must have suffered an injury in his military service to Othello. This perhaps gives one of the most villainous characters in literary history an extra chip on his shoulder in getting passed over for the role of Lieutenant by Othello. The production takes a bizarre turn when Iago begins assaulting people with his wheelchair armrest, but on the whole this bold casting decision works. (Interestingly, Thornton will be unavailable for the final two weekends of the run, meaning Gabriel Franken will play Iago during that time. This will necessarily entail altered blocking as well as countless different character interpretations.)
Franken takes on the role of the bumbling Roderigo during the first month of the run, and he successfully hits both the comedic and tragic aspects of that character. Brittany Burch works well with Bandealy, making Desdemona's unwavering devotion to Othello believable. Connolly astounds as Brabantio, somehow giving the deplorably racist character some redeeming qualities. Nalepa's multifaceted Emilia commands the climactic scenes with high emotion.
The Gift ensemble proves yet again that well-crafted theater does not necessarily need spectacle, gimmicks, or musical numbers in order to captivate a modern audience. This simple staging of a masterpiece mesmerizes the audience throughout. A dozen phenomenal actors wear their hearts upon their sleeves for the audience to peck at, and those sleeves lie easily within reach.
Rating: ★★★½
Othello continues through August 24th at The Gift Theatre, 4802 N. Milwaukee (map), with performances Thursdays-Saturdays at 7:30pm, Sundays 2:30pm.  Tickets are $20-$35, and are available by phone (773-283-7071) or online through BrownPaperTickets.com (check for half-price tickets at Goldstar.com). More information at TheGiftTheatre.org.  (Running time: 2 hours 45 minutes, includes an intermission)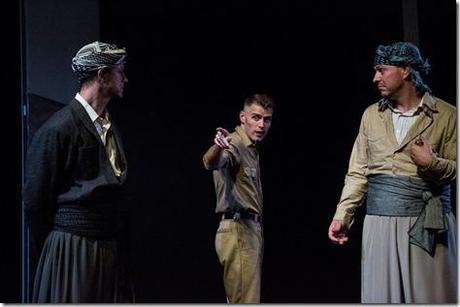 Photos by Claire Demos 
---
artists
cast
Kareem Bandealy (Othello), Sara Bues (Bianca), Brittany Burch (Desdemona), John Kelly Connolly (Brabantio), Gabriel Franken (Roderigo, Iago [Aug 14-24]), Robert Kruse (Duke of Venice), Alexander Lane (Montano), Scott Alan Luke (Lodovico [Aug 14-24]), Morgan Maher (Gratiano), Darci Nalepa (Emilia), Keith Neagle (Lodovico, Roderigo [Aug 14-24]), Michael Patrick Thornton (Iago), Jay Worthington (Cassio)
behind the scenes
Jonathan Berry (director), Dan Stratton (set design), Sarah Hughey (lighting), Stephanie Cluggish (costumes), Christian Gero (sound design), Mel Gill (props), John Tovar (fight choreographer), Michael Petersen (dramaturg), Lynne M. Harris (stage manager), Claire Demos (photos)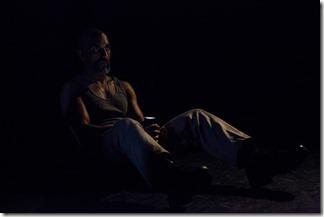 14-0719