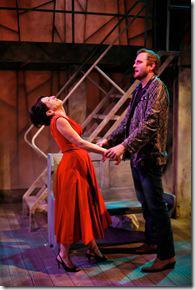 Orpheus Descending 
Written by Tennessee Williams 
Directed by Julieanne Ehre
at Stage 773, 1225 W. Belmont (map)
thru March 11  |  tickets: $28-$34   |  more info
  
Check for half-price tickets 
  
  
   Read entire review
  
---
Solid, if not smoldering, performances highlight Williams' production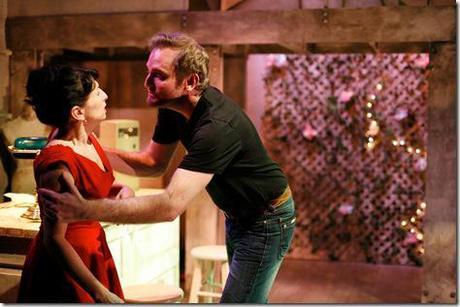 Shattered Globe Theatre presents
Orpheus Descending
Review by Catey Sullivan 
It's a bit too plot heavy and ponderous to be considered one of his masterpieces, but even the lesser plays of Tennessee Williams seethe with pathos and sweltering sensuality. Love hurts in Williams' world, often fatally. And so it goes in Orpheus Descending, his rich riff on the ancient Greek myth of a supernaturally gifted musician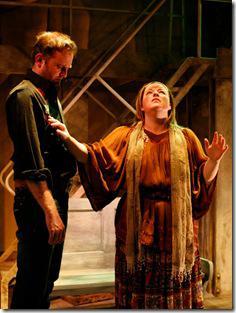 and the lover he loses to the underworld.
Directed by Julieanne Ehre, Shattered Globe Theatre's staging of Orpheus Descending is solid, if not always as smoldering and downright incendiary as it needs to be. This is a story that's volatile with repressed – and not-so repressed – passions, a plot in which every scene is dominated by either combustible moral outrage or a delicious surrendering to all fleshly desires. If there's a lack of chemistry between the leading lovers, Orpheus Descending will simply fail to ignite. That's the case here. There's something crucial missing between Lady (Eileen Niccolai) and Valentine (Joseph Wiens). Individually, their performances are strong. Together, they just don't spark.
Williams takes his time laying out the groundwork that colors the forbidden love affair between Lady, the desperately unhappy wife of a bed-ridden patriarchal brute of a husband, and Valentine, a magnetic drifter with the voice of an angel. Long before these two appear, the audience gets the detailed backstory as town gossips Dolly (Courtney Boxwell) and Beulah (Jessica Thigpen) discuss Lady's tragic past in the sort of depth and detail that seems unlikely for an actual conversation but often shows up in plays when a wealth of information needs to be imparted. Boxwell and Thigpen maintain a catty, cackling ease with the material, and are both utterly believable as small-town harpies feasting on the misfortune of others.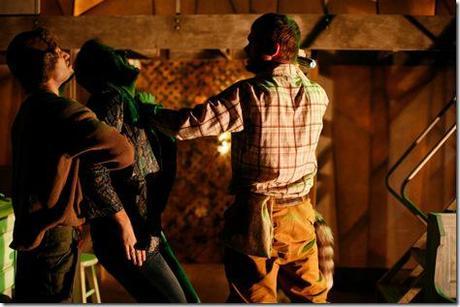 As for that backstory, it's a doozy involving Klansmen and the immolation of a "wine garden" run by lady's immigrant father on the outskirts of town. Tellingly, the Klan didn't take umbrage to Dionysian frenzies the garden hosted. Ecstatic, drunken sexcapades in the shadowy corners of the vineyards weren't an issue for the "Mystic Riders." But when "the wop" started selling hooch to the blacks in town? That was cause to unleash havoc. Thus does Williams load up Orpheus Descending with fire, death, sex, racism and xenophobia before the plot gets properly started.
The action begins in earnest when the uneasily aging Lady hires Val to work in her dry goods store. In Niccolai's clipped tones, Lady's terse, controlled demeanor comes across as a taut, icy façade barely containing the roiling depths below. It's easy to see she's a woman on the verge of unleashing her own emotional underworld. What's not entirely believable is that Wiens' Val is the spark to set those flammable feelings off. Despite the lack of chemistry between the two, both Niccolai and Wiens do excellent work individually. With a clear, heart-breaking tenor and some serious skills with the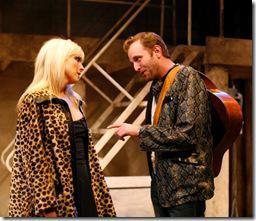 acoustic guitar, Wiens displays the musical prowess of a modern-day Orpheus. His voice is enough to make one wish the play came with a cast recording.
Ehre's supporting cast is an able crew, fanning the flames of this small-town Hades with cackling whispers (the women) and brute, red-necked bullying (the men). As the sheriff's artistically inclined wife Vee, Alice Pacyga is memorable as a gentle, sensitive soul struggling to flourish in an environment of strong-fisted patriarchal repression. And as the town harlot whose sexual freedom is simply unbearable to the respectable citizens, Heather Townshend does a fine job capturing the tragic-comic duality of a rebel whose defiance doesn't quite mask her bone-deep insecurities.
In the end, it is the tragedy of Valentine and Lady that makes or breaks the all-important ambiance of Orpheus Descending . Apart, Shattered Globe's leads are wholly adequate. Together, they need to turn up the heat if this story of small-town hellishness is to burn brightly.
Rating: ★★½
Orpheus Descending continues through March 11th at Stage 773, 1225 W. Belmont (map), with performances Wednesdays-Saturdays at 8pm, Sundays at 3pm.  Tickets are $28-$34, and are available by phone (773-327-5252) or online at Stage773.com (check for half-price tickets at Goldstar.com). More information at ShatteredGlobe.org.  (Running time: play length, which includes one intermission)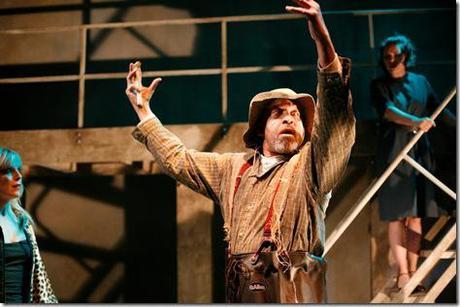 All photos by Ashley Kamin
---
artists