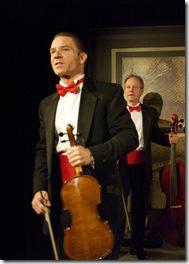 Opus
Written by Michael Hollinger  
Directed by Jason W. Gerace
at Redtwist Theatre, 1044 W. Bryn Mawr (map)
thru Jan 15  |  tickets: $25-$30   |  more info
  
Check for half-price tickets 
  
  
   Read entire review
  
---
'Opus' is a mesmerizing masterpiece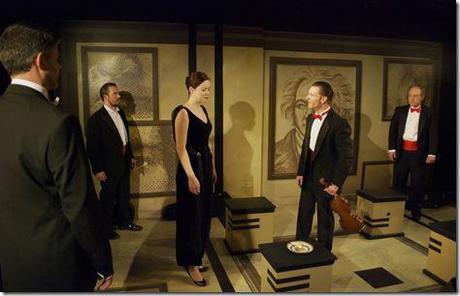 Redtwist Theatre presents
Opus
Review by Katy Walsh 
I played the clarinet in grade school.  I loved music and wanted to be part of creating it.  When a bass clarinet was discovered in the school basement, I was asked to play it.  Since it was old, I was told if I didn't think I'd get the note to not try for it.  This pretend playing advanced me into the city's honor band.  They needed a bass clarinet.  I wasn't gifted.  I wasn't good.  But I loved being in a concerted effort to produce music.  So, I faked my part to stay in the orchestra.  Every once in awhile, I would get caught up in the surround sound and try for a note.  A loud squeak would always remind me that I didn't really belong in the group.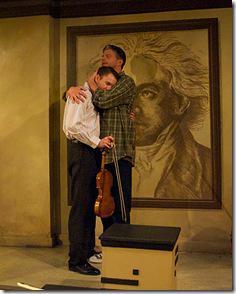 Redtwist Theatre presents the Chicago premiere of
Opus
.  A well-established string quartet has hit a bad note.  The musical genius of the group has gone off his medication.  He is a little buggy.  The group has fired him and is interviewing for his replacement.  They stumble on a young woman.  She has limited experience but is naturally gifted.  The trio employ her as their fourth.  Her presence changes the dynamic.  Is it because she's inexperienced, a woman, more talented?  Yes!  Their next gig is to play at The White House.  Can they find harmony in the discord? 
Opus
is a masterpiece.  
Playwright Michael Hollinger has composed a musical deconstruction.  From the first note, his piece mesmerizes.  The quartet plays and talks in unison.  Musical interludes are spliced with documentary interviews.  As the quartet moves forward with a new viola, the documentary depicts the past disbanding.  Under the lyrical direction of Jason W. Gerace, this quartet plus one plays perfectly together.  Gerace keeps the tempo tight as the guys build a sentence or melody together.  The cast is so authentic as musicians,  I keep checking fingers to see if they are really playing.  It's fascinating!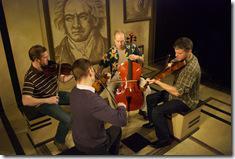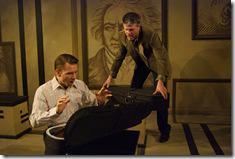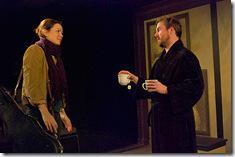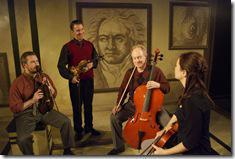 This is truly an ensemble piece.  Brian Parry, John Ferrick, Michael Sherwin, and Paul Dunckel have solid camaraderie.  They share a short-cut language. But they also just orchestrate a strong comfortability.  It's a I-know-your-faults-and-abilities-better-than you-do synergy. Even their body language reflects knowing how a crony will respond without a word spoken.  Their simultaneous movement is amazing.  These guys have rehearsed… for years together.  Breaking the unity, Sherwin displays a range of intensity as a decisive, unemotional leader to an obsessed, emotional musician.  Emily Tate provides a bright and shiny hesitation.  Tate plays it innocent as a joiner while still putting her own interest ahead of the boys club. 
This cast is pure platinum! Sure, they are fake playing, but their musical production deserves an encore.  Magnum Opus… Bravo!
Rating: ★★★★
Opus continues through January 15th at Redtwist Theatre, 1044 W. Bryn Mawr (map), with performances Thursdays-Saturdays at 7:30pm, Sundays at 3pm.  Tickets are $25-$30, and are available by phone (773-728-7529) or online (check for half-price tickets at Goldstar.com). More information at redtwist.org.  (Running time: 90 minutes with no intermission)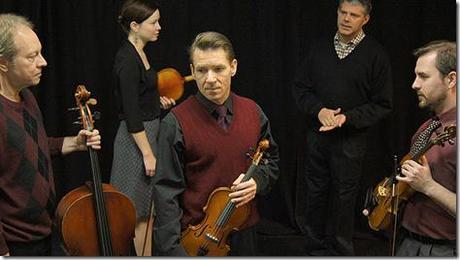 All photos by Christopher Burpee 
---
artists