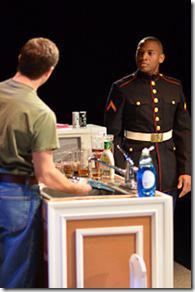 Oohrah!
Written by Bekah Brunstetter 
Directed by Brad Akin 
Steppenwolf Garage, 1624 N. Halsted (map)
thru April 8  |  tickets: $20   |  more info
  
Check for half-price tickets 
  
  
   Read entire review
  
---
LiveWire exploits stereotypes in world premiere 'Oohrah!'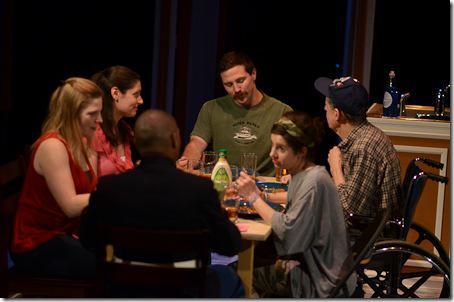 LiveWire Chicago i/a/w Steppenwolf Theatre presents
Oohrah!
Review by Lawrence Bommer
A new work in Steppenwolf's Garage Rep 2012 series, Bekah Brunstetter's well-intentioned world premiere purports to depict the plight of soldiers coming back from Iraq to a world almost as threatening as the hell they left behind. Despite the denial and wishful thinking of loved ones left behind and now strangely rediscovered, this "new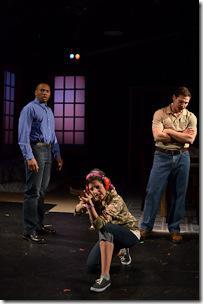 normal" can't be the same. ("Hurt Locker" depicted the same disillusionment in its adrenaline-charged, thrill-seeking bomb detonator who can't fit into the blandness of civilian life.)
But Ron (Josh Odor), the veteran we meet in LiveWire's probing staging, seems to do okay as he returns to his interrupted home life in Fayetteville, North Carolina. That is until his well-meaning wife Sara (Melissa Engle) starts to pile on the chores, improbably turning from a helpmate into a liability as she pushes him to work for Krispy Kreme or Home Depot.
Pushing back, Ron prefers to run off to his favorite shooting gallery (well, Sara hid his guns for fear he'd kill her) and pretend he's back in battle. He even bonds with Chip (Ian R. Tranberg), a wanna-be Marine who stole a friend's uniform to impersonate a warrior because his asthma prevents him from serving his country.
As if to show that even imposters in uniform can inspire treachery in marriage, Chip unwittingly seduces Sara's slutty slacker sister Abby (Calliope Porter). This horny flight attendant prefers Chip, a macho would-be killer, to her goofy, klutzy boyfriend Christopher (Joel Ewing), a rent-a-cop who offers her the kind of unconditional love that bores self-imagined "bad girls."Meanwhile, Ron and Sara's bratty tomboy daughter Lacey (Madeline Long) also wants to join the Marines, perhaps imagining enlistment as a legal way to shoot her mother.
As it stacks the deck against Ron and Chip (and, for that matter, Sara and Abby), Oohrah! dabbles wholesale in inconsistent character development, with the second act turning Ron and Sara into opposite pictures of their first-act selves. The play's bleak argument (which hopefully applies only to these soap-operatic characters) present a new variation on Joseph Heller's "Catch 22": You can't get help if you don't know you need it and you won't know you do if you don't know it's there. Apparently Fort Bragg has no counselors for G.I.s' reintegration into their past lives. Or no one here has the imagination to seek counseling because they assume that you can't enforce normality.
In any case it's a less than edifying revelation, as is its corollary that the warrior ethic distorts males' natural instincts with women and, even worse, women's expectations for masculinity and maturity. Oohrah! is bleak, reductionist and simplistic, exploiting stereotypes that "Hurt Locker" at least tried to justify.
Rating: ★★
LiveWire Chicago's Oohrah! continues through April 8th at Steppenwolf Garage, 1624 N. Halsted (map).  Tickets are $20, and are available by phone (312-335-1650) or online at steppenwolf.org (check for half-price tickets at Goldstar.com). More information at LiveWireChicago.com.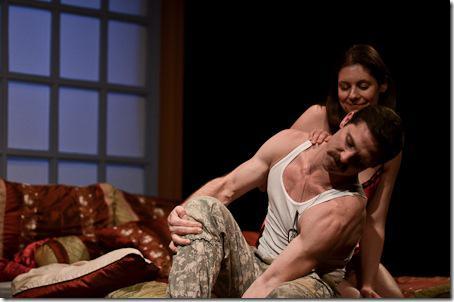 All photos by Ryan Bourque 
---
artists