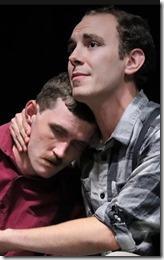 An early draft that's worth a look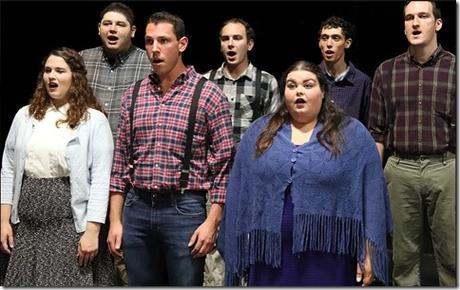 One Thousand Words is a musical drama that began life under the title Maybe, Someday at Louisiana State University in 2014, where the young writers Michael Braudand Curran Latas were students. The musical had a staged reading in July 2014 at LSU and a full production at Theatre Baton Rouge the next January. An abridged version of it was directed by Lavina Jadhwani in the Chicago Musical Theatre Festival in 2015. The writers have reportedly continued to work on it since, and their latest draft is on display for a three-week run at Theater Wit. The production can most accurately be described as a workshop, even though that's not how its billed. The performers are off book and fully blocked, but the sets, costumes and props are minimal. That puts the piece at a disadvantage for assessing its full potential, since the action takes place in several very different places - West Virginia, New York City and the European theater of World War II - that would offer the opportunity for production design to aid in the storytelling and visualize the scope the writers are going for. There's also a framing device set in a present-day Manhattan office building, but more on that later.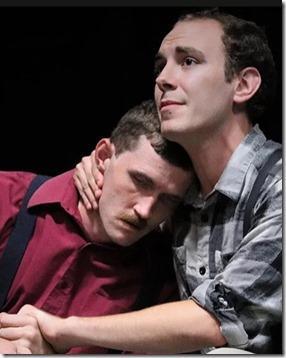 Braud and Latas' story owes some of its premise and its considerable heart to "Brokeback Mountain
,"
with a tip of the cap to
Billy Elliot
, but it goes to some novel places as well. Daniel Sanderson and Warren Johnson are lifelong pals in a West Virginia mining town. Daniel, a creative type, realizes the town isn't going to allow him to express his creativity and he's off to New York to live the life of a performer - and of a gay man. Warren might have been happy staying in the hills, but before long he follows Daniel to Manhattan, where the affection and physical attraction they share for each other quickly surfaces. They become lovers and briefly have a great life together in the avant-garde underworld of NYC, living with their pals Virginia and Thomas, an interracial couple. Their lives are disrupted when Warren and Thomas join the war in Europe. Warren survives the war and manages to bond with the other soldiers all the while pretending to be straight. Back in New York, Daniel finds the city to be less safe for openly gay men than he had believed. An ugly incident and his separation from Warren send him back to West Virginia before the war ends, as he breaks off contact with Warren and attempts to deny his true sexual orientation.
So, there are a lot of ideas in this piece, including some fascinating ones. Gay life in New York City during the war years seems an underexplored topic - and the material here, taking place in a night club and various neighborhoods around the city, offers potential for intriguing staging. And while I know of two musicals that deal with WWII gays in the military - (an original piece produced by Pride Films and Plays in 2013) and Yank! (an off-Broadway hit in 2010 that will have its Chicago premiere by Pride Films and Plays ) - there's still ample room for exploring this topic. (Oddly, for as much as "gays in the military" has been a topic for the past decade or so, it seems little has been written about actual life for and with gays in the military).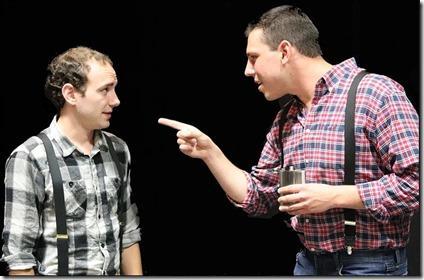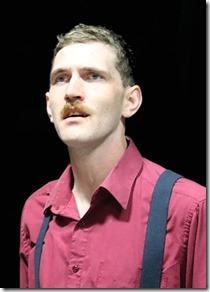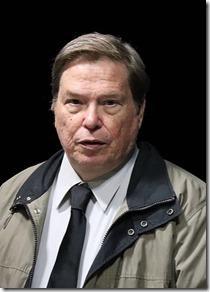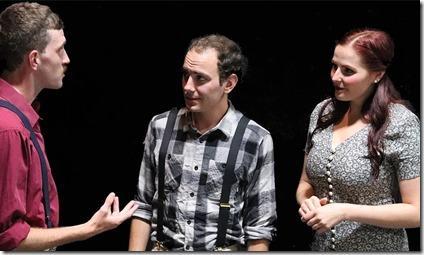 It may be that the writers of this piece have been hurt by too many promising ideas, and a couple of less good ones. The scenes back in West Virginia present a more stereotypical view of life in rural and remote towns. Then there's the framing device. The musical opens in the present-day Manhattan offices of a national magazine. A writer, Richard Hanks, is given an assignment to interview a West Virginia doctor and write a 1,000-word feature about the doctor. Richard would much rather be covering wars in the middle east and he's also dealing with a troubled relationship with his girlfriend. He goes to West Virginia to meet the doctor - the older Warren Johnson, who narrates the story of his doomed relationship with Daniel. The device adds another dimension to the story, giving us the sense of the lifelong loss created both by war and homophobia, in very specific, personal terms. The writers spend too much time on it, though, and frankly we don't have time to care about the career dreams or romantic troubles of this writer.
There's no crime in producing an overlong early draft. Braud and Latas have some good songs in their score, though the overall tone of it seems more melancholy than necessary. I'd recommend some major editing and greater focus - sticking to even just one time and place, say either gay life in WWII-era NYC or closeted gay life during the war. Either theme is probably enough for a good show.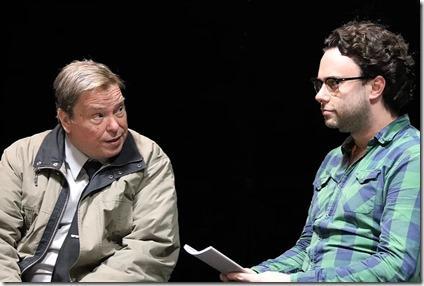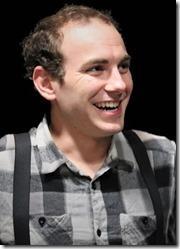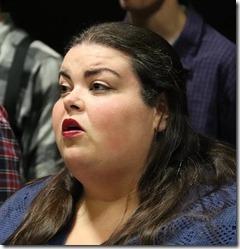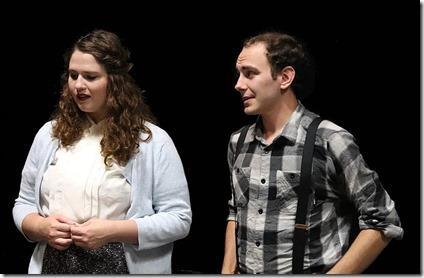 But they also will need a better production than this to see what they really have. The performances are, frankly, below average for Chicago non-Equity storefront theater, and there is the aforementioned paucity of production values in a story that really could use some more elaborate visualization. They might have done better to go with a very short public workshop and put their money into a better cast - even an Equity one - and spent more on props and costumes. Projections might be a less expensive way to establish time and place.
There is something worthy here, though, and these writers should not be written off. I would urge them to dig a little deeper into the parts of the story they feel most passionate about and raise the money for a bigger production the next time around. And, I would go back to the original title of Maybe, Someday, which better suggests the themes of hope and loss for LGBTQ people to live the sorts of lives more easily available to straight people.
One Thousand Words continues through September 17th at Theater Wit, 1229 W. Belmont (map), with performances Thursdays and Fridays at 7:30pm, Saturdays 3pm & 7:30pm, Sundays 3pm. Tickets are $22.50-$27.50, and are available by phone (773-975-8150) or through TheaterWit.org (check for availability of ). More information at TheaterFaction.org. (Running time: 2 hours 30 minutes, includes an intermission)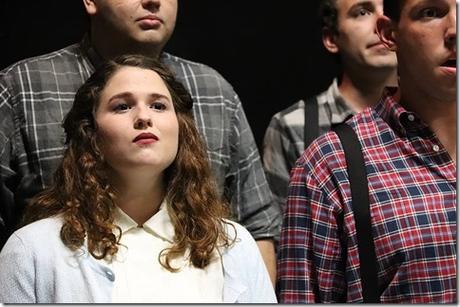 Photos by Jim DeYoung
Katelyn Stoss (Kristy, ensemble), Justin Stevens (Richard Hanks), Brandon Campbell (Warren Johnson), Garrett Wade Haley (Daniel Sanderson), Brian Kulaga (Luke Sanderson, ensemble), Genna Guidry (Elizabeth Morris, ensemble), Gary Murphy (Old Warren), Megan Gill (Virginia Clarice, ensemble), Dame Grant (Thomas Jones), Peter Kattner III (Frankie, ensemble), Ricardo Diaz (George, ensemble), Bill Zimmerman (Jacob, ensemble), Jen Paulos (ensemble, U/S Virginia Clarice)
behind the scenes
Michael Owen Achenbach (director, scenic designer), Jenna Schoppe (choreographer), David White (music director, keyboards), Katie McClatchey (costume designer, assistant director), Benjamin Carne (lighting designer), Matthew R. Chase (sound designer), Garrett Wade Haley (fight choreographer), Sapier Weinglass (production stage manager), Sophie Goddard (assistant stage manager), Isaac Stevenson (percussion), Jim DeYoung (photos)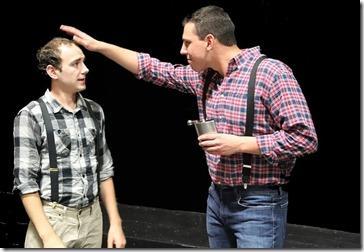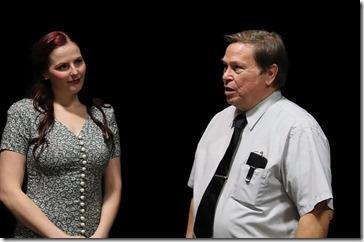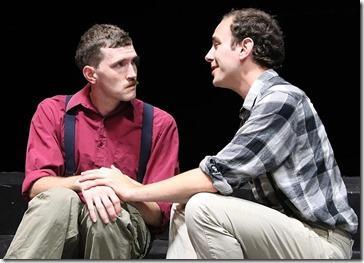 Tags: 17-0902, Benjamin Carne, Bill Zimmerman, Brandon Campbell, Brian Kulaga, Chicago musical theater, Chicago Musical Theatre Festival, Chicago Theater, Curran Latas, Dame Grant, David White, Garrett Wade Haley, Gary Murphy, Genna Guidry, Isaac Stevenson, Jen Paulos, Jenna Schoppe, Jim DeYoung, John Olson, Justin Stevens, Katelyn Stoss, Katie McClatchey, Lavina Jadhwani, Matthew R. Chase, Megan Gill, Michael Braud, Michael Owen Achenbach, Peter Kattner III, post, Ricardo Diaz, Sapier Weinglass, Sophie Goddard, Theater Faction, Theater Wit, Theatre Baton Rouge