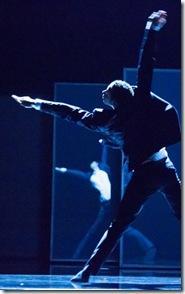 One Thousand Pieces 
Choreographed by Alejandro Cerrudo
Music by Philip Glass  
at Harris Theater, Millennium Park (map)
thru Oct 21  |  tickets: $25-$99   |  more info 
 
  
  
  
  
---
'Pieces' a testament to Hubbard Street's strength and artistry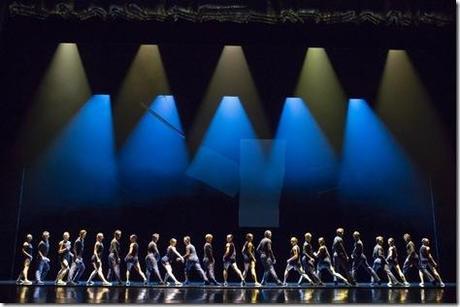 Hubbard Street Dance Chicago presents
One Thousand Pieces
Review by Lauren Whalen 
Contrary to parody and stereotype, modern dance doesn't entail flailing one's body about a stage, physically vomiting feelings. Anyone who's taken even one class in Graham or Horton technique can tell you that modern is as much science as art. And if modern dance is a science, One Thousand Pieces is Hubbard Street Dance Chicago's grand experiment: the company's first full-length work in 35 years of existence, with its first-ever Resident Choreographer at the helm. Inspired by another exacting art form – Marc Chagall's stained-glass windows – One Thousand Pieces is a testament to interpretation and inspiration. What happens when Alejandro Cerrudo is given two dozen dancers and 90 minutes? A pure, fluid and eye-poppingly brilliant testament to what modern dance can do.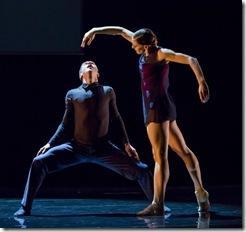 Some background: besides being its first full-length work,
One Thousand Pieces
is the first work created with all members of the main Company and its younger sibling, Hubbard Street 2. It is Cerrudo's seventh original work since he became the company's first Resident Choreographer in 2009.
One Thousand Pieces
was inspired by Chagall's "
American Windows
",
permanently on display
at the Art Institute of Chicago, with music by American composer
Philip Glass
, who celebrated his 75th birthday this year.
One Thousand Pieces' design team is both intelligent and masterful, beautifully conveying Chagall's windows without patronizing. Michael Korsch's subtle lighting gives off a holy vibe, worshiping the art and design unfolding onstage. And Thomas Mika's costumes utilize muted shades of red and blue with black overlay, suggesting the transparency of a window while trusting the audience to put it all together.
Indeed, the production values are a natural background to the real star of the piece: Cerrudo's attention to detail in dancing. Hubbard Street dancers are a testament to flawless, fluid strength – as a company member himself, Cerrudo possesses a unique, intimate knowledge of the company's specific abilities. At times, Cerrudo is less of a choreographer and more of an architect, exacting his plans on living, breathing structures. Every step, arch and gesture is precise and sharp as glass cutting through paper, but executed with maximum sentiment. These dancers don't flutter – they soundlessly pound, leaving no spectator unchanged. Whether reflected in mirrors or gliding through water with ecstatic longing, the company is weightless yet completely grounded. No muscle isn't engaged and expressive, no spectator unchanged by the vision.
How does one interpret a work of art – in a completely different form, no less? In a program interview, One Thousand Pieces choreographer/mastermind Cerrudo says the work is a "personal interpretation" of Chagall's "American Windows". Cerrudo doesn't give the audience a windowed set, a straight narrative or scads of bright colors. As I watched One Thousand Pieces I wondered, "What exactly did Cerrudo think and feel?" I couldn't put the answer into words, but by the end – thanks to near-flawless choreography, design and execution – I knew. And even if I didn't, trying to figure it out would have been unforgettable enough. Congratulations, Mr. Cerrudo. You have crossed the line from genius to legend.
Rating: ★★★★
One Thousand Pieces continues through October 21st at Harris Theater, 205 E. Randolph, Millennium Park (map). Tickets are $25-$99, and are available by phone (312-850-9744) or through their website. More info at HubbardStreetDance.com.  (Running time: 90 minutes, with one 5-minute pause and a 20-minute intermission)

Photos by Todd Rosenberg 
---
artists
cast
Brandon Lee Alley, Garrett Patrick Anderson, Jesse Bechard, Jacqueline Burnett, Alicia Delgadillo, Meredith Dincolo, Kellie Epperheimer, Jonathan Fredrickson, Jason Hortin, Alice Klock, Emilie Lereche, Ana Lopez, Felicia McBride, Johnny McMillan, Laura O'Malley, Pablo Piantino, Penny Saunders, David Schultz, Kevin Shannon, Lissa Smith, Jessica Tong, Richard Walters, Quinn Wharton, Andrew Wright
behind the scenes
Alejandro Cerrudo (Choreography), Philip Glass (Music), Michael Korsch (Lighting), Thomas Mika (Set and Costumes), Terence Marling and Taryn Kaschock Russell (Assistants to the Choreographer), Big Shoulders Productions (Fog Effects), Todd Rosenberg (photos)
For Hubbard Street Dance Chicago:
Taryn Kaschock Russell (Director, Hubbard Street 2), Terence Marling (Rehearsal Director), Kristen Brogdon (General Manager), Alejandro Cerrudo (Resident Choreographer), Claire Bataille (Director, Lou Conte Dance Studio), Ishanee DeVas (Company Manager), Joseph Futral (Interim Production Manager), Matt Miller (Lighting/Technical Director), Rebecca Shouse (Wardrobe Supervisor), Aprill C. Clements (Stage Manager/Properties Master), Kilroy G. Kundalini (Audio Engineer), Stephan Panek (Head Carpenter), Sam Begich (Master Electrician), Lou Conte (Founder)