I'm calling it my new Miracle in a Bottle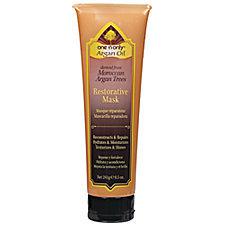 What is it? 
A restorative hair mask enriched with
proteins and Keratin
and infused with the famous argan oil, one of the  worlds rarest oils which is derived from the Moroccan Argan Tree. This is an
intense treatment
that penetrates the cuticle to help reconstruct, rebuild strength and restore elasticity. It's moisturizing properties are to help revive and nourish
dry and damaged hair.
It also promises to improve texture, manageability and shine. 
I've abused my hair with heat damage and chemicals for a while so my hair isn't as healthy as it used to be. I went to Sally's Beauty Supply and was looking for something like this, the sales lady at Sally's highly recommended this and said she uses it on her own hair. Already in love with their Argan Oil I felt pretty confident buying this. I bought the smaller bottle (3.oz) that was only $4.29 in case I didn't like it. It isn't a small bottle either, I would say it was more of  a medium size.
The Results
 After washing my hair I used a good amount to make sure every strand of my hair was coated. The formula is pretty thick and creamy but it washes out really easily. The longest I left it in my hair was for 20 minutes and after washing it out and combing through my hair I could already feel it working. I went about my usual routine by applying my usual products then blow drying all of my hair. The results were shocking to me, I couldn't believe how
soft, shiny and healthy
my hair was. I also noticed that blow drying my hair wasn't as much of a hassle. I wanted to use it again before saying I was in love with it, so I did and now I can officially say I'm in love with it! I only need to wash my hair every 2 or 3 days but after using this I noticed my hair still looked pretty good on the 3rd day so I was able to go an extra day without washing my hair. 
This can be used on any hair texture and if you have
damaged/dry hair
or want some life back in your hair I would
strongly recommend
trying this. I've used other hair masks that I was pleased with but this is the first one that gave my hair all these results in one.  If you buy the regular size bottle I believe it was $10.99 which isn't that bad considering how well it works. 
Pros:
The protein and keratin really rebuilds the strength in your hair

Has a yummy smell

Leaves your hair incredibly soft, shiny and easy to style

The thick formula makes it easy to apply to your whole head
Cons:
I haven't found any cons. 

Product Rating: 
5 out of 5 nail polishes!

P.S. The nail polishes are my new rating system for when I do reviews on products, just like stars except Im using nail polishes. :) 5 being the best and 1 being the lowest. 
Click the links below :)
Follow my blog via GFC
Follow me on Twitter