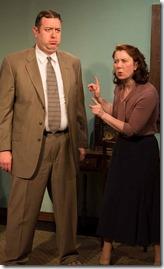 Slapstick comedy a rollicking sendoff for Strawdog space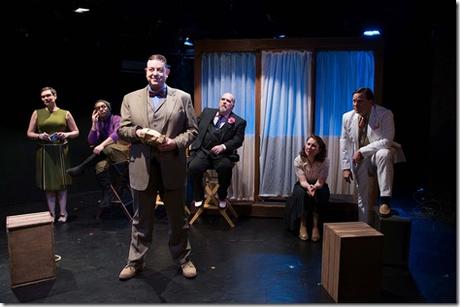 After 28 years in their Broadway Ave. location, Strawdog must close its doors. Next season will see them opening at The Factory in Rogers Park while presumably looking for a new home to lay down roots. With so many stories and performances embedded in the floorboards, it's a bittersweet farewell to an institution. Not the least of all for this critic, who witnessed one of his first Chicago performances there (2005's "Three Sisters"), with the added convenience of having them just a block away.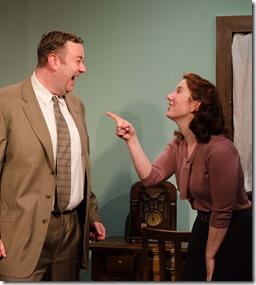 Au revoir, old friend.
It's fitting they've chosen to toast their old home with the theatrical equivalent of sparkling champagne in the form of Kaufman and Hart's first (of eight) breakout classic, 1930's . Effervescent and featherlight, this tongue-in-cheek satire sends up movie moguls, vacuous publicity and that general air of Hollywood surrealism that persists to this day. A twelve person cast replete with some of Strawdog's best regulars infuse the zany comedy with heart and soul to spare.
1927 has seen the debut of the first 'talkie', "The Jazz Singer". Hollywood is in a scramble as the cultural earthquake reverberates through the old guard of silent era filmmakers. Three down-and-out vaudevillians see an opportunity to take advantage of the chaos. Then as now, there's gold in them thar hills.
Jerry (Michael Dailey) is the first to sniff the air of change after seeing Al Jolson exploit all the power of the new Vitaphone sound. His whip-smart-and endlessly patient-gal May (Kat McDonnell) perceives a chance to reinvent themselves as vocal coaches to the anxious silent era stars who are unaccustomed to being heard and not merely seen. Their straight man George (Scott Danielson) is a happy-go-lucky buffoon who'll blithely go along with anything as long as he can endlessly chew on Indian nuts.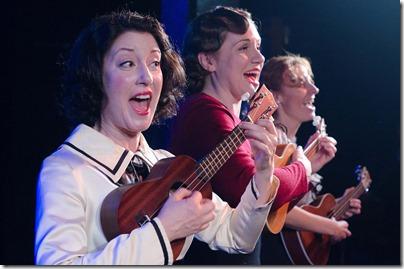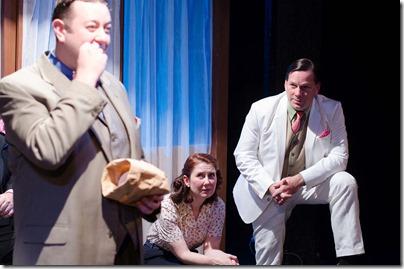 A chance meeting on a train with the famed critic Helen Hobart (Justine C. Turner) showcases May's improvisational talents as she ingratiates her gang with the Hollywood elite. With patronage from the blowhard producer Gloagauer (a lovably gruff Jamie Vann), they open a school for those who need to learn where Sally sells those seashells. As the old joke goes, May just has to stay one lesson ahead of her students to continue the ruse and ride the pony of Tinseltown obliviousness all the way to the bank. Jerry handles the business end while George woos wannabe actress Susan (Sarah Goeden). After their show-stealing turn in 2014's , it's great to see those two physical comedians like Goeden and Danielson back together.
Reliably immersive scenic design by Joe Schermoly and whiplash costume changes from designers Brittany Dee Bodley and Cassandra Bass set a sumptuous stage if not one of the most versatile ever put in the Strawdog space. A dilapidated hotel room, a train, a red carpet, and the delightful pink-lit Glogauer offices and more. Many side players must display similar versatility, most hilariously Michaela Petroand Anderson Lawfer as two pinup starlets desperately in need of a vocal tune-up. Nicole Bloomsmith is pitch perfect as an airhead receptionist, a blank-slate smile playing exquisitely off Paul Fagen's frustrated playwright.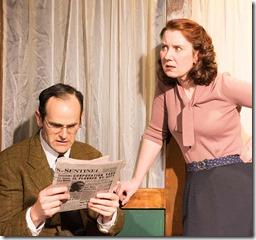 Director
Damon Kiely
wisely stands back and allows this combustible cast to do what they do best, and maybe the knowledge that this is the end of the journey in this space ensures that everyone is giving it their all. Surrounded by the madcap, McDonnell channels a little of the Kat of a Hepburn variety with every world-weary wisecrack and arch expression. She's the consummate foil for the glad-handing Dailey, though their love story remains a tad undeveloped to earn its payoff.
Buoyed along with three acts and two intermissions, the old fashioned comedy takes advantage of the Postmodern Jukebox (PMJ) trendsetters by remixing contemporary songs in jazz/ragtime fashion for some Katy Perry and Beyoncé California-themed numbers during scene changes. Throwaway as it is, the effect draws a through-line from then to now for the fame seekers of the 21st century.
Of course, the spirit of Strawdog will live on wherever this ensemble lands, so an overly elegiac tone need not be invoked. That said, as a finale for their home, Strawdog does what all great performers do-they leave us laughing.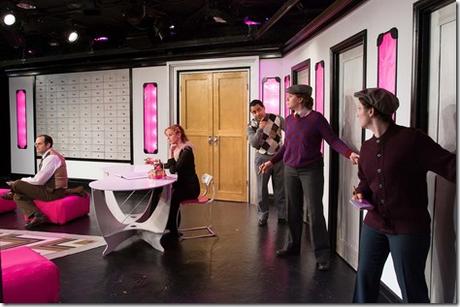 Once in a Lifetime continues through June 4th June 11th at Strawdog Theatre, 3829 N. Broadway (map), with performances Thursdays-Saturdays at 8pm, Sundays 4pm. Tickets are $28-$30, and are available by phone (773-528-9696) or online through OvationTix.com (check for half-price tickets at Goldstar.com ). More information at Strawdog.org. (Running time: 2 hours 5 minutes, includes two intermissions)
Nicole Bloomsmith (Miss Leighton, others), Michael Dailey (Jerry), Scott Danielson (George), Kamille Dawkins (Cigarette Girl, others), (Lawrence Vail, others), Sarah Goeden (Susan, others), Anderson Lawfer (Phyllis, others), Kat McDonnell (May), Michaela Petro (Florabel, others), Brandon Saunders (Kammerling, others), Justine C. Turner (Helen, others), (Glogauer, others)
behind the scenes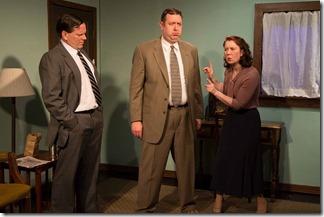 Damon Kiely (director), Joe Schermoly (scenic designer), Jordan Kardasz (lighting design), Heath Hays (sound design), Brittany Dee Bodley , Cassandra Bass (co-costume designers), Max Colvill (assistant stage manager), Spencer Diedrick (assistant director), Mike Ford (choreographer), Jamie Karas (properties design), Emmaline Keddy-Hector (production manager), Matthew Lightfoot (assistant lighting designer), (music director), Casey Peek (stage manager), Arianna Soloway (dramaturg), Rob Stepek (master electrician), Alan Weusthoff (technical director), Tom McGrath (photos)
Tags: 16-0501, Alan Weusthoff, Anderson Lawfer, Arianna Soloway, Austin Oie, Brandon Saunders, Brittany Dee Bodley, Casey Peek, Cassandra Bass, Chicago Theater, Clint May, Damon Kiely, Emmaline Keddy-Hector, George S. Kaufman, Heath Hays, Jamie Karas, Jamie Vann, Joe Schermoly, Jordan Kardasz, Justine C. Turner, Kamille Dawkins, Kat McDonnell, Matthew Lightfoot, Max Colvill, Michael Dailey, Michaela Petro, Mike Ford, Moss Hart, Nicole Bloomsmith, others), Paul Fagen, post, Rob Stepek, Sarah Goeden, Scott Danielson, Spencer Diedrick, Strawdog Theatre, Tom McGrath
Category: 2016 Reviews, Clint May, Strawdog Theatre