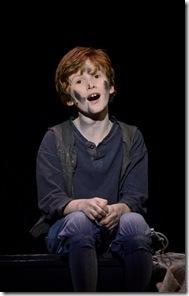 Oliver! 
Music, lyrics and book by Lionel Bart
Directed by Rudy Hogenmiller
Music direction by Roger L. Bingaman
Cahn Auditorium, 600 Emerson, Evanston (map)
thru Dec 31  |  tickets: $48-$94   |  more info
  
  
---
Music, glorious music!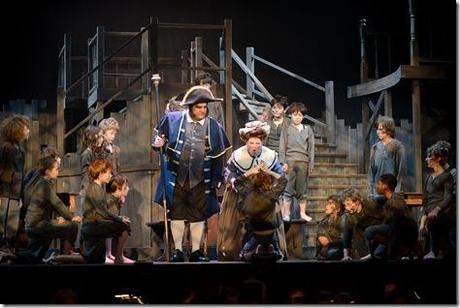 Light Opera Works presents
Oliver!
Review by Leah Zeldes 
Lionel Bart's deservedly beloved music and book, based on the colorful characters of Charles Dickens' classic novel about a workhouse orphan, is just the starting point of Light Opera Works' fine Oliver! Director Rudy Hogenmiller and Music Director Roger L. Bingaman and their cast, orchestra and crew have come together to create an absolutely engaging show, from the first strains of "Food, Glorious Food" to Fagin's final sad reprise of "Reviewing the Situation."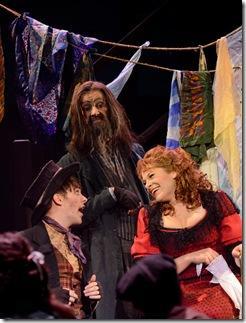 And what a Fagin! Veteran Chicago actor
James Harms
(Fagin), almost unrecognizable in the long hair, beard and makeup of his role and the accent he assumes, creates a venal but sympathetic Fagin, the sadly flawed but comprehensible and kindly scoundrel vs. the hard unredeemable badness of
Edward J. MacLennan
's Bill Sykes and the greedy, blustering coldheartedness of
Cary Lovett
's slightly bumbled Mr. Bumble. Harms is gleeful in "Pick a Pocket or Two," poignant in "Reviewing the Situation" and terrific all through.
It's hard to understand what the buxom, fun-loving Nancy sees in the brutal, villainous Sykes, a relationship that rightfully infuriates feminists, but it's not at all hard to appreciate Colette Todd's bravura performance as the saucy Nancy, which just keeps getting better and better as she progresses from "It's a Fine Life" through "Oom-Pah-Pah" to "As Long as He Needs Me."
Lovett and Sarah Jane Blevins as Widow Corney are wonderfully comic in "I Shall Scream" and David Elliott and Patrice Egleston are even funnier as Mr. and Mrs. Sowerberry in "It's Your Funeral." Darren Barrere offers a roguish rendition of The Artful Dodger.
And of course, there are the kids. Eleven-year-old Michael Semanic in the title role is a sweet boy soprano, and the chorus of 18 boys are all adorable. The grown-up ensemble does a first-rate job, most notably in an exceptional version of "Who Will Buy?" Dialect coach Susan Gosdick seems to have schooled her charges very well.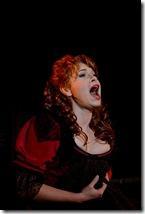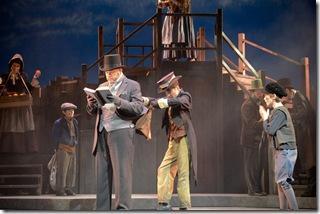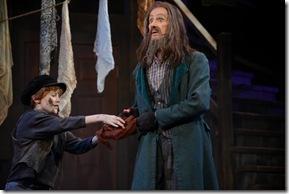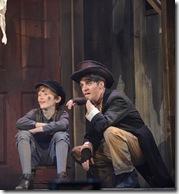 This is, however, a fantasy "Oliver Twist!" fairly far removed from the grit of Dickens' original. Adam L. Veness's two-story rotating set and Hogenmiller's staging work together seamlessly, although the set doesn't convey the historic London in any real way, nor does the costuming. Grimy faces and ripped netting don't convey the real want and poverty Dickens wrote of. The main flaw in this production, however, is the choreography. I suspect that the large cast, the big set and the Cahn Auditorium stage doesn't provide a lot of scope, but if you go to musicals for the dancing, this won't do it for you. I could also have done without the hashmash of reprises in the curtain call, so much anticlimax, apparently meant to counter the fact that Bart failed to provide a big finale. But those are quibbles.
As always, this Light Opera Works production has a regrettably short run, just through New Year's Eve. Buy tickets now.
Rating: ★★★½
Oliver! continues through December 31st at Cahn Auditorium, 600 Emerson, Evanston (map).  Tickets are $48-$94 (kids half-price as some performances, and FREE with subscription), and are available by phone (847-920-5360) or online through their website (check for half-price tickets at Goldstar.com). More information at Light-Opera-Works.org.  (Running time: 2 hours 30 minutes, includes an intermission)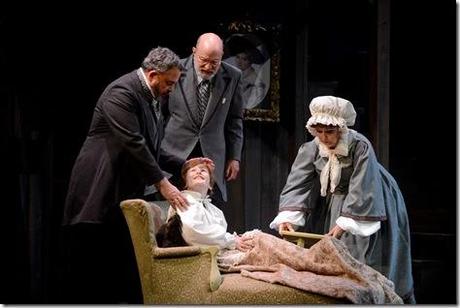 Photos by Chris Ocken 
---
artists
cast
James Harms (Fagin); Colette Todd (Nancy); Cary Lovett (Mr. Bumble); Michael Semanic (Oliver Twist); Darren Barrere (The Artful Dodger); Edward J. MacLennan (Bill Sykes); Sarah Jane Blevins (Widow Corney); Nicole Karkazis (Bet); Rick Rapp (Mr. Brownlow); Jody Goldman (Mrs. Bedwin); Jerry M. Miller (Dr. Grimwig); David Elliott (Mr. Sowerberry); Patrice Egleston (Mrs. Sowerberry); Jordan Phelps (Noah Claypole); Kelly Maryanski (Charlotte); Maggie Clennon Reberg (Old Sally); Matthias Austin, Angel Barrette Christie Burgess, Nathan Carrol, Emily Goldberg, Nathan Mittleman, Jordan Phelpes, Maggie Clennon Reber, Jeremy Sonkin, Yael Wartens (ensemble)
Ensemble boys 
Ford Baker, Jonah Bauer, Gavin Lambert Clarke, Myles Aidan Clarke, Justin Cole-Hunt, Brennan Dougherty, Christian Engelhardt, Collin Engelhardt, Bruiser Ford, Aleksander Kowalchuk, Nikolai Kowalchuk, Tomas Kowalchuk, Evan Lerner, Sean Loftus, Charlie Lovett, Charlie Reinhard, Benedict Anthony Schwengel and Lucas Jade Zumann.
Orchestra
Roger L. Bingaman (conductor); Jean Bishop (flute, piccolo); Debra R. Freedland (oboe, English horn); David Tuttle (clarinet, bass clarinet); Dianne Ryan (bassoon); Kelly Langenberg, Amanda Karwoske (horn); John Burson, Kevin G. Wood (trumpet); John McAllister, James Mattern (trombone); Tina S. Laughlin, Russell Knutson (percussion); Loretta L. Gillespie, Shiho Toyonaga (viola); Dorothy A. Deen, Richard Yeo (cello); Joseph Krzyslak (bass); violin I: Harvy Lobstein, Nina Saito, Elizabeth M. Brown and John F. Ling; violin II: Diana J. Brodick, Corinne K. Brodick and Chikako Miyata.
behind the scenes
Rudy Hogenmiller (director); Roger L. Bingaman (music director, chorus master); Linda Madonia (asst. music director); Chris Carter (choreographer); Adam L. Veness (scenic designer, technical director, run crew chief); Brenda Winstead (costume designer); Julia Zayas-Melendez (asst. costume designer); Alicia Ann Lees (costume asst.); Sienna Macedon-Kusek (hair and make-up designer); Titiana B. Srutwa (hair and makeup asst.); Andrew H. Meyers (lighting designer); Palmer Jankins (sound designer); Julia Eberhardt (properties designer); Susan Gosdick (dialect coach); John McFarland (fight consultant); Tom Campbell (stage manager); Ryan Hamman (asst. stage manager); Katie Beeks (production manager); Harvey Lobstein (orchestra contractor, music librarian); Mac Vaughey (master electrician); Lauren Taylor (lighting board operator); Michael Wax, Eric Branson (spotlight operators); Daniel Carlyon (sound board operator); Brock Alter, David Servillo (running crew); Kaylee Oost (young performers supervisor); Chris Ocken (photos)
12-1236