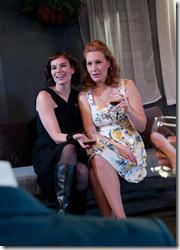 Old Times
Written by Harold Pinter  
Directed by Kimberly Senior 
at Strawdog Theatre, 3829 N. Broadway (map)
thru Nov 12  |  tickets: $28  |  more info
Check for half-price tickets
  
  
   Read entire review
---
Strawdog brings Pinter to life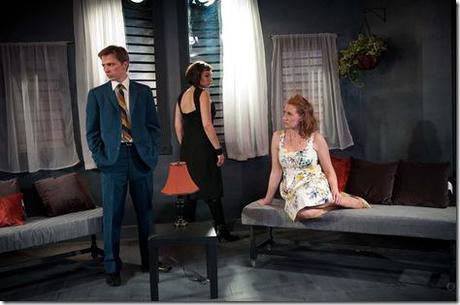 Strawdog Theatre presents
Old Times
Review by J.H. Palmer
There's nothing like the experience of watching a well executed Harold Pinter production. In a minimum of words and gestures, he manages to evoke the past and present of his characters, wasting no movement or breath. Strawdog has taken on Old Times, a one-act play that takes us deeply into the interior lives of three characters: Kate (Abigail Boucher), Anna (Michaela Petro), and Deeley (John Henry Roberts). The set design is open and spare, much like Pinter's dialogue, and lays open the starkness of the interchanges among the three characters. The lighting and sound punctuates scene endings, and draws the audience close to the characters' emotions.
Each of the three characters is tightly wound in their own fashion: Roberts' Deeley has traces of Robert Carlisle's dark energy; Boucher's Kate is at once an impossible island and intimately connected to Anna and Deely in a way that creates a sense of envy; and Petro's Anna is by turns mysterious and playful. In a play this tight the smallest gestures – a glance between Deeley and Anna, the tone of voice Kate uses when she tries to change the subject – take on outsized importance. The intensity of the dialogue comes through loud and clear in these moments, and the drama the actors create in them draws the audience in. These subtle but important notes in the actors' arsenal become significant without becoming overbearing.
At the close of the production I attended, after Deeley breaks down in the face of the truth of his own past and the house lights came up, Petro thanked the audience for coming and invited the audience to the post-show reception in her regular, un-Pintered voice. It wasn't until that moment that I realized just how good of job the vocal/dialect coach Anita Deely had done. Ill-formed accents of all stripes are a pet peeve of mine, and it seems that theater companies that don't have the focus or the energy to bother with dialect coaches rely on the aural shorthand of hack British or Southern accents when faced with the challenge of presenting characters who speak differently than their audience does. The dialects in this production are neither over-the-top nor pandering; it's a detail that I appreciate as much as good acting and costume design.
The play is a tidy 70 minutes with no intermission, and yet I got the feeling that I'd travelled deeply into the inner lives of these characters. This is one play I won't get out of my head for a long time to come.
Rating: ★★★★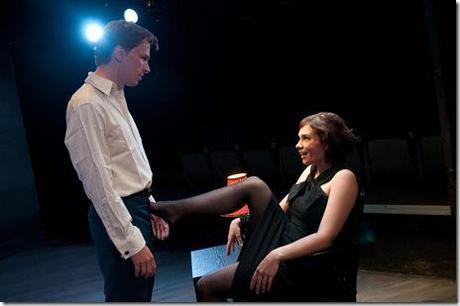 Old Times continues through November 12th at Strawdog Theatre, 3829 N. Broadway (map), with performances Thursdays-Saturdays at 8pm and Sundays at 4pm. Tickets are $28 (group pricing available), and can be purchased by phone (866-811-4111) or online at ovationtix.com. (Check for half-price tickets at goldstar.com). More information at Strawdog.org. (Running time: 70 minutes with no intermission)
All photos by Chris Ocken
---
artists
cast
Abigail Boucher*, Michaela Petro*, John Henry Roberts* 
behind the scenes
Kimberly Senior (director); Marti Lyons (asst. director); Sean Mallary* (lighting); Rachael Alulis (asst. lighting); Michael Mroch (set design); Aly Renee Greaves* (costumes); Christopher Kriz (sound); D.J. Reed (props); Danni Parpan (asst. props), Anita Deely* (voice/dialect coach); Kate Hardiman (dramaturg); Jen Poulin (stage manager); Brett Gould (asst. stage manager); Tyler Wilsey (production manager); Matt Buettner (tech director); Nic Dimond* (producer); Dan Laushman (master electrician); Chris Ocken (photos)
* denotes Strawdog company member