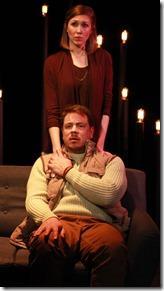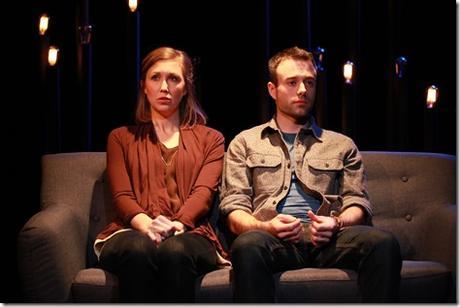 Norwegian playwright Arne Lygre's Nothing of Me receives its US premiere with your friendly neighborhood Nordic company, Akvavit Theatre. At its heart, this dark playpairs two well-matched actors in Bergen Anderson and Dan Wilsonas a seemingly idyllic couple with enough familial baggage to put a porter through college.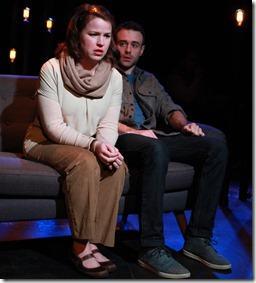 We first get the background of the man in this unnamed couple. His troubled relationship with his mother pales in comparison to the tumult surrounding the woman's family, which we learn has culminated in death and divorce. The woman is referred to as Me in the program, without which you wouldn't initially realize that this is ultimately her story or understand the double entendre of the play title.
The production's most distinctive feature lies in its narrative format. The characters speak in a strange rhythm that includes their own dialogue attribution and shifts between past and present tense. The cast directs its dialogue towards the audience as much as they do to each other. This should all prove awkward, but the idiosyncrasies instead play as hauntingly hypnotic. Extreme credit goes to Lyrge's poetic language, a committed cast, and the dual direction from Chad Eric Bergman and Breahan Eve Pautsch in making something so unusual flow so naturally.
The script calls for a large age difference between the two principal actors that isn't reflected in Akvavit's casting. Anderson doesn't appear to be much older than Wilson, which robs the story of some thematic tension. Kirstin Franklin faces the daunting task of playing ages ranging from granddaughter to grandmother, which she accomplishes subtly and with no real costume change. All four actors remain onstage for the entire one-act, in fact.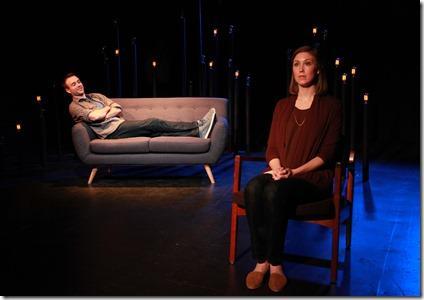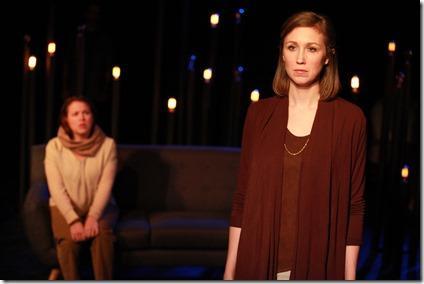 Paul S. Holmquist enters the story late as the ex-husband with a more emotional and urgent cadence than the other characters. Though slightly jarring, this tonal shift immediately grabs attention and propels the story to its unhappy climax. Emma Deane's innovative lighting design enhances the macabre tone even further.
Lygre's work serves as a powerful commentary on the ephemeral nature of life and relationships. Akvavit's skilled production remains focused and engaging in a symbolically brief performance that doesn't wear out its welcome.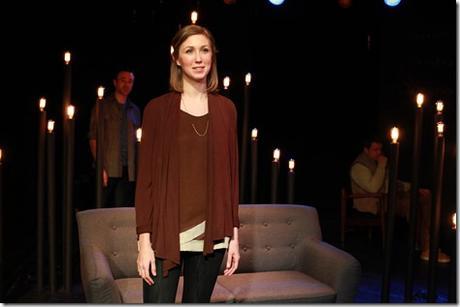 Nothing of Me continues through April 3rd at Signal Ensemble Theatre, 1802 W. Berenice (map), with performances Thursdays-Saturdays at 8pm, Sundays 3pm. Tickets are $10-$20, and are available by phone (800-838-3006) or online through BrownPaperTickets.com (check for half-price tickets at Goldstar.com ). More information at AkvavitTheatre.org. (Running time: 70 minutes, includes an intermission)
behind the scenes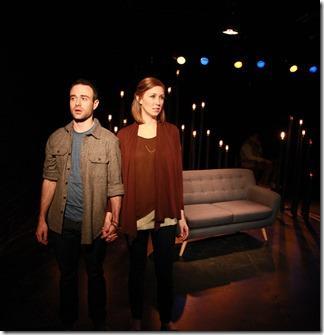 Chad Eric Bergman (co-director, set design), Breahan Eve Pautsch (co-director), Christina Marcantonio (costume design), (lighting design), Nigel Harsch (sound design), Derik Iverson (production manager), Catherine Connelly (stage manager), Emily Schwartz (photos)
Tags: 16-0310, Akvavit Theatre, Arne Lygre, Bergen Anderson, Breahan Eve Pautsch, Catherine Connelly, Chad Eric Bergman, Chicago Theater, Christina Marcantonio, Dan Wilson, Derik Iverson, Emily Schwartz, Emma Deane, Keith Glab, Kirstin Franklin, Nigel Harsch, Paul S. Holmquist, post, Signal Ensemble Theatre
Category: 2016 Reviews, Akvavit Theatre, Keith Glab, Signal Ensemble Theatre