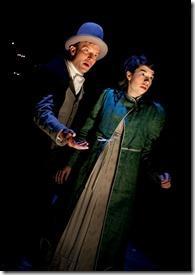 Northanger Abbey
Adapted by Tim Luscombe
From the novel by Jane Austen
Directed by Joanie Schultz 
at Greenhouse Theater, 2257 N. Lincoln (map)
thru Nov 10  |  tickets: $42-$47   |  more info
  
Check for half-price tickets 
  
  
   Read review
  
---
A beautiful, bright romantic frolic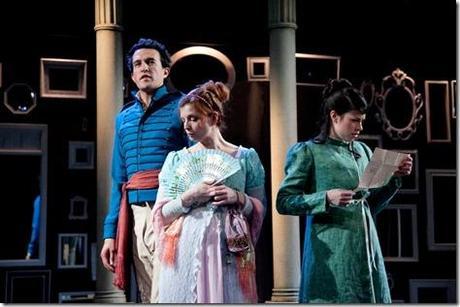 Remy Bummpo presents
Northanger Abbey
Review by Katy Walsh 
The name Jane Austen is synonymous with romance.  "Sense and Sensibility" and "Emma" are well-known examples of the author's commitment to describing 18th Century courtship.  Along with her fondness for young women's marital quests, Austen's writings also built in a strong social commentary. Her love stories involved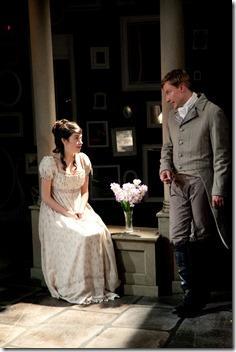 surmounting economic class and societal expectations.  And now her legendary irony is illustrated with comedic zest in Remy Bumppo's
Northanger Abbey
..
Adapter Tim Luscombe and Director Joanie Schultz collaborate to actualize every possible humorous angle in a bookworm's coming of age story.  In the lead, the effervescent Sarah Price (Catherine) continually delights in her unabashed reactions.  Whether dramatically reading from her novel or swooning over a guy, the adorable Price is comedy perfection.  Her timing, her expressions, her enthusiasm enthrall as an Anne Hathaway look-alike.  The object of her affection is the always dashing Greg Matthew Anderson (Henry).  Using an affected voice, Anderson exploits the quirky part of his character for over-the-top hilarity.  Other standouts among the scintillating ensemble are Darci Nalepa (Isabelle) and Annabel Armour (Mrs. Allen).  Both deliver absurdity disguised in elegance.  Nalepa is a deliciously conniving flirt, and Armour is self absorption wrapped in beautiful muslin.
Costume Designer Rachel Lambert dresses the cast in 18th Century finery.  The ladies, in particular, have multiple costume changes.  Lambert effectively changes the look by having a muslin duster layered on or a morning coat taken off …sometimes mid scene.  Lambert's ongoing fashion show is exquisite.  It's all about the fabric for costumes and scenery. Scenic Designers Jacqueline and Richard Penrod use different textured backdrops to contrast between the Abbey and other locales.  The look goes from refined to Medieval with a pull of a curtain.  Sound Designer Thomas Dixon has a primary role in boosting up the comedic element. He uses melodramatic tones to match Price's novel reading. 
Northanger Abbey is a lot to love.  Although Act I could be tightened up, the overall show is one big, beautiful, bright frolic.  In dire need of a romantic comedy?  Northanger Abbey will sate your craving.  
Rating: ★★★
Northanger Abbey continues through November 10th at Greenhouse Theater, , address (map), with performances Wednesdays-Saturdays at 7:30pm, Sundays 2pm.  Tickets are $42-$47, and are available by phone (773-404-7336) or online through Tix.com (check for half-price tickets at Goldstar.com). More information at RemyBummpo.org.  (Running time: 2 hours 45 minutes, includes an intermission)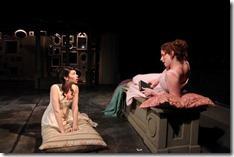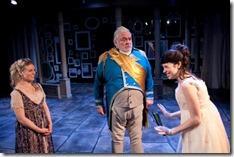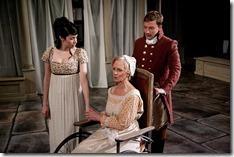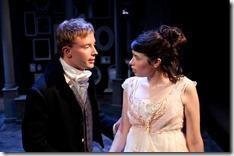 Photos by Johnny Knight 
---
artists
cast
Greg Matthew Anderson (Henry Tilney), Annabel Armour (Mrs. Allen, Mrs. Morland), Robert Hope (John), Carl Lindberg (James, Frederick), John Lister (General Tilney), Darci Nalepa (Isabella), Sarah Price (Catherine), Meg Warner (Eleanor).
behind the scenes
Joanie Schultz (director), Jacqueline and Richard Penrod (set design), Rachel Lambert (costumes), Thomas Dixon (sound design, original music), Heather Gilbert (lighting design), Jesse Gaffney (props design), Tess Golden (stage manager), Patrice Egleston (movement, choreography),  Johnny Knight (photos).
13-1016