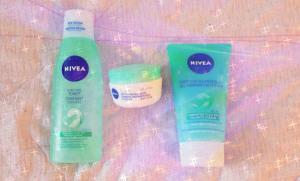 Left to right: Toner, Moisturizer, Cleanser
About my skin: I have combination/oily skin. I don't get random breakouts and I don't get zits that much, although I have light acne scars on my right jaw line. I also have large pores on my nose plus blackheads on my nose and chin area, and some slight redness on my cheeks.
1. Nivea Aqua Effect Purifying Toner 
tones and refines pores
reduces excess sebum to prevent shine
hydrates skin to support its natural moisture balance
leaves skin looking healthy and beautiful
This is the first toner that I have tried and it didn't dry out my skin. I do have some dry patches on my cheeks but whenever I use this, it vanishes. I know most toners have that alcohol smell, but this one doesn't, and I also like how this can tone my face without giving me that 'burning' feeling. I use this toner during the day and night. Ever since I started using this toner, it takes me longer to get oily during the day, and when I do start to get oily, it's not as oily as it would before.
2. Nivea Aqua Effect Mattifying Day Cream
provides intensive moisture without clogging pores
with SPF 15 to help protect the skin from sunburn
reduces shine and mattifies the look of skin thanks to its light formula
leaves skin looking healthy and beautiful
You know what sold me? The word "mattifying"! This moisturizer has a light formula and leaves my skin with that 'powdery feeling' and soft; I really like it. Even though this has a thicker formula, it feels really light on the skin and a little goes a long way. The smell is a winner in my book and it also moisturizes my skin very well, especially my dry patches. It's winter where I live right now and our temperature ranges from -15 to -30 degrees Celsius, sometimes -40, plus windchill, but this moisturizer keeps my skin hydrated!
3. Nivea Aqua Effect Purifying Face Wash 
deeply cleanses pores with purifying peeling scrubs to reduce and prevent impurities
reduces excess sebum to prevent oily shine with its purifying formula while respecting the skin's own moisture balance
vitalizes the skin with ocean algae
reduces oiliness, see, and feel pure skin
the skin is deeply cleansed and mattified, looking healthy and beautiful
What I like about this product is that, it is very gentle on the skin and doesn't dry me out, but it doesn't deeply clean my face. It doesn't give me that squeaky clean feeling compared to my old cleanser. For me, this isn't a clarisonic-friendly cleanser! It doesn't lather up well because it's a gel so it has a thicker formula and when I tried using it with my clarisonic, it felt like I was only using the brush without any cleanser.
Would I repurchase all three? No, I would only repurchase the toner and the moisturizer. I really like the moisturizer and the toner and I highly recommend them for those with combo/oily skin!