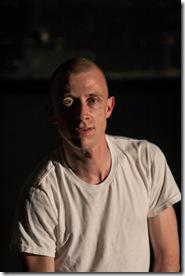 Night Just Before the Forest
Written by Bernard-Marie Koltès 
Translated by Timothy Johns
Directed by Elisabeth Barnick
at Viaduct Theatre, 3111 N. Western (map)
thru June 16  |  tickets: $10-$20   |  more info
  
Check for half-price tickets 
  
  
   Read entire review
  
---
A glimpse into the inner workings of one man's mind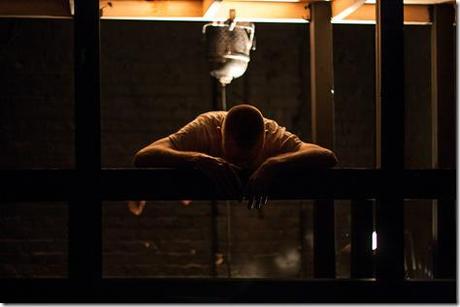 Lake Como in Rome presents
Night Just Before the Forest
Review by J.H. Palmer
Kevin V. Smith performs Night Just Before the Forest like a cross between a feral animal and a mental patient. The 75 minute monologue, written by Bernard-Marie Koltès (deceased 1989, aged 41) and first performed in 1977, is as much internal monolog as external, and brings the audience unbearably close to the inner workings of one man's mind. Elisabeth Barnick's 2-tiered set resembles a 15 foot bunk bed, and Smith uses the entirety of it in movements that are at times as poetic as classical ballet moves, and at other times urgent, as when he pulls his body across the top of the structure like a snake.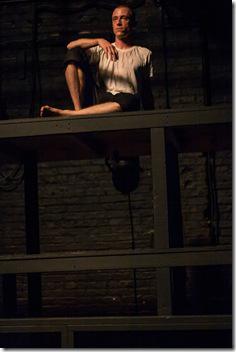 Smith becomes a human representation of a nerve — his body long and lean, his hair cropped close, and his movements are carefully choreographed in time with the dialog. By turns he twists on his side in a circle like Mo from The Three Stooges, only in slow motion, rocks back and forth like an inmate, moving from the top level of the set to the bottom level without ever touching the stage floor. The costuming is as spare as the set: dressed in a white t-shirt and slacks, Smith begins to sweat with the physical exertion of the role. There is no audio to distract from the writhing, tortured persona onstage, and background noise becomes audible: the power generator at the back of the theater; the sound of patrons breathing and shifting in their seats; the sound of Smith's feet and hands as he moves.
Smith is lit as he moves around the structure, with Melissa Lorraine's precise lighting design heightening the drama with shadows of Smith's body that are at times larger than he is, and at times obscure his body in shadow.
The monolog has repeating themes, returning to alienation from society and the "assholes" and other people who have descriptors, but no names. "I'm looking for a room for part of the night because I can't find mine anymore," he says at one point, "most kids, whatever they can do, they can't hide their mother," he says at another. He whistles the tune to "Cielito Lindo" a couple times, breaking into song at one point and singing the lyrics.
This is a very introverted piece, and while interesting, it's not for everyone. One patron left about halfway through the performance, and I could see the audience tics accumulate around me as time passed – for instance, the man to my right kept removing his left shoe only to put it on again. Smith's ability to stay in character the entire 75 minutes and remain focused on the task at hand says a lot about how seriously he takes this role, and his skill as an actor. But for fans of modern French playwrights, and for fans of fringe theater, this piece has a lot to offer.
Rating: ★★½
Night Just Before the Forest continues through June 16th at Viaduct Theatre, 3111 N. Western (map), with performances Thursdays-Sundays at 7pm.  Tickets are $10-$20, and are available by phone (773-296-6024) or online at BrownPaperTickets.com (check for half-price tickets at Goldstar.com). More information at ViaductTheatre.com.  (Running time: 75 minutes without intermission)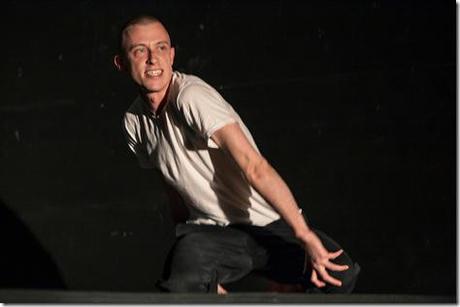 All photos by Devron Enarson
---
artists