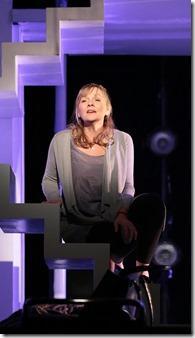 Next to Normal 
Written by Tom Kitt and Brian Yorkey  
Directed by William Osetek
Drury Lane Theatre, Oakbrook Terrace (map)
thru Oct 6  |  tickets: $35-$49   |  more info
  
Check for half-price tickets 
  
  
   Read entire review
  
---
Six flawless performances highlight this must-see production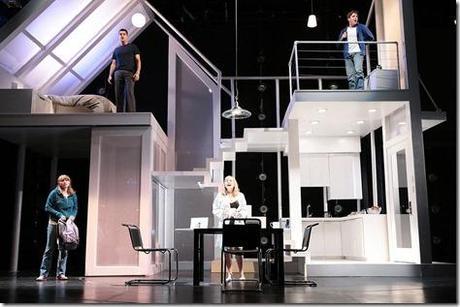 Drury Lane Theatre presents
Next to Normal
Review by Lawrence Bommer
We've seen this struggle before—of a patient refusing to let a disease define or destroy her—in Wings, Wit, A New Brain, Lady in the Dark, and Still Alice, as well as the mental crises of Frances Farmer and Sylvia Plath. Richly revived in its local debut by Drury Lane Theatre, this 2010 Pulitzer Prize winning musical treats a powerful formula with contagious conviction: For the last 16 years the perfectly pictured suburban home presided over by Diana Goodman (Susan McMonagle, in a knockout tour de trauma) has been nothing like normal (a speculative diagnosis that the show repeatedly questions).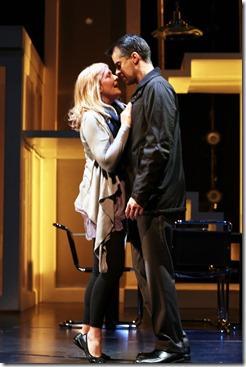 A case history in family dysfunction,
Next to Normal
opens ironically with "Just Another Day" to prove just how much pain the three Goodmans process every 24 hours. Fear of feeling has led pill-popping, semi-suicidal Diana to loss of feeling, emotional and finally physical ("I miss my life"). Worse if possible, Diana's mental illness—a borderline mélange of bipolar disorder, manic depression, post-partum trauma and midlife crisis—has spread empathetically to her too-tested loved ones.
Husband Dan (beleaguered Rod Thomas) feels helpless as the woman he married becomes a stranger. He's mired in denial ("It's Gonna Be Good") and resigned to Diana's law of diminishing returns–to a wife who makes sandwiches on the floor, mutilates herself, or throws a birthday party for Gabe (Josh Tolle as a lively ghost), the baby she lost to an untreated disease when he was eight months old. Unable to let go of the guilt or the loss, Diana imagines Gabe everywhere ("I'm Alive" he screams) as the teenager he never got to be.
Eager to escape into serious music and then to Yale, daughter Natalie (Callie Johnson, split and suffering) imagines herself "the invisible girl," and turns to drugs for distraction, fearing that her mother's malaise could eventually be hers too. Happily, she finds a jazz musician/boyfriend Henry (Skyler Adams) who will teach this classicist to improvise and love her enough that she can love back. Nonetheless, her mother's plaintive "I love you as much as I can" isn't reassuring, and, of course, she's afraid to bring Henry home to glimpse mom's misery.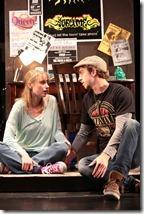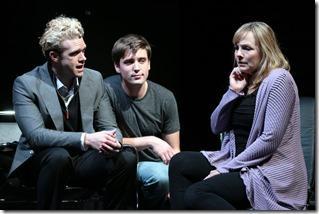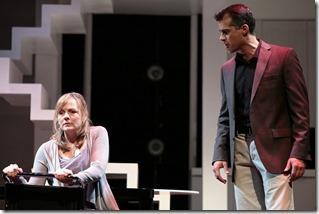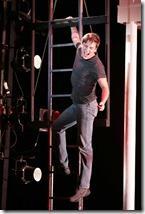 Extending the family by therapy, the final participants are the diametrically different analysts Drs. Fine and then Madden (Colte Julian as bad and less bad shrinks). Through the "talking cure," prescription interventions, hypnosis and finally electro convulsive treatment (which destroys Diana's memories but reduces the hallucinations), they reduce Diana to a work in regress. ("Better than Before" is yet another quartet sodden with wishful thinking. ) In a flagrant case of unearned emotion, the musical's pseudo-triumphant finale "Light" holds out a hope that doesn't fit the facts.
The truth does not set Diana free: The musical is just too honest about her need to break free from family as much as psychosis, the maddeningly equivocal results of these incompatible treatments, the husband's manipulation of her memories to achieve a false peace; and the perverse persistence of Gabe's memory to make us rejoice in anything but Natalie's non-negotiable love for heroic Henry.
Besides the six flawless and deeply driven performances in William Osetek's kinetic staging, Next to Normal (its title far more realistic than "Light") remains a valuable, if generic, offering, if only for the questions it asks an audience: How much can you know someone and still love them? Is it right for supposed healers to "cure" a broken brain by fooling it into not missing something you took to make it "better"? How do you really "make up your mind"? It's amazing how much suffering can be set to music and yet seem mediated and (almost) redemptive.
Rating: ★★★★
Next to Normal continues through October 6th at Drury Lane Theatre, 10 Drury Lane, Oakbrook Terrace (map), with performances Wednesdays at 1:30pm, Thursdays at 1:30pm and 8pm, Fridays 8pm, Saturdays 5pm and 8:30pm, Sundays 2pm and 6pm.  Tickets are $35-$49, and are available by phone (630-530-0111) or online through Ticketmaster.com (check for half-price tickets at Goldstar.com). More information at DruryLaneOakbrook.com.  (Running time: 2 hours 30 minutes, includes an intermission. Recommended for mature audiences.)
Photos by Brett Beiner 
---
artists
cast
Susan McMongale (Diana), Rod Thomas (Dan), Skyler Adams (Henry), Callie Johnson (Natalie), Colte Julian (Dr. Fine/Madden), Josh Tolle (Gabe); Christine Sherrill, Rob Lindley, Maddy LaRoche, Patrick Rooney (understudies)
orchestra
Ben Johnson (conductor, keyboard 1), Tom Yang (violin), Tom Logan (guitars), Marc Hogan (bass), Rich Trelease (drums, percussion), Evan Rea (associate conductor)
behind the scenes
William Osetek (director), Scott Weinstein (asst. director), Ben Johnson (musical director, music supervisor), Tammy Mader (choreographer), Scott Davis (set design), Heather Gilbert (lighting design), Sally Dolembo (costume design), Nick Haggestad (prop design), Ray Nardelli (sound design), Adam Ford (stage manager), Emilie Hanlet (asst. stage manager), Juli Walker (production manager), Carey Deadman (music contractor), Erika Senase (costume manager), Jeremy Drechny (technical director), Jim Jensen (special projects manager), Matthew Carney (company manager), Kyle DeSantis (executive producer), Drew DeSantis, Jason Van Lente, Abbie DeSantis (co-producers), Brett Beiner (photos).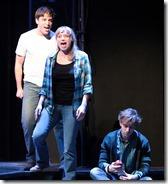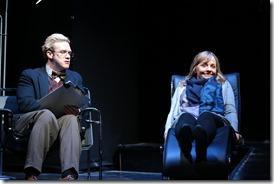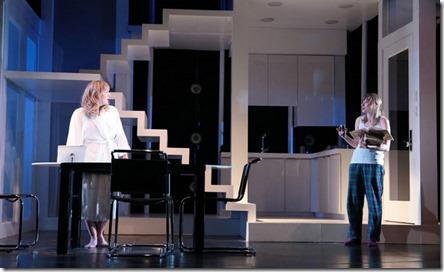 13-0827