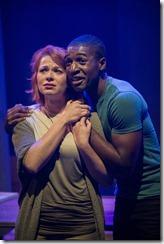 A rock musical that's emotionally way above the rest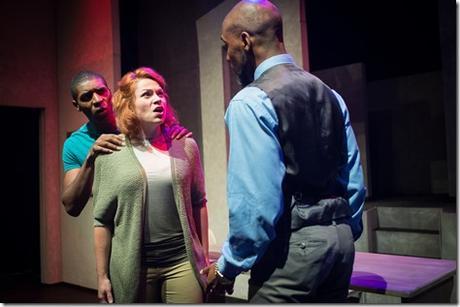 Just nine musicals have won the Pulitzer Prize for drama, the most recent winner being Hamilton. Next to Normal was the eighth, winning the award in 2010. And while the show is heavily sung-through, with a rock score that rarely stops to take a breath, it succeeds in ways more typical of drama than musicals. Next to Normal earns its emotions through plot construction and words - both dialogue and music - more than with the visceral power of music and dance. Brian Yorkey and Tom Kitt's musical never bothers taking time for a production number or even a comic number - here it's all about the story telling. The story is of one family: Diana and Dan Gordon - a married couple around age forty - and their teenaged daughter Natalie. The Gordons are desperately trying to find the sort of "normal" lives these intelligent and decent people deserve in the face of the mother's bi-polar disorder. The show opens with a fairly routine parent-teenage child discussion after an unauthorized late-night return, and progresses into the song "Another Day,"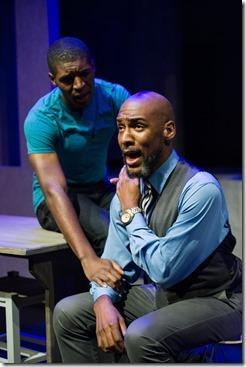 showing a similarly routine morning of getting a kid to school and a dad to work. As it progresses, things start to look suspicious. Mom Diana manically "gets a head start on making lunch sandwiches" by creating an assembly line of 8 or 10 of them, setting up slices of bread on chairs and even on the floor. It becomes evident to all that the current cocktail of meds for Diana's condition isn't working. A scene or two later, we learn the son, Gabe, the kid with whom Diana had the opening scene's middle of the night conversation, is not who we think he is. We also find out that a huge loss in the mother's life may have triggered a genetic predisposition to Diana's illness as her mother had similar manic tendencies. And 16-year-old daughter Natalie, born a few years after Gabe, may have the genes as well, showing similarly "high energy" behavior as a star student and aspiring classical pianist.
But the Gordons are no victims - they're strong, and have the will (and apparently the health insurance coverage) to pursue all sorts of mental health treatments to bring Diana to some sort of workable and comfortable mental state. They maintain a sense of humor, and Diana is surprisingly self-aware for a person suffering from a severe mental illness. We like them all the more for their strength, even as we see how Diana's illness is wearing on them as well as her. That's the larger lesson of this story - though here it is specific in its discussion of bipolar condition, it can be generalized to the challenges of caring for family members and loved ones with any sort of debilitating disease or circumstances. Bad things do happen to good people.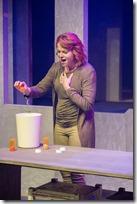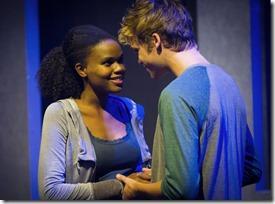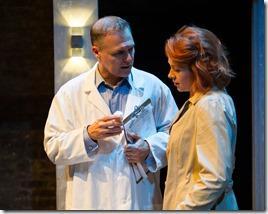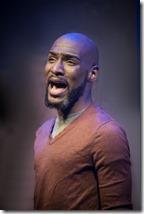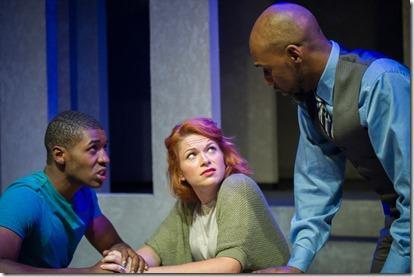 Kitt's hard-driving score might be criticized for a lack of variety in tone and pace, but it reflects the sometimes manic energy of the Gordons and establishes a contemporary setting. It is exceptionally well sung by a bi-racial cast, lead by Colette Todd as Diana. Todd has one of the very best musical theatre voices in town, gorgeous to listen to but always in service of the text, and she captures the spirit and humor of her character as Diana falls in and out of lucidity. Her husband Dan is played by the golden-voiced Donterrio Johnson, who sings powerfully but with control and nuance. His character is written as a bit of a cipher, compared to Diana or Natalie. He's incessantly well-meaning, but we're told there's trouble in the marriage without ever knowing exactly why. He seems a little insecure, frequently noting that he and Diana married too young and weren't ready to be parents, but Yorkey's script doesn't give Johnson much to work with here. is effective as daughter Natalie, who is disappointed in what she perceives as lack of attention from her parents as she aggressively pursues her musical pursuits. She meets a boy at school, Henry (the likable Bradley Atkinson), who like Natalie, has artistic sensibilities but who is less uptight than her and helps Natalie, just a little, to relax. Gilbert Domallyis just about perfect as Gabe, Diana's vision of the just-about-perfect son she believes he would have become. With his wholesome good locks and a voice I could listen to all night, it's easy to see how Domally has made waves and earned raves in Porchlight's and Paramount's. Rounding out the six-person cast is Peter Robelas Diana's two doctors. Dramatically, he's there primarily to give medical context to the story, but he displays a solid baritone when he has the chance to sing.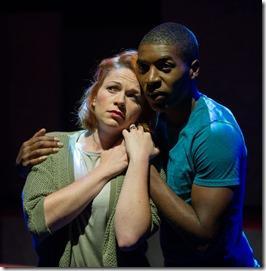 The action is played on a neutral set designed by
Sarah E. Ross
that seems to vaguely suggest the sterile environments of the doctors' offices, a hospital and an upscale new home. The simplicity works. In comparison to the Broadway and
tour set
, which though simple seemed to satirize suburbia, Ross's design makes no comment on the family or their surroundings, but keeps the story's focus on the family themselves. The intimacy of an under-100-seat theatre like the one in which this is playing serves the piece as well. The producers and director of the Broadway production would probably agree. They put it into the Booth Theatre, one of the smallest Broadway houses. On tour, though, - in a 2,000+ seat house like The Bank of America (now PrivateBank) Theatre, where I saw the
national tour in 2011
, the connection to a character-driven piece like this suffers and I don't recall feeling as moved by the musical as I was in watching BoHo's take on it.
Seeing the show on tour, which starred the original Diana, Alice Ripley, one had the advantage of seeing an actress who at that point had lived with the character for years. Given some more time over the run of this show, I suspect both Todd and Johnson will find additional layers of the characters to share with the audience. I wanted to know more about Dan and Diana apart from the way they deal with Diana's mental health challenges and Yorkey's script doesn't give the actors enough help, leaving it to the actors to flesh out their characters via subtleties in movement or line readings. There's no compromising of musicianship in this production, though, with the stellar vocals of all six in the cast under the musical direction of Ellen K. Morrisand accompanied by her five-piece band. In spite of some minor misgivings about the depth of the lead performances on opening weekend, director Linda Fortunato and cast give us a musical that is nonetheless incredibly moving.
Next to Normal continues through October 9th at Theater Wit, 1229 W. Belmont (map), with performances Thursdays-Saturdays at 8pm, Sundays 2pm. Tickets are $27-$30, and are available by phone (773-975-8150) or online through TheaterWit.org (check for half-price tickets at Goldstar.com ). More information at BoHoTheatre.com. (Running time: 2 hours 20 minutes, includes an intermission)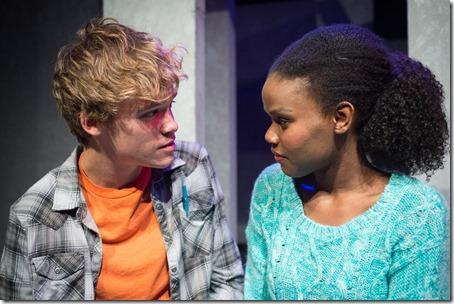 Ellen K. Morris (conductor, keyboard), Michael Lockler (guitar), Renee Henley (violin, viola), Tony Scandora (drums), Jon Nadal, David Priest (bass)
behind the scenes
Linda Fortunato (director), Meg Love (producer), Ellen K. Morris (music director), Sarah E. Ross (scenic design), Rachel Lambert (costume design), G. "Max" Maxin IV (lighting design), Joe Palermo (sound design), Natasza Naczas (properties design), Dalton Long (stage manager), Angela Alise Johnson (assistant director), Saadat Kahn, Ed Dudzinski (assistant lighting designers), Tess Martinez (rehearsal assistant stage manager), Madison Paige Kennedy (production assistant stage manager), (photos)
Tags: 16-0830, Alice Ripley, Amy Boyle, Amy Boyle Photography, Angela Alise Johnson, Bradley Atkinson, Brian Yorkey, Chicago musical theater, Chicago Theater, Ciera Dawn, Colette Todd, Dalton Long, David Priest, Donterrio Johnson, Ed Dudzinski, Ellen K. Morris, G. Max Maxin IV, Gilbert Domally, Joe Palermo, John Olson, Jon Nadal, Kyrie Anderson, Linda Fortunato, Madison Paige Kennedy, Meg Love, Michael Lockler, Natasza Naczas, Next to Normal, Peter Robel, post, Pulitzer Prize, Rachel Lambert, Renee Henley, Saadat Kahn, Sarah E. Ross, Tess Martinez, Theater Wit, Tom Kitt, Tony Scandora