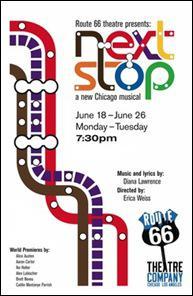 Next Stop 
Music and Lyrics by Diana Lawrence
Directed by Erica Weiss  
at Theater Wit, 1229 Welmont (map)
thru June 26  |  tickets: $25   |  more info
  
Check for half-price tickets 
  
  
   Read entire review
  
---
Sweet song Chicago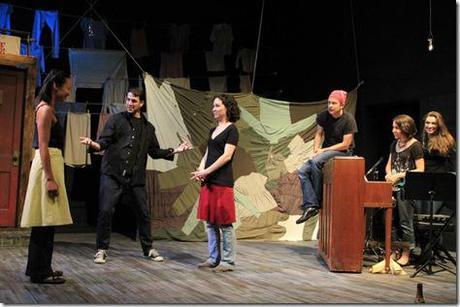 Route 66 Theatre presents
Next Stop: a new Chicago musical
Review by Lawrence Bommer
OPPORTUNITY ALERT: There are only three more performances (including tonight's) to see "Next Stop," a clever and charming all-Chicago musical created by six local writers, set near specific el stops, and inspired by (and in turn inspiring new) songs by Diana Lawrence (of Diana and the Dishes fame and director of Porch Light Music Theatre's revival of Jonathan Larsen's Tick, Tick, Boom whose set it shares). Like A Twist of Water, Route 66's huge hit about the Watery City, Next Stop is as Chicago as it gets.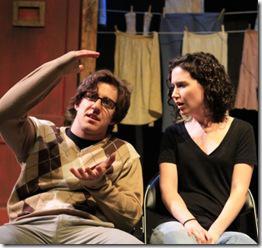 In only 70-minutes this world premiere collaboration (or, as Route 66 Theatre Company charmingly puts it, "mutual inspiration") spins seven stories (at ten minutes a tale) about hopers and dreamers. Their quiet epiphanies or raw revelations stretch from a bus station near Chicago to the Red Line stop at Loyola. Along the way we see strugglers, stragglers and survivors. They're trying to start over in the same place, searching for success and finding failure, and making seminal encounters that can change the next 50 years in an instant. A young but very accomplished cast manage to look just like their characters—and even more like their audience.
The journey starts off with "Watch and Wave," a kind of prologue by Ike Holter, set in a Greyhound bus station where two high school friends—a waitress and a traveler—meet. One says goodbye to the town they both grew up in; the other, who's seen so many searchers come and go, knows he'll return. He's certain he won't—and so are we.
Bittersweet and elegiac, the first stop is Fullerton for Alice Austen's "Blue Eyes," where one man's beautiful walk along the lake with a friend triggers wistful recollections of a fatal anniversary in which he and his lover lost their adopted daughter to an unexplained accident.
Next stop is Logan Square, setting for Brett Neveu's "The Boy in the Thrift Store Sweater," a whimsical look at a first encounter between two wannabes, the boy working overtime with his guitar to be trendy and, with her, trending, while she skewers a lot more than his clothes. As always, Diana Lawrence's constant musical backdrop occasionally bursts out in songs that fit the mood as well as the actors.
A big change of mood and intensity, Aaron Carter's "Campaign" is set downtown, at Clark and Lake, where a conservative but closeted candidate clashes with his liberal/activist lover who threatens him with exposure. Cynical, yes, but this does not end happily.
The fourth stop takes us to Loyola and Alex Lubischer's "Someday," where two ex-lovers are uncomfortably reunited at the memorial service of their beloved music professor. The duo they deliver connects them again and, as before, through emotions artfully disguised as a song.
Finally, the exhilarating "Mouths of Babes" happens at Chicago and State where two lesbian wedding guests ecstatically imagine their own wedding, complete with Jesus as guest performer.
The performers, too good to need singling out, are Adrian Aguilar, Harmony France, Emjoy Gavino, Zach Kenney, Geoff Rice and Blair Robertson.
Next Stop makes sense as a title only because nothing else connects these diverse vignettes or song scenes but public transportation and Route 66's "mutual inspiration." That's no liability when the twists and turns are as much personal and psychological stations as CTA destinations. One of these stops is bound to be yours.
Rating: ★★★★
Next Stop continues through June 26th at Theater Wit, 1229 W. Belmont (map), with performances Mondays and Tuesday at 7:30pm.  Tickets are $25, and are available by phone (773-975-8150) or online at TheaterWit.org (check for half-price tickets at Goldstar.com). More information at Route66Theatre.org.  (Running time: 70 minutes without intermission)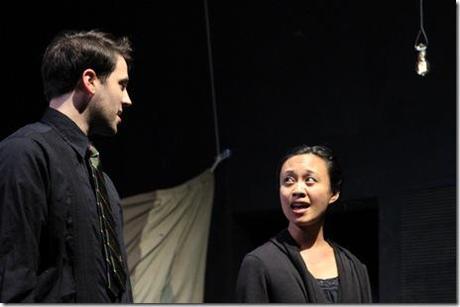 Photos by Wesley Bushby
---