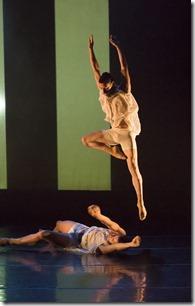 New Dances 2013 
Artistic Director: Melissa Thodos
Executive Director: Gail Ford
at Ruth Page Center, 1016 N. Dearborn (map)
thru July 21  |  tickets: $10-$35   |  more info
  
Check for half-price tickets 
  
  
   Read entire review
  
---
New choreographers shine in enjoyable evening of dance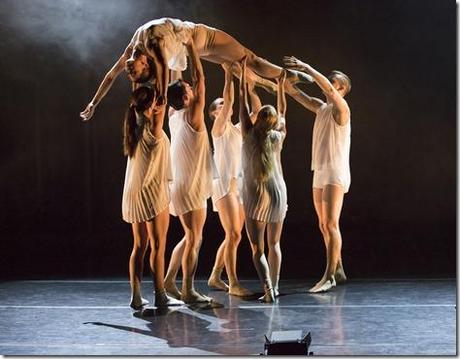 Thodos Dance Chicago presents
New Dances 2013
Review by Lauren Whalen 
Companies like Thodos Dance Chicago are essential to the artistic landscape. Founded by Melissa Thodos (a frequent collaborator with dance legend Ann Reinking) in the early 90's, the company prides itself not only on artistic integrity, but also on constant creation. For New Dances 2013, esteemed panelists mentored fresh-faced choreographers, resulting in nine new pieces. I like Thodos as an ensemble, and as a farm team for the next generation of artists. I just wish their dances would be a bit more, well, new.
Don't get me wrong: I thoroughly enjoyed New Dances 2013. The Ruth Page Center for the Arts has an intimate, vintage feel that's ideal for an up close and personal view of the dancers' impressive technique and ambitious choreography. When I saw the show Friday night, there was a sense of excitement and purpose among performers and audience alike. Everyone was here to present and partake of something special. The emotion was contagious, and I eagerly leaned forward in my seat. Two hours later, I'd had a good time but wasn't particularly changed. I liked the cast, the steps, the music and stories, for the most part. It just all felt like dance I'd already seen. Everything from audible breathing to exaggerated angst to dancing to spoken word text (I really can't stand the latter) was well-executed but felt more old than new.
Thodos has a solid, talented crop of dancers, educated and thoughtful in every step they take. In the show's opener, the peppy "Bop N' Dot", the all-female cast look like flowers in vibrant coral tops, hopping like happy birds to a jazzy upbeat score reminiscent of springtime. Act II's "Entwined Winds" – inspired by Zen gardens – has a lovely cohesion among its male and female dancers, who often move as one amorphous being before splitting apart into individual universes. Even "The Quality of a Moment", a piece with a far-too-twee concept and score (part of which included spoken word text), was made bright and cheerful thanks to its quartet of performers, who ably partner with one another before breaking into jubilant cartwheels at the climax of the dance.
New Dances 2013 contains several standout pieces. Act I's "It Rains There in the Reverence" is a showcase of strong balances, exquisite extensions and lovely developpés. Clad in diaphanous blue chiffon, the six dancers are strong and dramatic as they swirl around the stage. The dance that follows, "Relativity", is one endless, fluid movement. Co-choreographers Carrie Patterson and Alissa Tollefson may have been inspired by the emotional arcs of LA dancemaker Mia Michaels. Kyle Hadenfeldt's "Familiar Faces" evokes a thunderstorm of joy and pain. Female performers come together and wrench apart in ripped black and gray T-shirts that resemble ravaged raindrops; the result is quite moving. And "Panem Nostrum Quoditianum", the closing piece created by guest choreographer Ahmad Simmons, uses the "Lord's Prayer" to great effect, building to a powerful ending.
Before the show began, founder and artistic director Thodos made a passionate case for the cause of dance, and for the company. I found myself nodding in agreement: constant creation is vital to any art form, and the company's dedication to that is admirable. I look forwarding to reviewing Thodos Dance Chicago again. I just hope I see something I haven't already seen.
Rating: ★★★
New Dances 2013 continues through July 21st at Ruth Page Center for the Arts, 1016 N. Dearborn (map).  More information at ThodosDanceChicago.org.  (Running time: 2 hours, includes an intermission)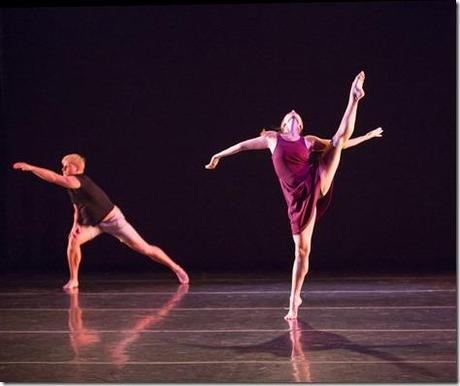 ---
artists
cast
Heather Bayley, Cara Carper Balcer, John Cartwright, Stephanie Cihlar, Caitlin Cucchiara, Annie Deutz, Chelsea de Vera, Ray Doñes, Jess Duffy, Cecilia Ferguson-Bell, Katie Graves, Kyle Hadenfeldt, Brian Hare, Aubrey Klinger, Katy Kowalski, Joshua Manculich, Michael McDonald, Rebecca McLindon, Jessica Miller Tomlinson, Carrie Nicastro, Carlye Otten, Carrie Patterson, Ricky Ruiz, Jamie Salas, Jon Sloven, Alissa Tollefson, Natalie Tursi, Emily Walen, Diana Winfree, Lauren Zimmerer
choreographers
Cara Carper Balcer, John Cartwright, Caitlin Cucchiara, Annie Deutz, Ray Doñes, Kyle Hadenfeldt, Brian Hare, Joshua Manculich, Jessica Miller Tomlinson, Carrie Patterson, Jon Sloven, Alissa Tollefson, Diana Winfree (company choreographers), Ahmad Simmons (guest choreographer)
behind the scenes
Melissa Thodos (Founder/Artistic Director), Laura Gates (Rehearsal Director, Ballet Mistress and New Dances Project Manager), Gail Ford (Executive Director), Rick Johnston (Grants and Bookings Director), Nathan Tomlinson (Resident Lighting Designer and Production Manager), Jacob Snodgrass (Resident Master Electrician, New Dances Lighting Designer), John Nevin (Resident Composer and Sound Designer), James Balcer (guest composer), Brittany Hassler, Liz Rench, Colleen Simonelli, Natalie Tursi (guest costume designers)
13-0718