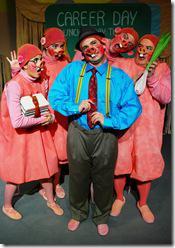 Naked Mole Rat Gets Dressed 
Adapted by Robert Kauzlaric, Music by Paul Gilvary
Directed by Paul S. Holmquist
at Lifeline Theatre, 6912 N. Glenwood (map)
thru May 6  |  tickets: $15   |  more info 
  
Check for half-price tickets 
  
  
   Read entire review
  
---
Valuable nuggets of truth in an upbeat family musical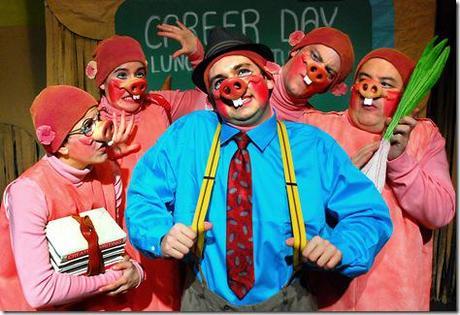 Lifeline Theatre presents
Naked Mole Rat Gets Dressed
Review by Katy Walsh 
Lifeline Theatre Kidseries presents a world premiere musical adaptation of Naked Mole Rat Gets Dressed.  Wilbur is a naked mole rat.  *Naked* is in his blood and on his species' name.  His community embraces nudity.  It's a *clothes off* world.  When Wilbur acquires a fondness for dressing up, his school shuns him.  Not only his classmates but also his teacher.  To make matters worse, his best friend doesn't get his new fashion sense.  What's a naked mole rat to do when he's ready to come out of the closet in the perfect outfit?  Naked Mole Rat Gets Dressed is the bare truth about an ensemble that sings!
Best selling author Mo Willems cleverly worked in profound lessons in a fun little tale.  Kids learn about individuality.  They discover that bullying can sometimes come from teachers and best friends.  They are taught to celebrate diversity even if it doesn't feel comfortable.  These valuable nuggets are delivered in an upbeat family musical.   Adaptor Robert Kauzlaric captures the essences of Willems book.  Kauzlaric uses kid-friendly dialog to convey the message.  The banter is playful and funny.  Paul Gilvary amplifies the story by adding disco music.  The percussion-heavy tunes leads to rhythmic dancing and merriment.  The vibe is less Disney and more club scene. On occasion, the music overpowers the singers – but not the enjoyment.  
Under the direction of Paul S. Holmquist, these naked mole rats are lovable.  They sing, dance, and joke around just like real people.  Kimberly G. Morris dresses them from snout to tail in peachy-flesh-colored costumes.  This illusion of nude uniformity makes Wilbur's fashion decadence pop with vibrance.  Nathaniel Niemi (Wilbur) is adorable as the clothes conscious rat.  Niemi animatedly takes on wardrobe changes and conformity with dazzling results.  His bestie, Ellie Reed (Esther) wonderfully captures the struggle between being a friend and going with the crowd.  Reed endears as a sweet bookworm-naked-mole-rat.  The mean rats, Morgan Maher and Julia Stemper, are hilarious with their anti-clothes protests.  Maher, in particular, zings the punchline with piano playing fingers or one well-placed word. Mike Ooi (Mr. Cleary, Grand-pah) charms as the wise and joyful leader. Ooi's antics gets the dance party started.  And its hard not to join him and the others on the dance floor.  
Naked Mole Rat Gets Dressed is a lively, family outing.  The *clothes optional* show is a perfect fit!
Rating: ★★★½
Naked Mole Rat Gets Dressed continues through May 6th at Lifeline Theatre, 6912 N. Glenwood (map), with performances Saturdays at 1pm, Sundays at 11am and 1pm. Tickets are $15, and are available by phone (773-761-4477) or online at OvationTix.com (check for half-price tickets at Goldstar.com). More info at lifelinetheatre.com.  (Running time: 60 minutes with no intermission)
---