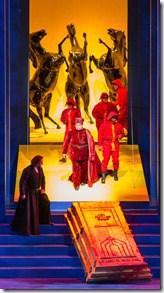 Nabucco
Written by Giuseppe Verdi
Libretto by Temistocle Solera
Civic Opera House, 20 N. Wacker (map)
thru Feb 12 |  tix: $34-$239  |  more info
  
Check for half-price tickets  
  
---
Rarely performed opera could use fresher approach,
but fabulous cast saves all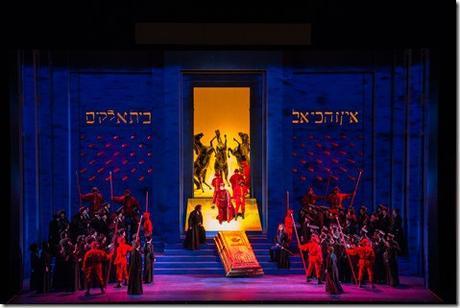 Lyric Opera of Chicago presents
Nabucco
Review by Clint May 
Giuseppe Verdi's first hit at the tender age of 28 set the tone for all his subsequent work. It remains so indelible that, despite some flaws, it is regularly produced around the world, though Lyric—well known for loving Verdi—has only produced this twice before (1998 and 1963). Emotionally compelling if narratively muddled, Nabucco is a opera at its most grandiose. Replete with rousing choral arrangements and one of the most difficult soprano roles in opera, Lyric's updated/revived production delivers on several fronts while falling short in others.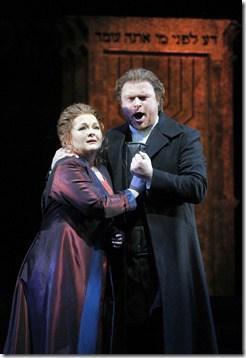 Nabucco
(aka Nebuchadnezzar) is Hebrew scripture by way of 19th century embellishment. A love triangle and a power struggle round out the Old Testament with the roles of opposing sisters Felena (
Elizabeth DeShong
) and Abigaille (
Tatiana Serjan
) providing the most interesting and important additions. Not much of the plot makes sense, and the audience is encouraged to forgive the logical transgressions, anachronisms and one-dimensional characters in favor of the pure upsweep of raw emotional power. Thankfully Verdi delivers the goods on that front with a series of arias, ensembles and choruses that are well nigh impossible to resist.
Making his Lyric debut, director Matthew Ozawa is saddled with Michael Yeargan's antiseptic set design, Jane Greenwood's costumes (looking for all the world like something from a late 90s Kylie video) and Elijah Moshinsky's directorial notes. Lighting designer Duane Schuler valiantly attempts to add some interest to the set with some projected Hebrew lettering, and it's not that there aren't some beautiful tableaux created against it's interlocking forms, but the length of time it takes to rejig it interrupts the momentum. Greenwood's designs are dated and ill fitting with that self-conscious avant-garde-for-its-own-sake design style that permeated the late 90s. It's difficult to see where the blame is to be lain for the frequently stultified staging of an already dramaturgically static (for Verdi) production. Nabucco's grand entrance into the temple in act one is comically mishandled, turning the cataclysmic into the merely quizzical.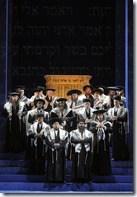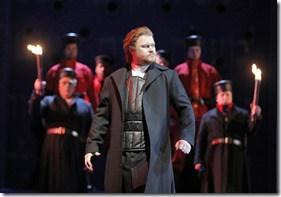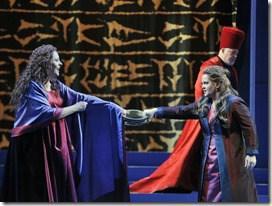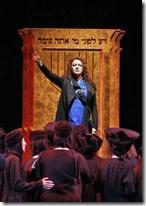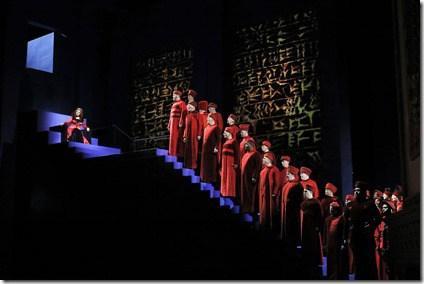 Gratefully, the vocal and orchestral work doesn't suffer, and Nabucco doesn't really feel its two-plus hour length. Michael Black blends one of the biggest choruses into a glorious singularity, nailing the most well-known number, the emotion-heavy "Va, pensiero" as the highlight of the production.
Mezzo-soprano
Elizabeth DeShong
demonstrates the power of the Lyric's Ryan Opera Center as Fenena with her "O dischiuso è il firmament," a florid masterpiece. As the eponymous Nabucco,
Željko Lučić
started out a little light if only to bring the power later, particularly with his third-act confrontation with his usurper adopted princess ("Donna, chi sei?"). He is the cornerstone of this very strong ensemble.
But of course, it all comes down to that would-be ruler and vengeful adopted daughter, Abigaille. It's a role that has mythically destroyed voices. Tatiana Serjan is absolutely imperious and a grand–if not downright sexy—diva, though she also brings just the right amounts of vulnerability to the role. Her youth infuses the character from a slightly shaky start to a virtuosic "Anch'io dischiuso de giorno." Given the low-to-high pitches required of this character, it's a mild mystery that the show isn't called "Abigaille."
Given that Nabucco has only come to Lyric three times now, this is worth recommending for the cast alone. Russians Dmitry Belosselskiy and Sergei Skorokhodov make exceedingly strong Lyric debuts as a bass and tenor respectively, all of it encapsulated beautifully in Carlo Rizzi's perfectly energetic Italian direction. It's still a stunner of a show, sure to conquer hearts even with flaws.
Rating: ★★★
Nabucco continues through February 12th at Civic Opera House, 20 N. Wacker (map).  Tickets are $34-$239, and are available by phone (312-827-5600) or online through their website (check for half-price tickets at Goldstar.com). More information at LyricOpera.org/Nabucco.  (Running time: 2 hours 25 minutes, includes an intermission)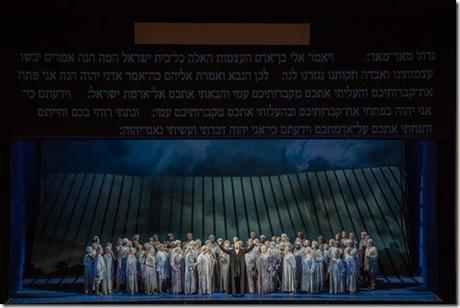 Photos by Andrew Cioffi and Cory Weaver 
---
artists
cast
Željko Lučić (Nabucco), Tatiana Serjan (Abigaille), Elizabeth DeShong (Fenena), Sergei Skorokhodov (Ismaele), Dmitry Belosselskiy (Zaccaria), Stefan Szkafarowsky (High Priest), Laura Wilde (Anna), Jesse Donner (Abdallo)
chorus
Željko Lučić (Nabucco), Tatiana Serjan (Abigaille), Elizabeth DeShong (Fenena), Sergei Skorokhodov (Ismaele), Dmitry Belosselskiy (Zaccaria), Stefan Szkafarowsky (High Priest), Laura Wilde (Anna), Jesse DonnerElisa Billey Becker, Jillian Bonczek, Sharon Garvey Cohen, Patricia A. Cook-Nicholson, Cathleen Dunn, Janet Farr, Desirée Hassler, Rachael Holzhausen, Laureen Janeczek-Wysocki, Kimberly McCord, Heidi Spoor, Stephani Springer, Elizabeth Anne Taylor, Sherry V. Watkins, Carla Janzen, Suzanne M. Kszastowski, Kaileen Erin Miller, Christine Steyer (sopranos); Claudia A. Kerski-Nienow, Marianna Kulikova, Colleen Lovinello, Lynn Lundgren, Janet Mensen Reynolds, Maia Surace Nicholson, Yvette Smith, Marie Sokolova, Laurie Seely Vassalli, Pamela Williams, Corinne Wallace-Crane, Michelle K. Wrighte (mezzos/altos); Geoffrey Agpalo, Jason Balla, Timothy Bradley, Harold Brock, William Combs, John J. Concepcion, Kenneth Donovan, Joseph A. Fosselman, Cameo T. Humes, Lawrence Montgomery, Mark Nienow, James Odom, Thomas L. Potter, Walton Westlake, Jared V. Esguerra, Peder Reiff, Dane Thomas (tenors); Matthew Carroll, David DuBois, Scott Holmes, Robert Morrissey, Kenneth Nichols, Steven Pierce, Robert J. Prindle, Thomas Sillitti, Craig Springer, Jeffrey W. Taylor, Ronald Watkins, Nicolai Janitzky, Martin Lowen Poock, Nikolas Wenzel (baritones/basses)
behind the scenes
Matthew Ozawa (director), Carlo Rizzi (conductor), Michael Yeargan (set design), Jane Greenwood (costume design), Duane Schuler (lighting design), Michael Black (chorus master), Chris Maravich (projection design), Sarah Hatten (wigmaster and makeup design), Alan E. Hicks (asst. director), Chelsea Antrim Dennis (stage manager), Robert Tweten (stage band conductor), Matthew Piatt, Craig Terry (musical preparation), Francis Rizzo (projected English titles), Andrew Cioffi, Cory Weaver (photos)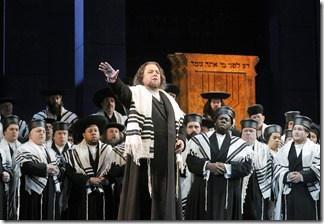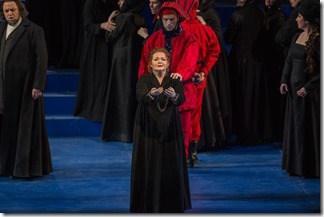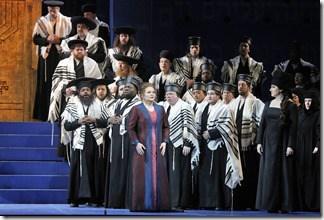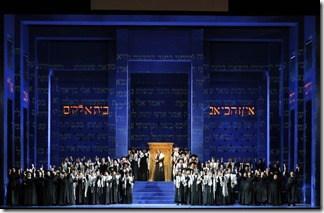 16-0138