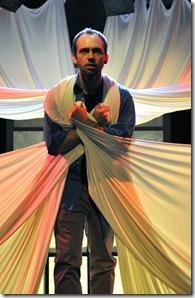 Myths and Hymns
Music and Lyrics by Adam Guettel 
Directed by Peter Robel
at Heartland Studio, 7016 N. Glenwood (map)
thru July 13  |  tickets: $20   |  more info
  
Check for half-price tickets 
  
  
   Read review
  
---
Gorgeous music sung gorgeously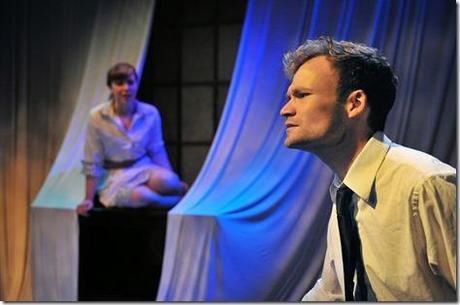 BoHo Theatre presents
Myths and Hymns
Review by John Olson
Of all the musical theater composers viewed as pursuing Stephen Sondheim's ambitiousness and complexity in theater music, Adam Guettel arguably occupies a place at the top. Less prolific than Jason Robert Brown or Michael John LaChiusa, the two musicals Guettel has seen produced – Floyd Collins and especially The Light in the Piazza – have earned a special place in the hearts of serious musical theater lovers  (not to mention a very healthy run on Broadway and six Tony awards for Piazza). Myths and Hymns was produced two years after Floyd Collins as a song cycle under the title Saturn Returns. The score was later recorded and released as Myths and Hymns – appropriately enough as the songs are retellings of myths like Icarus, Pegasus and Sisyphus, along with new settings of lyrics from an 1886 Presbyterian hymnal. As originally conceived, there was no plot – just a collection of songs and hymns all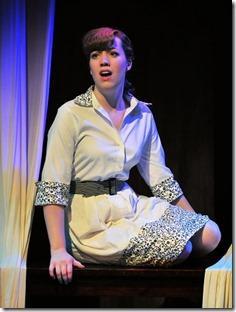 concerned with man's struggle to live and our relationship to higher powers. A 2012 production of
Myths and Hymns
by the
Prospect Theater Company
in New York connected the songs in a new plot, and BoHo has done the same, though not the same plot as that of the NYC production. The story here, according the press materials, concerns "a young couple, recently married… who must grapple with the sudden changes in their lives caused by a new pregnancy and a sudden death." I have a to quote the press materials as I must confess this new plot was not at all clear to me on viewing the show. The program has notes on the setting of each song, but it's difficult to read them in the darkened house – projected supertitles might have been more effective.
None of that is a great concern, though. BoHo's Myths and Hymns still works exceptionally well as a song cycle. The lyrics tell stories on their own, outside of the context of the plot imposed. The fanciful retellings of the myths are enchanting. In "Icarus," Neil Stratman plays the young man who flies with a pair of self-made wings who soars until he flies too close to the sun, melting the wings and falling to the sea. Guetttel's song, as sung powerfully by Stratman, has a sense of wonder and irony that's totally engaging, with the series of banners that comprise Eleanor Kahn's set transforming into Icarus' wings. Matt McNabb struggles mightily as "Sisyphus" to move the boulder up the hill, only to see it roll down again. In one of the more human stories, McNabb and Stephanie Souza are a couple dealing with a separation in the rueful song "How Can I Lose You?"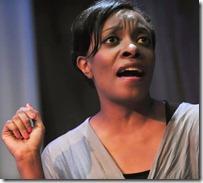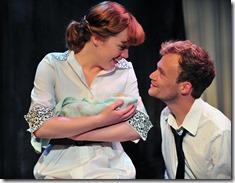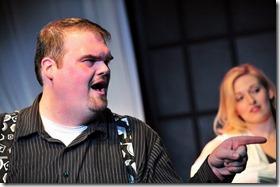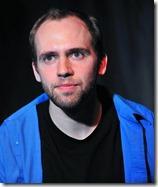 Above all, Guettel's music is gorgeous, and superbly sung and acted by this cast of six. It's a varied score – some of it rich and complex, other songs simpler and highly accessible. Guettel works in a variety of genres from gospel and hymns through folk-styled melodies and traditional musical theater. The cast – including Elizabeth Telford, Kevin Webb and Sydney Charles as well as McNabb, Stratman and Souza – are all stunningly good dramatic singers. While director Peter Robel does a fine job of blocking the action, keeping it all visually interesting and well as providing in-song context for each of the numbers. The music is so good and so well sung (with piano accompaniment by music director Nick Sula), that it's reason enough to see this show. Upon hearing this score, it may not be enough to only see the show – you may want to buy the recording as well.
Rating: ★★★½
Myths and Hymns continues through July 13th at Heartland Studio, 7016 N. Glenwood (map), with performances Thursdays-Saturdays at 8pm, Sundays 2pm.  Tickets are $20, and are available by phone (866-811-4111) or online through their website (check for half-price tickets at Goldstar.com). More information at BoHoTheatre.com.  (Running time: 65 minutes, no intermission)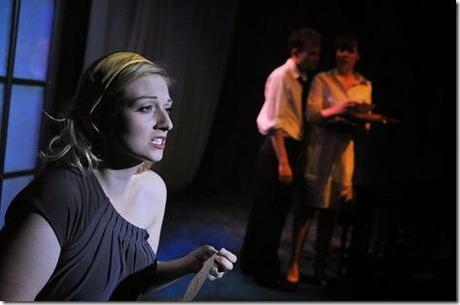 Photos by Peter Coombs 
---
artists
cast
Sydney Charles, Kevin Webb, Elizabeth Telford, Matt McNabb, Stephanie Souza, Neil Stratman
behind the scenes
Peter Robel (director), Nick Sula (music director), Meg Love (producer), Eleanor Kahn (scenic design), Megan Turnquist (lighting design), kClare Kemock (costume design), Dalton Long (stage manager), Molly Layton (production manager), Peter Coombs (photos)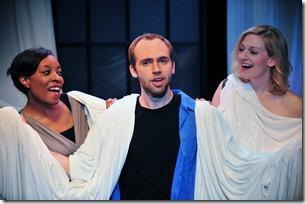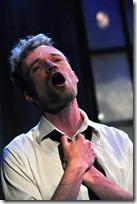 14-0627