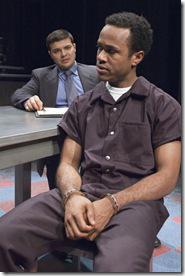 My Kind of Town 
Written by John Conroy  
Directed by Nick Bowling 
at TimeLine Theatre, 615 W. Wellington (map)
thru July 29  |  tickets: $32-$42   |  more info
  
Check for half-price tickets 
  
  
   Read entire review
  
---
A stark reckoning with Chicago's dark history of police brutality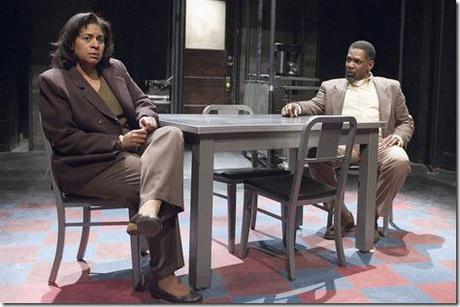 TimeLine Theatre presents
My Kind of Town
Review by Catey Sullivan 
If you're expecting a comfortingly black-and-white examination of police torture in Chicago from John Conroy's first play, you'll leave disappointed. Morality, even when it comes to torture, is never that simple. And much as one would like to think so, the system in Chicago that fostered a climate where disgraced officer Jon Burge could get away with decades of obtaining confessions with the help of electric shocks is not comprised of cut-and-dried good guys and bad guys. Which isn't to say My Kind of Town is any kind of apologist for the brutal and indefensible acts perpetrated behind closed doors in the Area 2 cop shop. My Kind of Town is a play that disturbs and provokes in large part because there is no absolute bad guys. There are only people here, none of them monsters, many of them part of a vortex of violence that defies tidy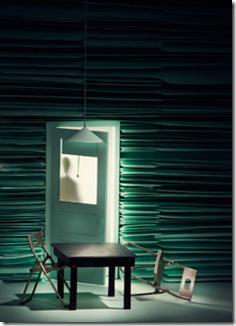 notions of good and evil.
There's a lot going on in My Kind of Town. That's not unexpected – Conroy is a renowned reporter who spent 22 years and tens of thousands of words documenting the practice of police torture in Chicago. In condensing that invaluable work into two hours traffic on the stage, Conroy distills all that knowledge into a series of intimate scenes. Directed by Nick Bowling, My Kind of Town is a compelling, urgently necessary piece of work. It's not just a story of police torture that we get here. It's also a story that touches on broken families, drug dealing, criminal justice (and injustice) and the code of silence ingrained in Chicago police culture.
My Kind of Town revolves around the plight of Otha Jeffries (Charles Gardner), a gang-banging, drug-dealing tire thief who winds up on death row after confessing to arson and a double homicide. Conroy doesn't start with crime, however, but with an opening video extolling the beauties and wonder of Chicago, From there, the action abruptly moves to Area 2 police headquarters, epicenter of law enforcement for one of the most violent areas in Chicago. It's a startling transition, from the sight of a sparkling lake and boulevards in bloom to the dank, ugly interrogation room of Area 2. As Otha is hustled off stage down to the basement, My Kind of Town becomes marked by a sense of deep foreboding. You don't see what happens to Otha after he's been led away, but Conroy leaves no doubt as to what ensues.
It may take a moment to connect torture with Detective Breen (David Parkes, putting a disturbingly mundane face on a man capable of inflicting unbearable pain on another) casually stuffing a plastic typewriter cover into his back pocket on the way down to the basement. But when the African American Detective Dawson (A.C. Smith, ably capturing the dilemma of a man whose moral compromises catch up with him in the end) notes that there are "no typewriters" in the basement or any of the interrogation rooms, it's a moment to make the hair on the back of the neck stand up. Winding up on death row, Otha insists his confession was coerced by torture which included suffocation with a "plastic bag" as well as electric shocks.
But the torture can't be solely blamed on one or even a group of rogue cops. The number of people morally if not physically "in the room" when the torture took place includes the assistant state's attorney, Breen's family, and every single Chicagoan who simply chose not to pay attention.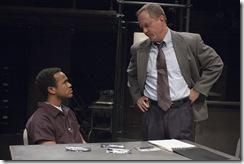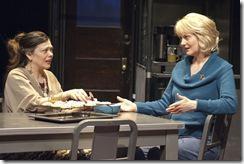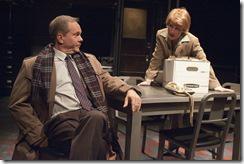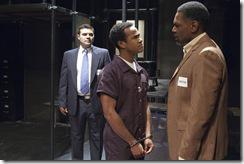 Bowling's cast is uniformly strong. As Jeffries' mother, Ora Jones is heartbreakingly intense in her vain attempts to bring her son's allegations of torture to light. And Carolyn Hoerdemann turns in a complex, compelling performance as Breen's sister-in-law. And as an assistant state's attorney who becomes a key witness in Otha's struggle to bring his torture to light, Maggie Kettering nails the sense of conflicted self-justification and rationalization that allows people to do the wrong thing.
Conroy's ending is abrupt – too abrupt. It's not necessary to have everything tied up with a nicely resolved bow in My Kind of Town, but as it stands, the ending leaves the drama feeling incomplete.
In the end, My Kind of Town isn't just an indictment of a brutal police culture. Conroy goes far deeper than that, exploring the very culture that leads to brutality. Horrifyingly, 1963's seminal Milgram experiments proved that most people would inflict torture under a variety of circumstances. (The key, chilling graph in his conclusion: "Ordinary people, simply doing their jobs, and without any particular hostility on their part, can become agents in a terrible destructive process. Moreover, even when the destructive effects of their work become patently clear, and they are asked to carry out actions incompatible with fundamental standards of morality, relatively few people have the resources needed to resist authority.")
While the world stood up and took notice of the Milgram experiments, Conroy was for decades a lone voice in the wilderness covering torture in Chicago. With My Kind of Town, he continues to shine light on a subject that most people wish would just as soon ignore. But of course it shouldn't be ignored, and that's what makes My Kind of Town such an urgent and compelling work.
Rating: ★★★½
My Kind of Town continues through July 29th at TimeLine Theatre, 615 W. Wellington (map), with performances Wednesdays and Thursdays at 7:30pm, Fridays 8pm, Saturdays 4pm and 8pm, Sundays 2pm.  Tickets are $32-$42, and are available by phone (773-281-8463 x6) or online here (check for half-price tickets at Goldstar.com). More information at TimeLineTheatre.com.  (Running time: 2 hours 10 minutes, includes one 10-minute intermission)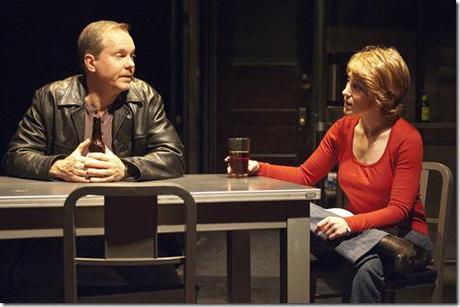 All photos by Lara Goetsch 
---
artists