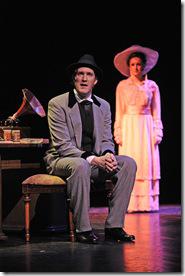 My Fair Lady
Written by Alan Jay Lerner & Frederick Loewe 
Directed by Jim Corti
at Paramount Theatre, Aurora (map)
thru Oct 2  |  tickets: $35-$47  |  more info
---
Near perfect musical is simply 'Loverly'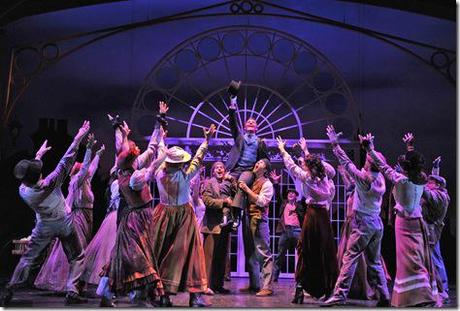 Paramount Theatre presents
My Fair Lady
Review by Lawrence Bommer
Jim Corti's dream of a first-rate, Equity-professional Broadway Series on the banks of the Fox River has come gloriously true (moving on to such staples as Joseph, A Chorus Line and Hair.) His vibrant, Chicago-rich revival of Lerner and Loewe's masterwork from 1956, based on George Bernard Shaw's superb Pygmalion from 1911, has brought Times Square to the western suburbs–pure symbiotic showbiz. It honors a psychologically masterful, socially skewering depiction of the unlikely, unforgettable romance between a phonetics professor who disdains class distinctions and a flower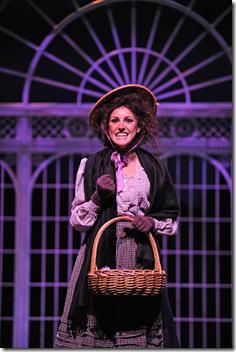 girl who wants to surmount them. Here a huge hunger for success—Henry Higgins to prove his theory about the arbitrariness of accents, Eliza Doolittle to better her birth—combines to forge a professional liaison that, slowly and sweetly, turns perfectly personal.
The show is either too well known to need any rhetorical reprise or too rich for anything but the experience itself, as proven by the delight of young audience members dazzled by Shaw's stagecraft, Alan Jay Lerner's witty lyrics and such enchanting Frederick Loewe melodies as "Loverly," "The Street Where You Live," and "I've Grown Accustomed To Her Face."
Working with a budget that generously permits cunningly efficient, elegantly detailed rolling set pieces (by Jim Dardenne), period-precise costumes (by Melissa Torchia) and lovely lighting (by Michael Rourke), powered by a 21-piece union orchestra under Shawn Stengel's surefire musical direction, and featuring a cast as right as their roles, this My Fair Lady is craftsmanship raised to genius on Galena Boulevard. Sumptuous in its Art Deco magnificence, the Paramount Theatre has never had more reason for being everything it is…
The special wonder holding the magic together is the scintillating chemistry between Andrea Prestinario's heart-hungry, dreamer Eliza and the tough-loving, logic-wielding Henry, complexly and completely presented by an unsurpassable Nathan M. Hosner. Both deliver assured performances, equally solid in notes and words because here conviction links all.
Local legends supply tensile support: John Reeger's delightfully dotty Colonel Pickering, Paula Scrofano's maternally protective Mrs. Pierce, and Mary Ernster's Mrs. Higgins, imperiously untouchable as she stand up to her intellectually anarchic son. With his ardent tenor and patrician looks, James Lee Glatz makes Freddy Eynsford-Hill one terrific twit. Though palpably too young for the part, Andrew J. Lupp dances up the requisite storm as the philosophical dustman Alfred P. Doolittle.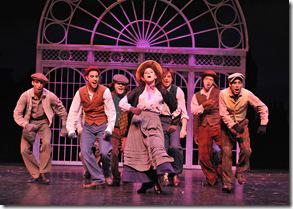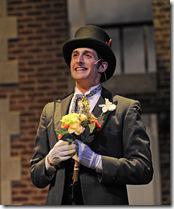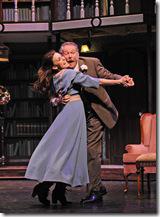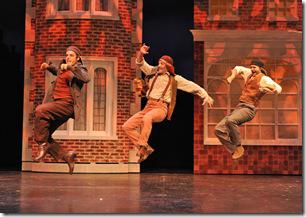 Indeed, Corti's dance sequences, as expected, are the powerhouse of his divinely driven production, with "With a Little Bit of Luck" and "Get Me to the Church On Time" contagiously choreographed. But even the small-scale "Rain in Spain" takes on a giddy glory, while the swirling "Embassy Waltz" conjures up Edwardian elegance in three-quarter time.
No question, My Fair Lady is a near perfect musical, here taken to the heights it pioneered 55 years ago. Shaw fans may prefer the more realistic finale of "Pygmalion" to L and L's crowd-pleasing, sentimental happy ending (well, Eliza never was a feminist icon). But it's the journey, not the destination, and these three hours make every minute golden. Kane County never shone brighter.
Rating: ★★★★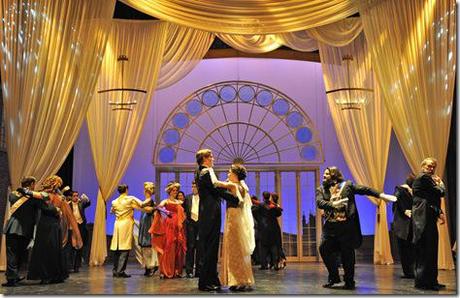 Paramount Theatre's My Fair Lady continues through October 2nd at Paramount Theatre, 23 E. Galena Blvd, Aurora (map), with performances Wednesdays 1:30pm and 7:30pm, Thursdays at 7:30pm, Fridays at 8pm, Saturdays at 4pm and 8pm, and Sundays at 1pm and 5pm. Tickets are $34.90 to $46.90, and can be purchased by phone (630-896-6666) or online at ParamountAurora.com. (Running time: 2 hours 45 minutes with one intermission)
All photos by Liz Lauren
---
artists
cast
Andrea Prestinario, Nathan M. Hosner, John Reeger, Paula Scrofano, Mary Ernster, Andrew J. Lupp, James Lee Glatz, Susan Gosdick, Mike Erickson, Carl Draper, Adam Estes, Nicholas Foster, Elizabeth Haley, Amanda Hartley, Katie Huff, Bobby Johnson, Kristina Larson-Hauk, Emilie Lynn, Amanda Grace Marcheschi, Alex McCrary, Brandon Moorhead, Liam Quealy, Jay Reynolds Jr, Todd Rhoades, David Rice, Tommy Rivera-Vega, Jill Shellabarger, Jennifer Shine, Tiffany Trainer, Lauren Villegas and Genna Walden
behind the scenes
Jim Corti (director, choreographer); Shawn Stengel (music director, conductor); Jim Dardenne (scenic); Melissa Torchia (costumes); Michael Rourke (lighting); Ray Nardelli (sound); Meredith Miller (props); Robert Quinlan (asst. director); Monique Haley (associate choreographer); William Collins (stage manager); Donald Claxon (asst. stage manager); Liz Lauren (photos)