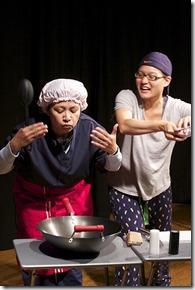 My Asian Mom 2.0.1.3
Conceived by Mia Park 
Directed by Jin Kim
at The Den Theatre, 1333 N. Milwaukee (map)
thru July 20  |  tickets: $15   |  more info
  
Check for half-price tickets 
  
  
   Read entire review
  
---
Collaborative comedy confronts cultural conventions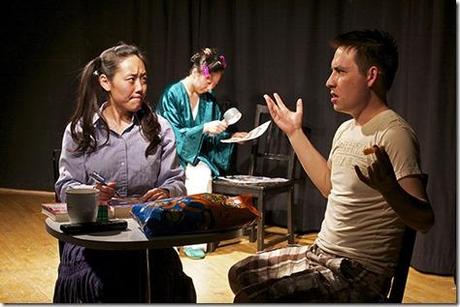 A-Squared Theatre Workshop presents
My Asian Mom 2.0.1.3
Review by Keith Glab
My Asian Mom, conceived by A-Squared Theatre Workshop founding member Mia Park last summer, solicited 10-minute scripts from Asian-American writers across the country concerning Asian motherhood. After enjoying an extended run last year, the concept has regenerated as My Asian Mom 2.0.1.3, featuring eight completely new vignettes from predominately new writers, directors, and cast members.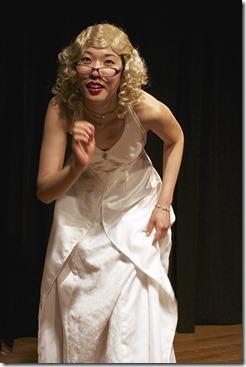 The opening piece, "Bulad", is actually the roughest of the bunch. Eight cast members and multiple scene changes are used to basically repeat the same joke about the smell of a Filipino dish over and over again. Two other pieces that lack narrative drive, "Do These Genes Make Me Look Fat?" and "Dim Sum", are saved by strong, interesting characters. In "Genes",
Theresa "Tea" Ro
plays a quirky fast food restaurant owner and
Stephanie Park 
counters as a businesswoman who is ostensibly avoiding her parents' New Years' party for fear that she will gain too much weight if she attends (the fact that Park is rail-thin yet her character complains about her metabolism might not sit well with some members of the audience). In "Dim Sum",
Kaori Aoshima
goes to a restaurant with her grandsons and nails the overbearing, judgmental Asian Mom stereotype.
"Dead Dolls" and "Oh What a Relief It Is!" are both directed by Giau Truong, and both feature a turning point in the narrative. In "Dead Dolls", this occurs when a frustrated Ramona Kywe finally reveals to her mother that she is a lesbian, despite homosexuality still being a taboo subject in most Asian households. In "Relief", the turn occurs when Ro actually attempts to communicate with her family, rather than persist in the monotony of studying, watching television, and hearing the occasional random platitude from her coupon-cutting mother (Hope Kim).
"Agent Kilikili's Mom and His Mail Order Bride" provides the most off-the-wall absurdity of the evening. At an Italian café, a Russian dame (Alexandra Gonzalez) hires hit man Agent Killikilli (Ben Albovias) to bump off her husband. His mother (Ginger Leopoldo) happens to be vacationing across the street and assumes the woman to be Killikilli's girlfriend. The three actors in this piece do a terrific job of giving understated performances, which allows the ridiculous comedy of the situation to blossom.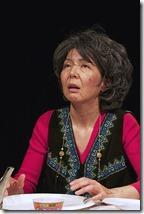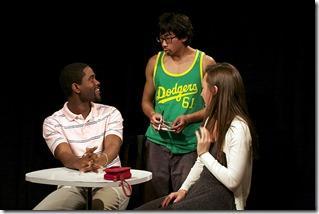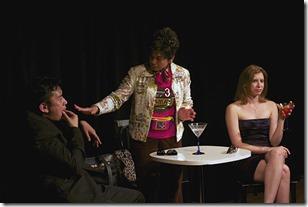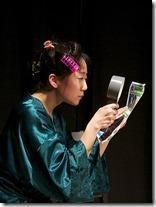 Perhaps even more hilarious is Damon Chua's "Black Coffee Green Tea". The Asian Mom influence in this piece is primarily seen through a series of concerned text messages from the mother to her daughter (Bex Marsh) while she is on a Match.com date with a terrific black man (Benjamin Jenkins). The comic timing here clicks with several clever racial jokes that the audience isn't 100% comfortable laughing at and escalates when the male waiter (Sunny Choi) begins hitting on the man as well.
The evening closes with "Ginger", which Stephanie Park performs solo as a woman who visits her mother's grave on her wedding day and proceeds to have a dialog with her deceased mom. It's a moving and difficult piece which Park pulls off admirably.
The overall direction by Jin Kim ties the eight vignettes together nicely with smooth and entertaining scene changes. It's no small feat to get a talented cast of fourteen and directing team of seven to perform plays by eight different writers and not have the product feel disjointed. A-Squared truly embraces the collaborative nature of theatre, and the result here is a funny, entertaining, and often poignant production.
Rating: ★★★
My Asian Mom 2.0.1.3 continues through July 20th at The Den Theatre, 1333 N. Milwaukee  (map), with performances Fridays and Saturdays at 7:30pm.  Tickets are $15, and are available by phone (773-972-6745) or online through BrownPaperTickets.com (check for half-price tickets at Goldstar.com). More information at a-stw.org.  (Running time: 100 minutes, no intermission)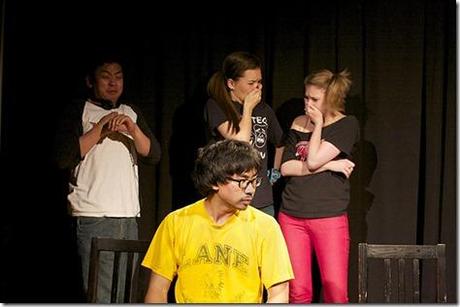 Photos by Marivi Ortiz and Giau Truong
---
artists
cast
Ben Albovias, Sunny Choi, Alexandra Gonzalez, George Infantado, Ramona Kywe, Benjamin Jenkins, Ginger Leopoldo, Bex Marsh, Stephanie Park, Theresa "Tea" Ro, Lovien "Joey" Flores, Fin Coe, Hope Kim, Kaori Aoshima
writers
Larry Leopoldo, Christine Toy Johnson, Lani T. Montreal, Kathy Hsieh, Conrad A. Panganiban, Melisa Tien, Fin Coe, Damon Chua
directors
Ginger Leopoldo, Marc Rita, Giau Truong, Cary Shoda, Christine Bunuan, Jin Kim, Joe Yau
behind the scenes
Mia Park  (conceiver), Jin Kim (overall director), Hope Kim, Joe Yau (producers), Andy Hodson (stage manager), Phil Pelipada, Cary Shoda (graphic design), Giau Truong, Marivi Ortiz (photography)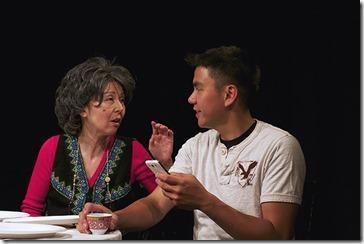 13-0635