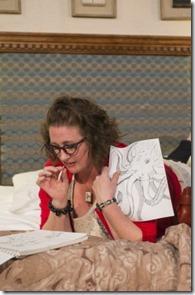 Mud Blue Sky
Written by Marisa Wegrzyn
Directed by Shade Murray
A Red Orchid Theatre, 1531 N. Wells (map)
thru June 29  |  tickets: $25-$30   |  more info
  
Check for half-price tickets 
  
  
   Read review 
  
---
Fierce performances allow tender comedy to soar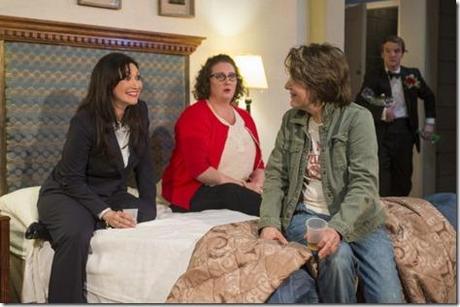 A Red Orchid Theatre presents
Mud Blue Sky
Review by Oliver Sava 
The last time writer Marisa Wegrzyn, director Shade Murray, and actresses Kirsten Fitzgerald and Natalie West teamed up at A Red Orchid, they delivered the exhilarating black comedy The Butcher of Baraboo, a complex exploration of family dynamics that balanced humor with horror. Their latest collaboration is considerably lighter fare but no less substantial, an existential comedy unfolding over the course of one evening shared by three flight attendants and the teenage boy that sells them marijuana at a hotel outside O'Hare.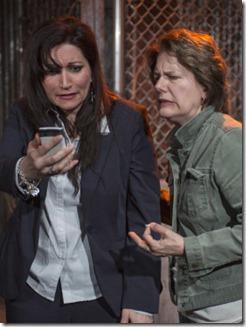 Flight attendants are in constant transit, often spending more time in hotel rooms than their actual homes, and that lifestyle has a different impact on each of the women in
Mud Blue Sky
. Sam (
Mierka Girten
) is forced to spend time away from her family when she's on the job, and her frustrations with her son manifest in twisted ways when she meets teenage dealer Jonathan (
Matt Farabee
). Angie (
Kirsten Fitzgerald
) gave up being a flight attendant after one fateful
Christmas
flight, recounted in an exquisitely performed monologue, and reuniting with her old friends digs up painful past memories. With no family and uncertain future with her airline, Beth (
Natalie West
) doesn't have a strong idea of where she belongs, and she finds a kindred spirit in Jonathan, who is similarly unsure of what path to pursue.
The four actors have electric chemistry on stage, and casting three A Red Orchid ensemble members as the attendants gives their relationship an immediate sense of history. The performances are relaxed and grounded, and the honesty of the actors makes the comedy hit even harder. Wegrzyn has crafted a hilarious script that plays with social expectations to create a constant stream of comedy, and Shade Murray's production moves with a quick pace that keeps the audience captivated from beginning to end.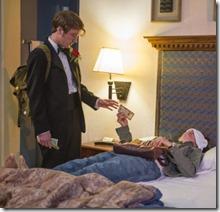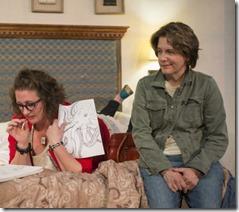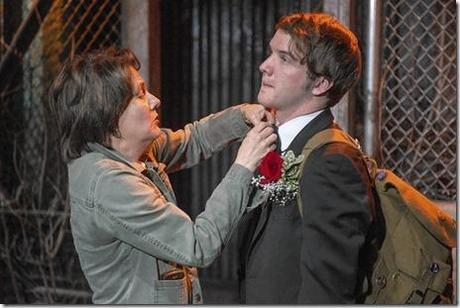 My performance featured one of the most vocal audiences I've experienced in recent memory, laughing at every punch line in the script. The only moments that don't quite land are brief pieces of heightened language in some of Sam's speeches, bits of poeticism that feel out of place in the midst of the casual, natural dialog. As a teen boy suddenly caught in the middle of the drama between three middle-aged women, Farabee is simultaneously overwhelmed, nervous, and excited by the attention he's getting, giving a textured performance that holds its own against three fierce female performers.
It's always a treat to see a play where the female roles outnumber the males, and it's even better when the roles are as meaty as the ones in Mud Blue Sky. West's exhausted, apprehensive Beth is an immensely relatable character, displeased with her current life circumstances and dreaming of a future that she doesn't know how to realize realistically. The closest thing she has to a family is the teenage drug dealer she meets when she stops in Chicago, but Sam and Angie suggest that having a family doesn't automatically translate to a content life. Girten does outstanding work showing how Sam's troubles at home contribute to her aggressive personality when she's on the job, which gives her the opportunity to have the control she doesn't have at home. Angie only appears in one extended scene, but Fitzgerald gives a beautifully tender performance, especially during the aforementioned monolog. These actors fully embody their characters, and the production soars as it delves deeper into their relationships.
Rating: ★★★½
Mud Blue Sky continues through June 29th at A Red Orchid Theatre, 1531 N. Wells (map), with performances Thursdays and Fridays at 8pm, Saturdays 4pm and 8pm, Sundays 3pm.  Tickets are $25-$30, and are available by phone (312-943-8722) or online through OvationTix.com (check for half-price tickets at Goldstar.com). More information at ARedOrchidTheatre.org.  (Running time: 1 hour 35 minutes, no intermission)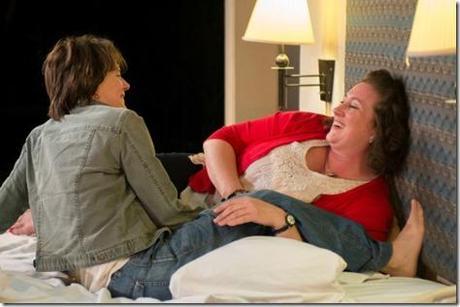 Photos by Michael Brosilow 
---
artists
cast
Natalie West (Beth), Kirsten Fitzgerald (Angie), Mierka Girten (Sam), Matt Farabee (Jonathan)
behind the scenes
Shade Murray (director), Jackie Penrod (scenic design), Karen Kawa (costume design), Mike Durst (lighting design), Brando Triantafillou (sound design), Corinne Bass (props design), Stephanie Heller (stage manager), Jessie Roth (assistant director), Brian Sauer (technical director), Michael Brosilow (photos)
14-0424